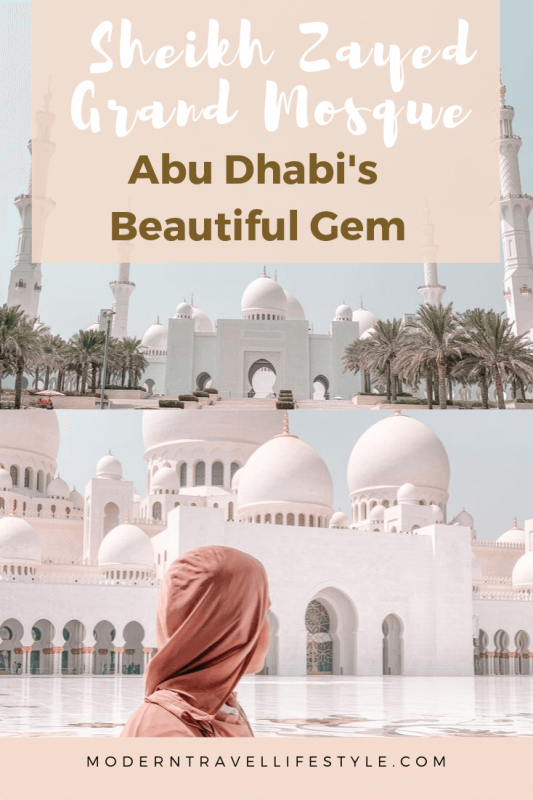 The Sheikh Zayed Grand Mosque is located in Abu Dhabi, the capital city of the UAE.
This Stunning and breathtaking Mosque is the largest in the country and was named after the first president of UEA and ruler of Abu Dhabi, "Sheikh Zayed Bin Sultan Al Nahyan," who had the original idea of building the Mosque to be his final resting place. His body is buried in the Mosque's courtyard.
Interesting Fact: "Dhabi" is the Arabic word for "Gazelle." Abu Dhabi means "Father of Gazelle." This name came about because of the abundance of gazelles in the area.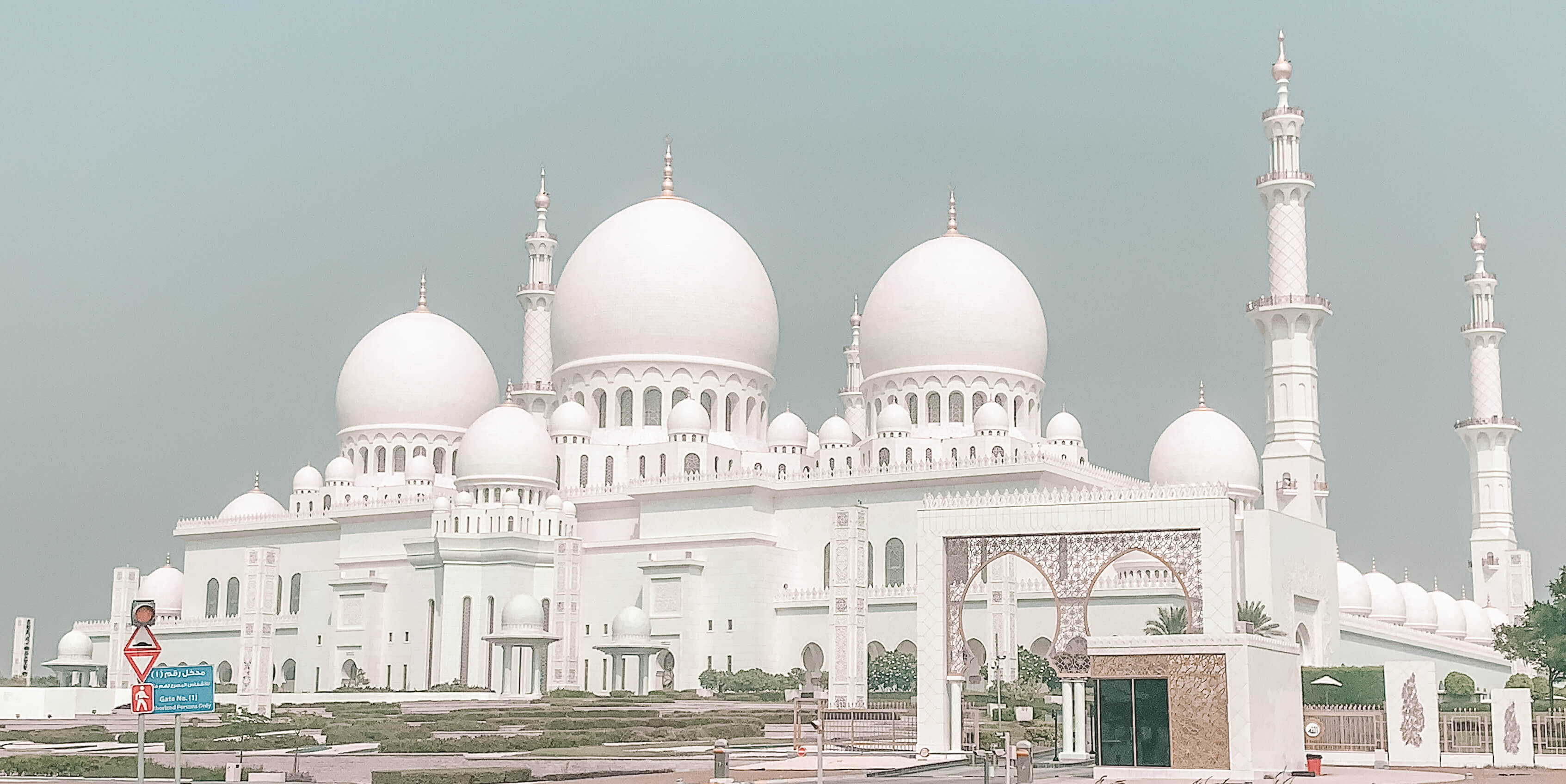 Please note that this post contains affiliate links, and any sales made through these links will reward me a small commission at no extra cost for you. I only recommend products and services I have tried, and I love.
The Sheikh Zayed Grand Mosque was built in 12 years, and it costs around $545 million. This Mosque has 22,412 square meters – equivalent to nearly four football fields -. What makes it the third-largest Mosque in the world.More than 3,000 workers and 38 contracting companies took part in the construction of the Mosque. The materials chosen to build the Mosque were thinking of the durability of the structure. These materials include marble, stone, gold, semi-precious stones, crystals, and ceramics.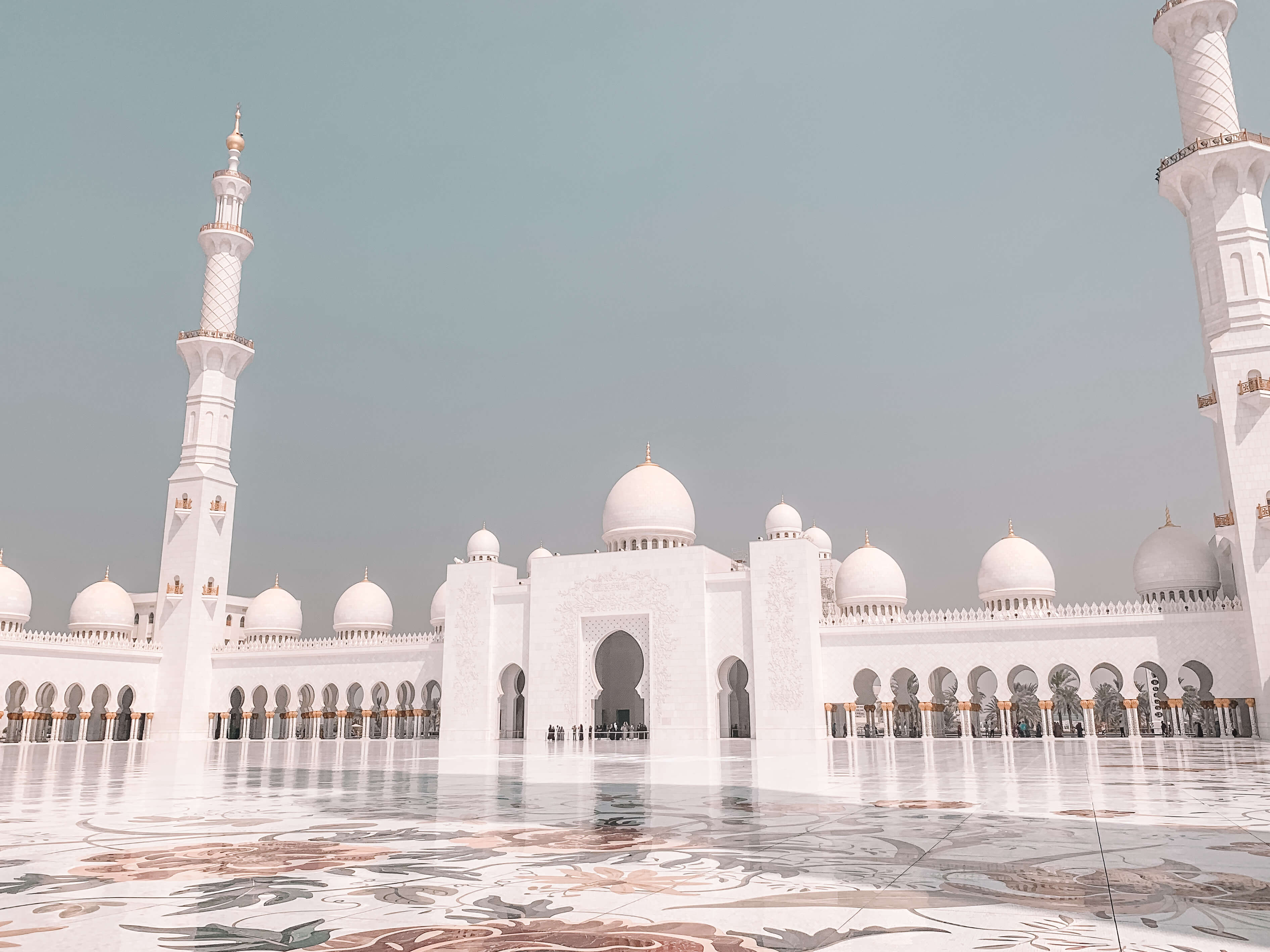 The Sheikh Zayed Grand Mosque has three Guinness World Records, for largest handwoven carpet, the biggest chandelier, and the largest dome of its kind in the world.
What to wear
The Sheikh Zayed Grand Mosque is a Muslim Place, so you need to be conservative when its time to choose your clothing. Women need to cover their heads, wear sleeve shirts, and long pants; Men need to wear a sleeve shirt and pants. Before entering the Mosque, women will receive a clean Abaya (Tunic) for wearing on top of their clothes.You will be required to take off your shoes at the entrance of the Mosque, and you can get a pair of sandals that need to be returned before you leave.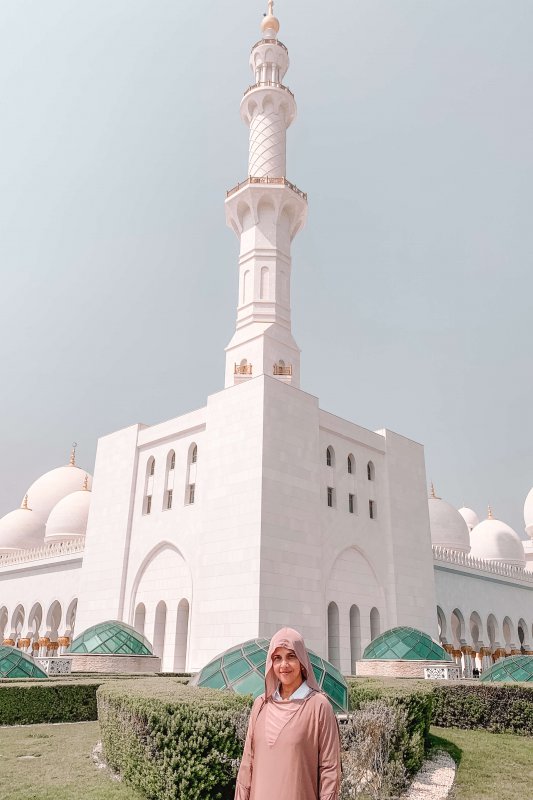 How to get to the Mosque
If you are staying in Abu Dhabi, you can take an Uber or taxi to the Grand Mosque. In my case, I was staying in Dubai, and I rented a car, which was a good choice in my opinion, and not pricey at all. It is 1 hour 30 minutes drive more or less on a highway, not complicated at all – plus we had a GPS. You will see the Mosque as soon as you enter to Abu Dhabi, it's hard to miss, so no worries! The Parking lot at Sheikh Zayed is completely free.
Tip: For renting a car you must have an International driver's license along with your passport.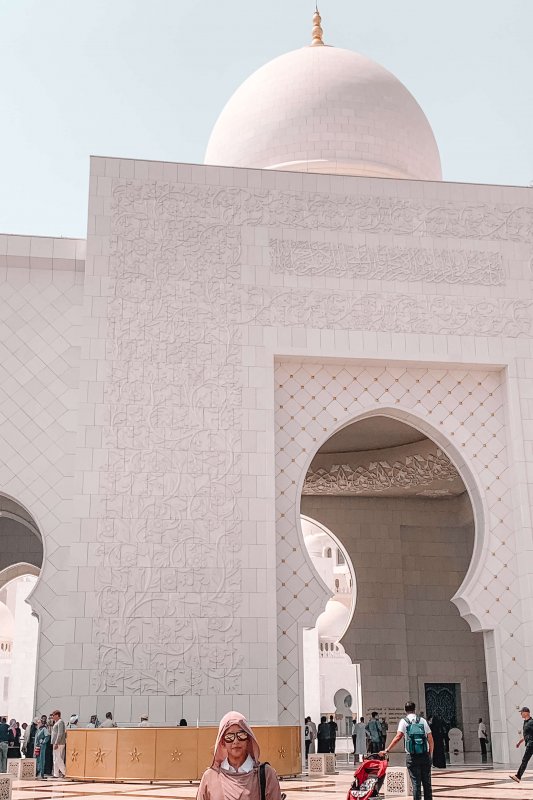 Related Posts
The Ultimate Dubai Travel GuideWhere to go and What to see in DubaiForbidden Mistakes to avoid while visiting Dubai
Opening Schedule
The Mosque is open Saturday through Thursday from 9:00am to 10:00pm, and Fridays – the holy day- it is closed for tourists in the morning, just worshipers are allowed to get in. The Mosque will be open from 4:30pm to 10:00pm for the general audience.
Tip: The entrance to Sheikh Zayed Grand Mosque is entirely free of charge.
[bdotcom_bm bannerid="2273″]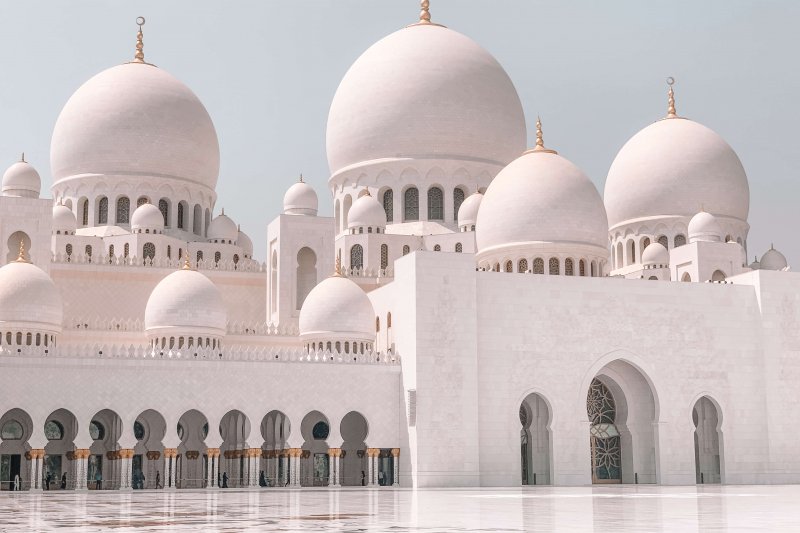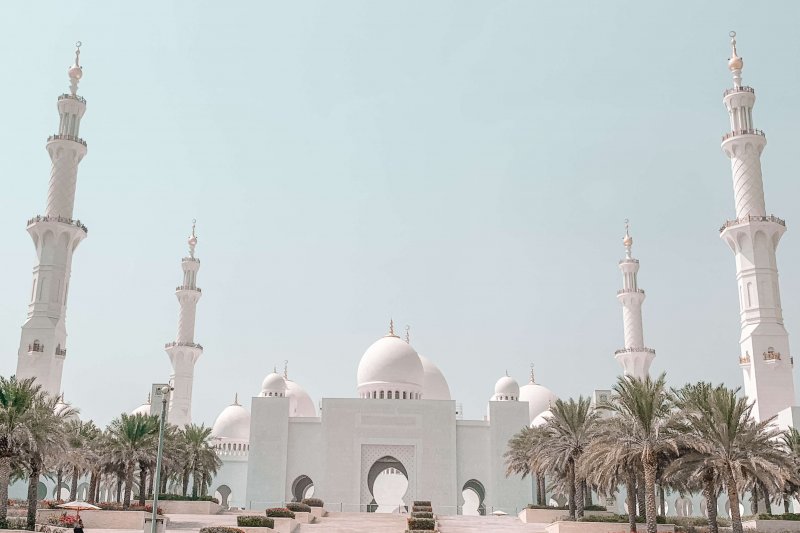 Best time to go
Every day is a good day to visit the Grand Mosque, but it is less crowded during week days; usually, the crowds visit on weekends. I like to get to places really early, so I can get good photos without a lot of people around. Also, the golden hours are fantastic for great shots, if you can visit at sunset time, you will get spectacular photos.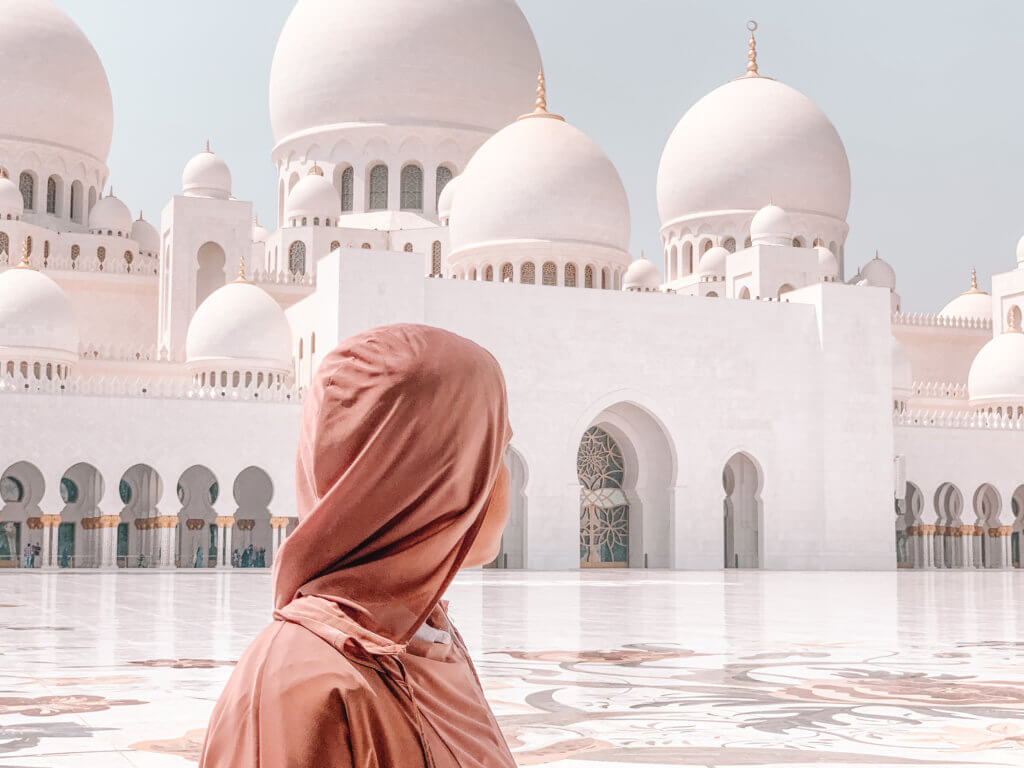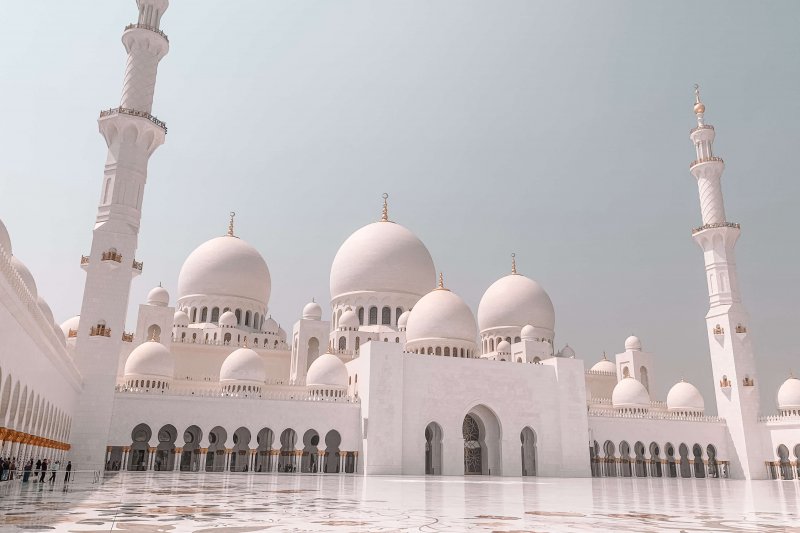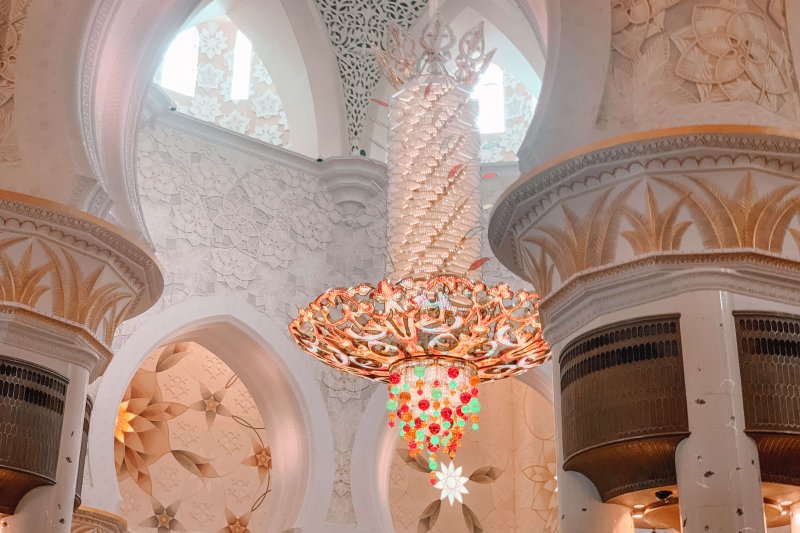 Perfectly maintained gardens, gorgeous marble courtyard decorated with delicate irises, tulips, lilies, and roses. The Grand Mosque features 82 domes of Moroccan design all decorated with white marble. It has approximately 1,000 Stunning Columns, with details in semi-precious stones.


Souvenirs & More
If you feel like bringing home a souvenir or buying a little present for family and friends, the Visitor Center offers many memories for sale. Also, some snacks and beverages are available for purchase.
Tip: Food & Beverages are not allowed inside the Mosque. You can get something to drink or a little snack before or after at the visitor center.
Check out Hotels incredible deals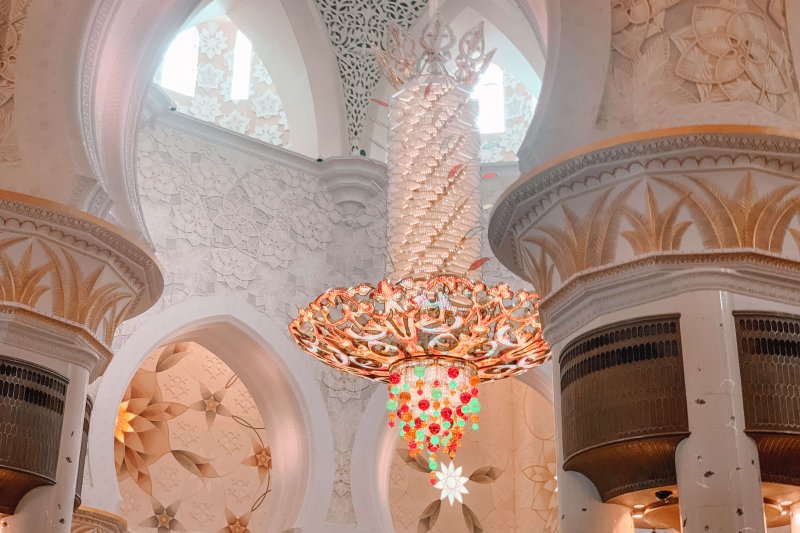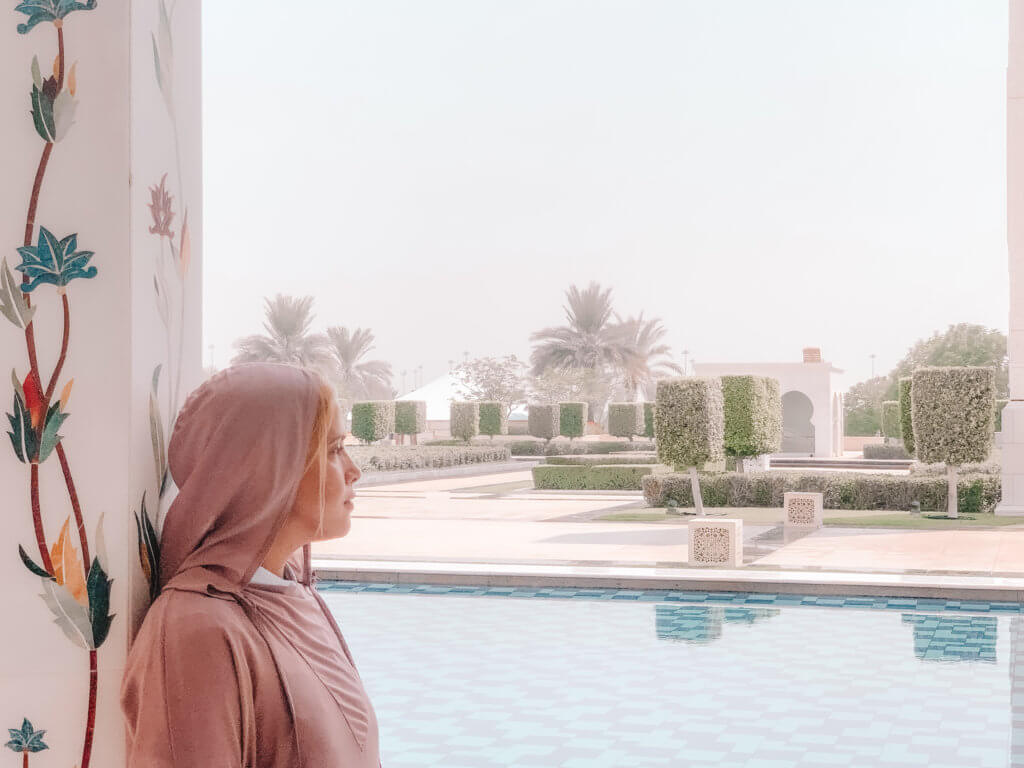 The Sheikh Zayed Grand Mosque is a breathtaking place, full of beauty and exceptional details, in my opinion, it should be added to your must-see list while you are visiting Dubai, Abu Dhabi or any nearby city
Watch My Sheikh Zayed Grand Mosque Video Here

My Favorite Products on Amazon
In Modern Travel Lifestyle Amazon Store, you will find more products that I like and recommend. I will get rewarded with a small fee if you buy any of these products at no extra cost for you.


Hope you enjoyed this post about the Sheikh Zayed Grand Mosque. I would love your feedback, your ideas and suggestions.Share it with me in the comments section. If you like this post, feel free to Pin it for future reference.

More posts you would like