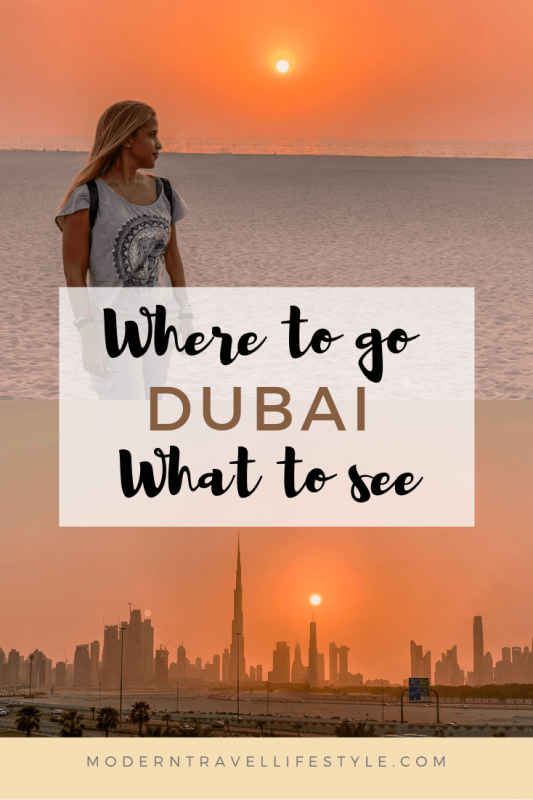 Dubai is a stunning city and emirate in the United Arab Emirates known for its luxury, extremely modern architecture, tall skyscrapers, and a lively nightlife scene.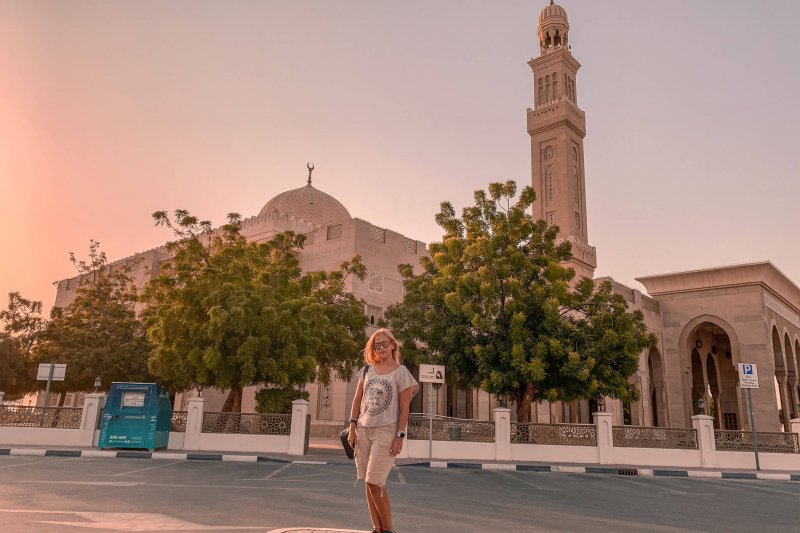 Please note that this post contains affiliate links, and any sales made through these links will reward me a small commission at no extra cost for you. I only recommend products and services I have tried, and I love.
In my experience here is a list of where to go and what to see in Dubai.
Shoot a photo by the Burj Al Arab
Located on Jumeirah Beach Strip, this sail-shaped silhouette and the Burj Khalifa are considered icons of Dubai.
Interesting facts about Burj Al Arab:
A Helipad is located on top of the building, at the height of 212 meters above the sea level, there is also the highest tennis court in the world.
The smallest suite of the Burj Al Arab covers an area of 169 square meters while the largest is 780 square meters
The Interior structure has details in gold
It has nine world-class restaurants
Three outdoor pools, two indoor pools, Private Beach, and Water Park
Big aquarium located in one of its restaurants.
If you are interested in dining specials, bookings, and some other info, you can check Burj al Arab website.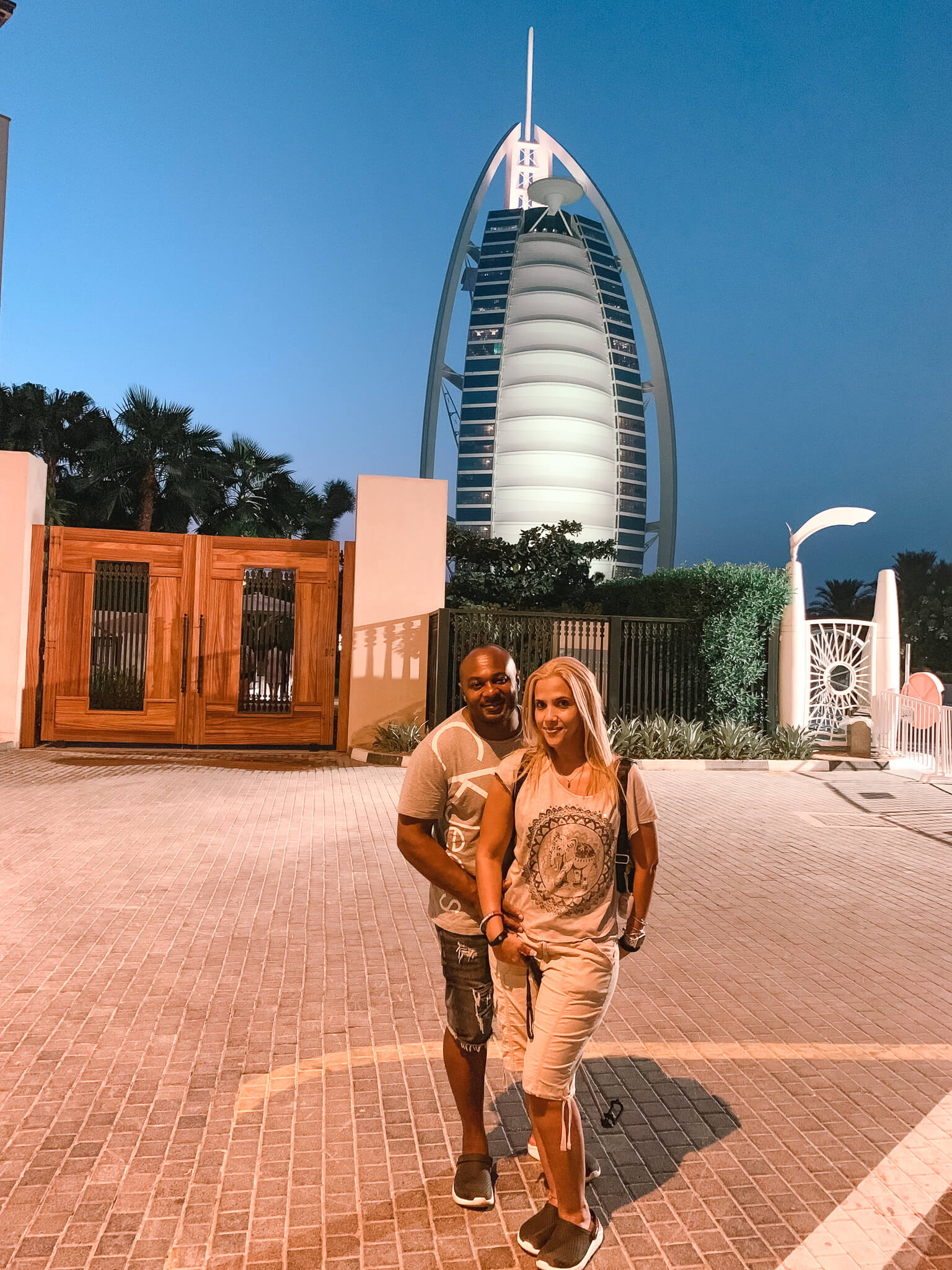 [bdotcom_bm bannerid="2273″]
Enjoy the best view of Dubai from the Top Deck of Burj Khalifa
This skyscraper has a total height of 2,722 ft and a roof height of 2,717 ft; the Burj Khalifa is considered the tallest building in the world. If you want to visit this iconic building, I suggest booking your tickets online at the Burj Khalifa website in advance. You will find different packages with prices that range from 149 AED ($40.56) to 608 AED ($165.53). Check out the Burj Khalifa website for more information about entry fees, packages and working hours.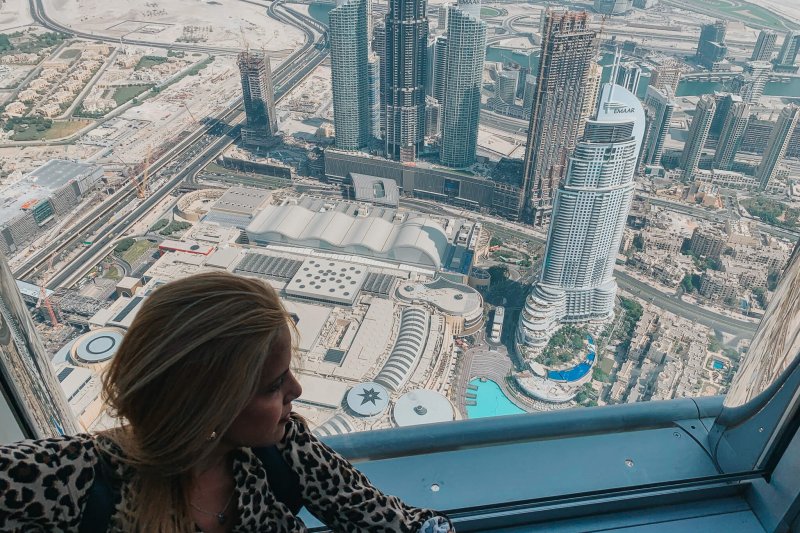 Interesting facts about Burj Khalifa:
The design shape of the world tallest building is from a local desert flower known as Hymenocallis.
It has 900 apartments, 8 restaurants, a spa, and about 35-floor offices.
It takes three months for at least 36 employees to clean the windows of this building from top to bottom.
It is three times as tall as Eiffel Tower and twice as tall as the Empire State Building.
Take a Gondola on Dubai Creek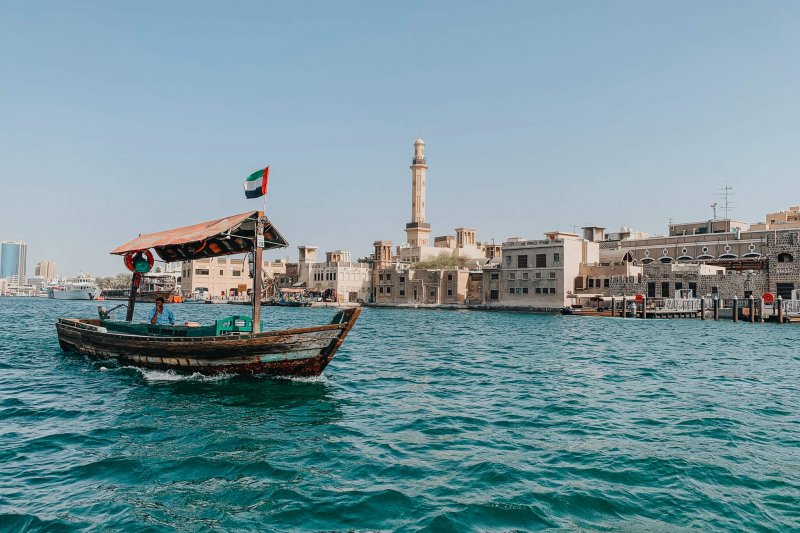 Crossing the Dubai Creek by Gondola is an accessible mode of transport for many of the city's residents and tourists. They can hold around twenty people and offer the cheapest and fastest means of traveling between Deira and Bur Dubai.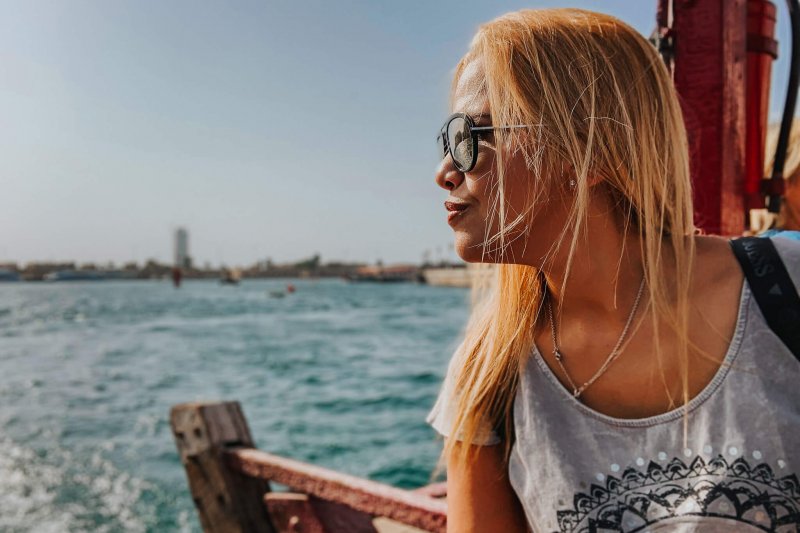 Visit Dubai Mall
This mall is the second biggest mall in the world with 5,400,000 sq ft, and more than 1,200 stores. Kind of a paradise when you are a shopping-lover, right? Also, Dubai Mall offers a wide range of restaurants where you can taste and enjoy a variety of choices of food.Dubai Mall is not just about shopping. You will find attractions for the whole family: At the top – Burj Khalifa observation deck, Kidzania, Dubai Aquarium, and Underwater Zoo, Dubai Ice-Rink, and Dubai Fountain. So, if shopping is not on your to-do list, no worries, this place is an excellent choice for you as well.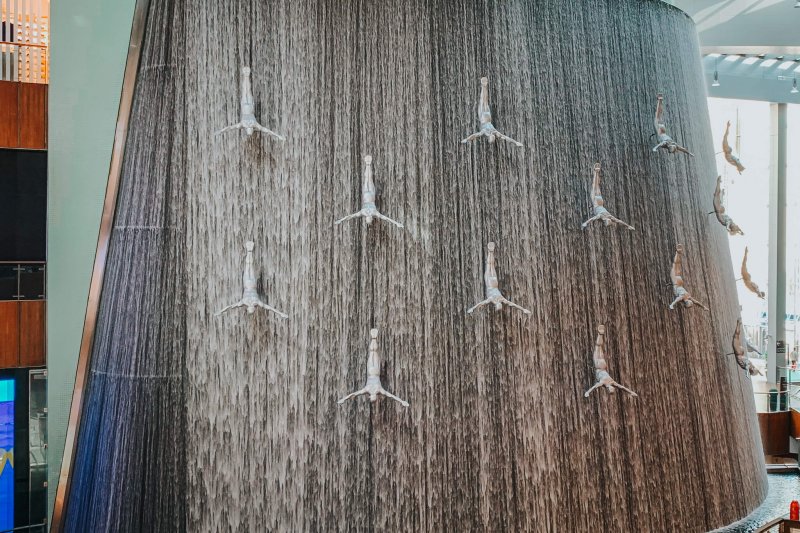 Interesting facts about Dubai Mall:
The shops area is about 3,800,000 sq ft, the equivalent to 50 football fields.
More than 70 million visitors come every year.
There is an Olympic sized ice skating rink that hosts the Emirate Hockey League Games.
The biggest Candy Store in the world "Candylicoius" is here, and it is 10,000 sq ft.
Watch Sharks & Rays at Dubai Aquarium & Underwater Zoo
This Guinness record aquarium is located on the ground level of the Dubai Mall; The enormous tank houses thousands of aquatic animals, more than 150 species, including 300 sharks and sting rays.You can see a big part of the aquarium for free, but if you want to take a more in-depth look and enjoy all the exotic species, you need to buy a ticket.
Tip: When you book tickets for Burj Khalifa, you can find packages that include the Dubai Aquarium & Underwater Zoo, this way is going to be a little less pricey because you are buying two attractions.
The Dubai Aquarium & Underwater Zoo is a good fit for all ages. Kids will definitely love it, and adults will enjoy as well.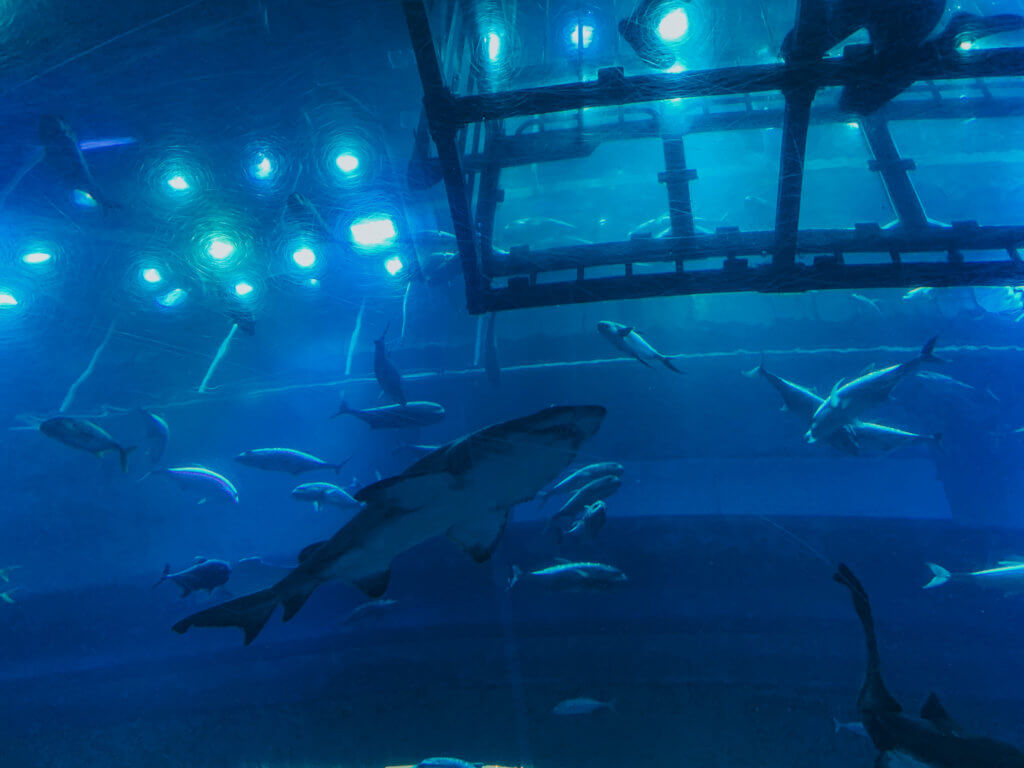 Interesting facts about Dubai Aquarium & Underwater Zoo
The aquarium offers the cage experience if you want to get a closer view of the unique marine species here, you can dive into a cage to watch black tip shark, clownfish, cow nose rays, and caiman crocodiles.
The glass-bottom boat experience will take you on a ride along the 10 million liters water tank for about 15 to 20 minutes.
The aquarium's acrylic panel was featured as the largest of its kind in the world in Guinness Book of World Records' 2010 edition.
If you want more information about the entry fees and what to expect from the aquarium and underwater zoo, you can check the Dubai Aquarium & Underwater Zoo website.
Walk through the Gold Souk
The gold souk has to be in your must-see itinerary; it doesn't matter if you have not intention at all of buying a piece of jewelry. Located in Deira, Gold Souk is very interesting. You will find hundreds of stores displaying a considerable amount of gold jewelry pieces all over the souk. I think I haven't seen so much gold in my entire life as I saw in there.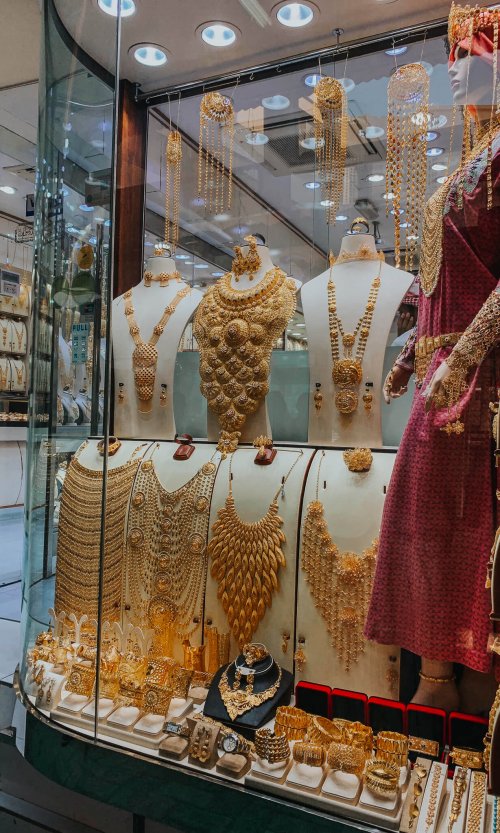 Gold, Platinum, Silver, Diamonds, and many more precious stones can be found in this place. You can find gold from 24K to 18K. Prices vary per gram, and usually, it is displayed on every store, so no worries about it (actually you can look for the price on the internet too).If you want to buy a little bracelet, necklace, earrings or so, I recommend to do it in a store. Many vendors will come to you on the street and will try to take you to another place, or they will say they have cheap gold. Don't let them fool you; there is a high probability that it's fake gold.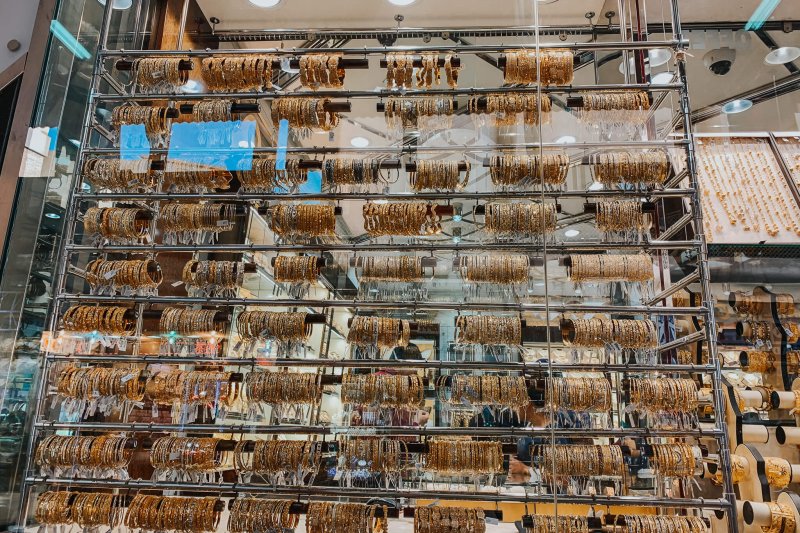 Watch the sunset at Jumeirah Beach
This white sand beach is so beautiful and really lovely. The best time of the day to visit Jumeirah Beach is during golden hours, nothing better than watching the sunset there while walking along the water. Also, you can see the Burj Al Arab from Jumeirah Beach, so it's a good photo spot.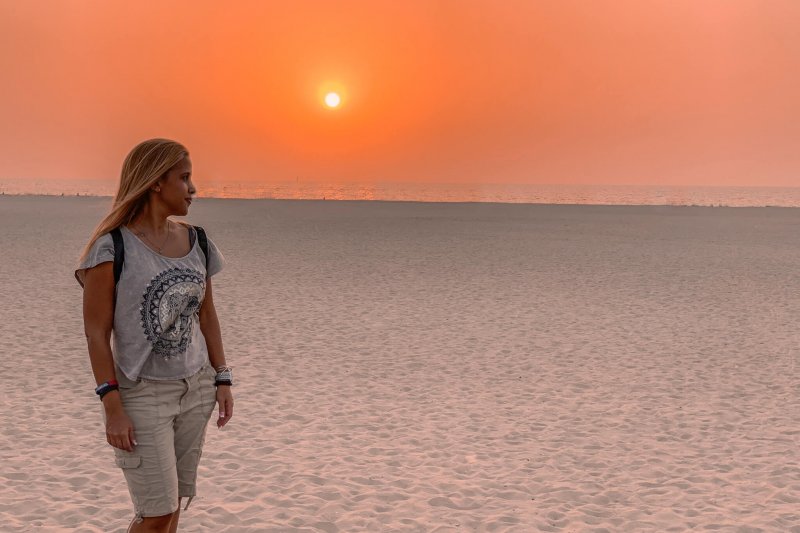 Interesting facts about Jumeirah Beach:
Jumeirah Beach is 4.5 miles long.
Its an excellent place for water sports like swimming, sailing, water skiing, scuba diving, jet-skiing, windsurfing, and snorkeling.
It is located only a few blocks away from the city center and is easily accessible from the Jumeirah road.
Many restaurants in the area offer an incredible and vast menu from Arabic dishes, Italian, American, and more.
Get a Safari Tour to the Desert
If you are visiting Dubai, you have to go on a safari tour to the desert; this is an incredible experience. Enjoy an adventurous, full day of dune bashing, camel riding, henna tattoo, fire show, belly dancing, and a fantastic dinner buffet with authentic Arabic food.I recommend including a safari desert tour in your must-do list, you will have a blast, and don't worry, you can thank me later. We book our safari desert tour experience with Rayna Tours, and it was fantastic. Our tour guide was amazing, and he took care of every detail making our day marvelous.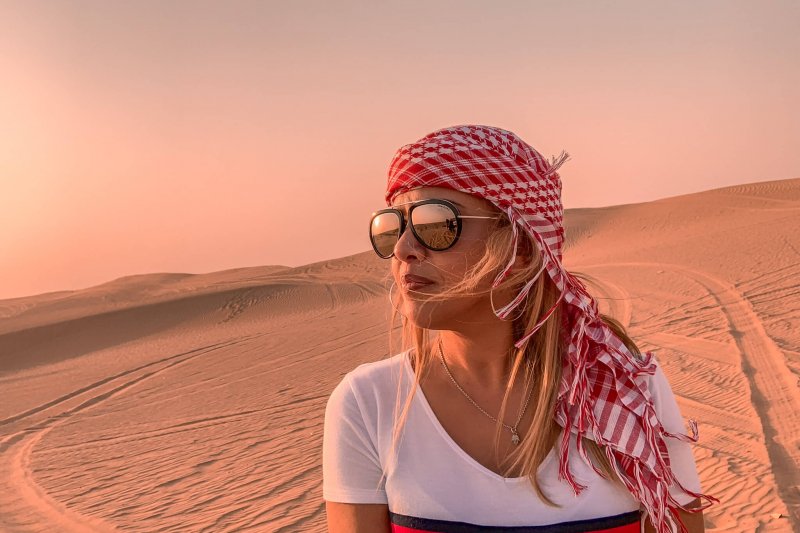 I forgot about the sunset, Oh my God! I think that was the most beautiful sunset in my life (I'm a sunset lover). Seeing the sun going down with all those orange, yellow, and sandy colors, it was priceless.You can find information about Safari Desert Tour prices, what to expect, and more info on Rayna Tours website.
Dining Experience at Pier 7
This signature building located at Dubai Marina offers a fantastic selection of restaurants on each one of its seven floors. Each restaurant is a new adventure in culinary art, with contrast in tastes, presentation, and ambiance.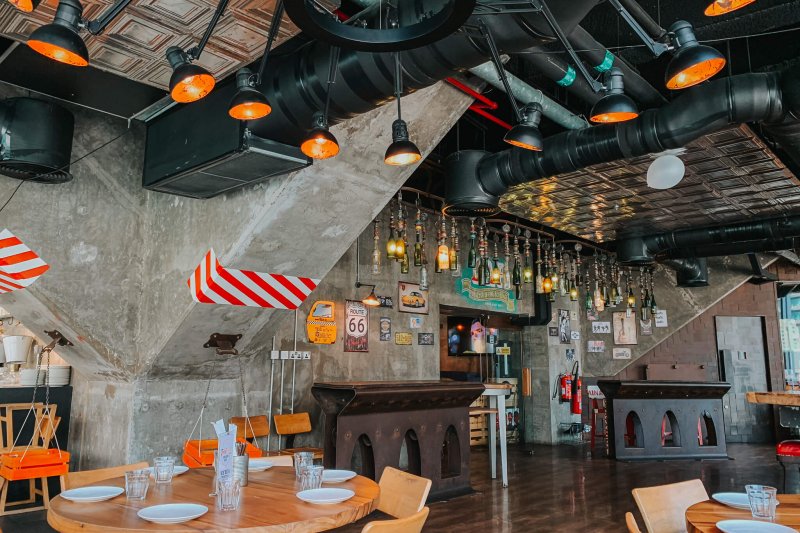 Pier 7 design provides stunning views of the city skyline and the Arabian Gulf from each one of the seventh floors. Diners can choose to dine indoors or enjoy the spectacular view of the Dubai Marina while indulging themselves with a tasty culinary masterpiece.
Learn about Dubai evolution from Old Days to Now at the Dubai Museum
This museum is located in the South of Dubai Creek. For history lovers, this is a great way to know a little bit about Dubai. The Dubai Museum exhibits display many factors of Dubai's old civilization and continuous journey until the modern city we see now.You can find more information about ticket prices at Dubai Museum "Al Fahidi Fort" website.
Watch the Spectacular Dubai Fountain Show
This fantastic water, lights, and music show is held every day at 6 pm every half hour until 11 pm. There are also two performances in the daytime; at 1 pm and 1.30 pm.The Dubai Fountain Show is larger than the Bellagio's fountain display with more than 6.000 lights, projectors, and shooting water 490 feet into the air. The show will play music from classical to contemporary Arabic.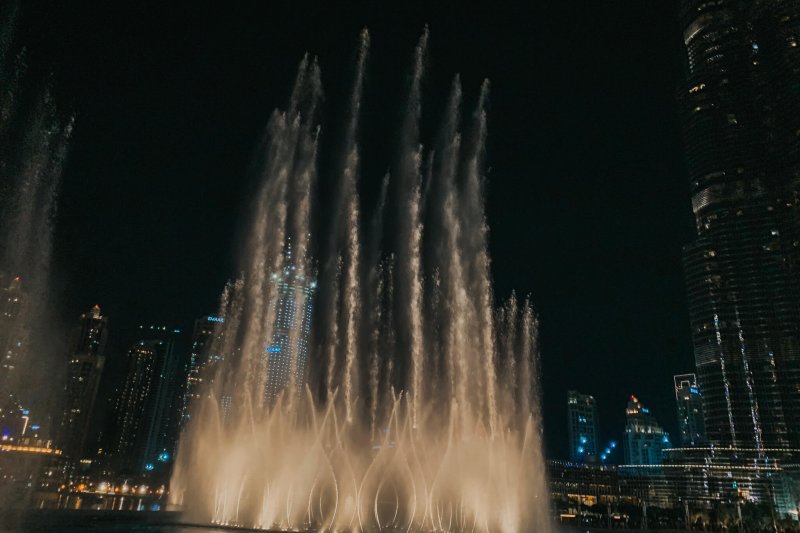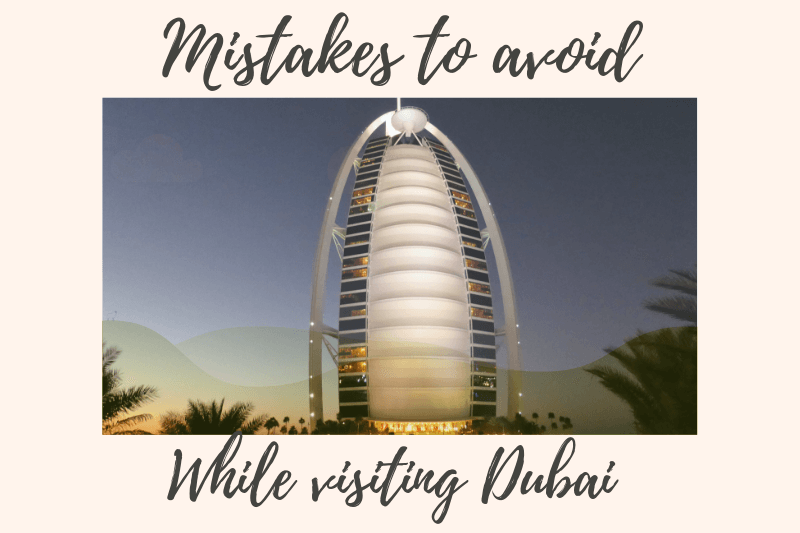 When you are in the planning stage of your trip to Dubai, choosing what to do and where to go, I suggest taking into consideration that Friday mornings, most of the street shops, government buildings, and stores are closed because it is the holy day. They usually open after 4 pm approximately.With pretty much all the stores closed on the souk, for me it was an excellent opportunity to explore and take photos without many people around.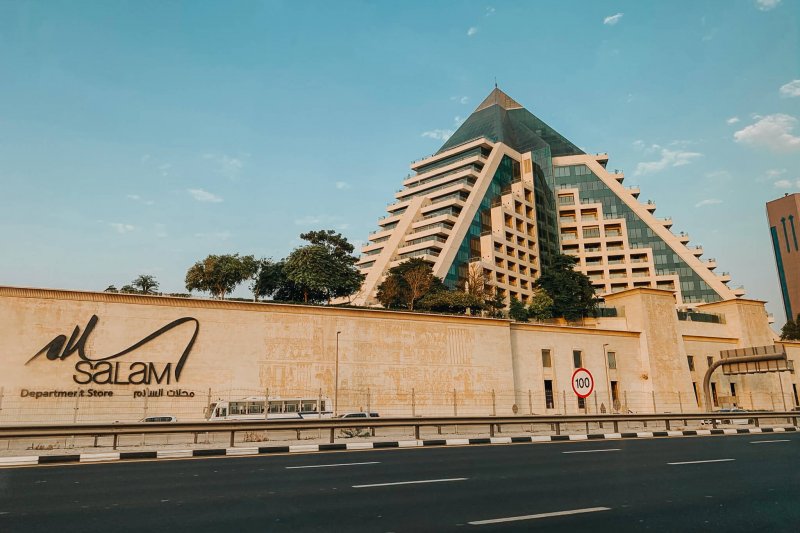 Dubai has many spectacular attractions to enjoy, places to see and activities to do all over the city. My first trip to Dubai was for just two days, and after I saw all what the city had to offer, I told my husband that we had to come back, and we did!I definitely spent a wonderful time and enjoy every second of the trip. I can't wait to come back and explore other parts of that magnificent and splendorous city.I would love your feedback, your ideas, and suggestions. Have you been to Dubai? What places did you visit? What did you like the most? Share it with me in the comments section.

My Favorite Products on Amazon
In Modern Travel Lifestyle Amazon Store, you will find more products that I like and recommend. I will get rewarded with a small fee if you buy any of these products at no extra cost for you.


[bdotcom_bm bannerid="2273″]


Related Posts
[bdotcom_bm bannerid="2273″]