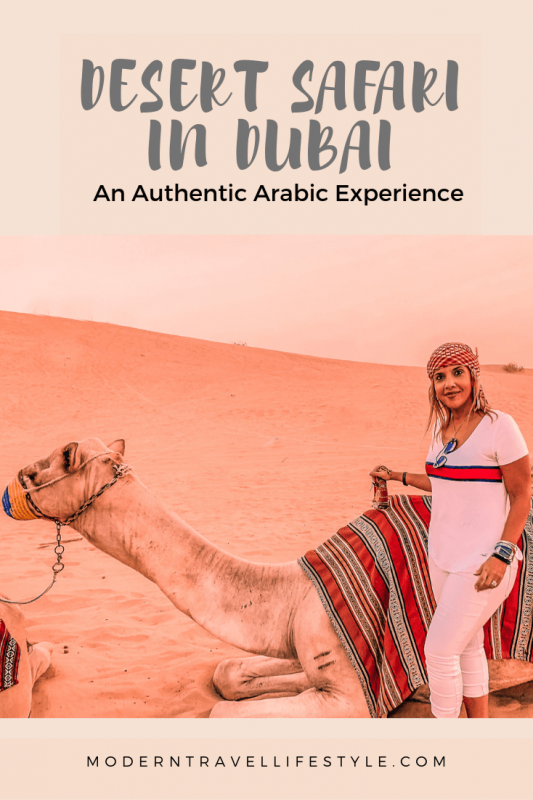 Visiting Dubai was one of the most enjoyable trips I have ever been on. So many wonderful places and things to see. Dubai is full of adventure, and I can't wait to go back and explore other places that I missed in my first two visits.One of my favorite activities during my stay in Dubai was the Desert Safari Tour, which was a full day of adventure, fun, and beauty. For me, this day trip was one of the highlights of Dubai.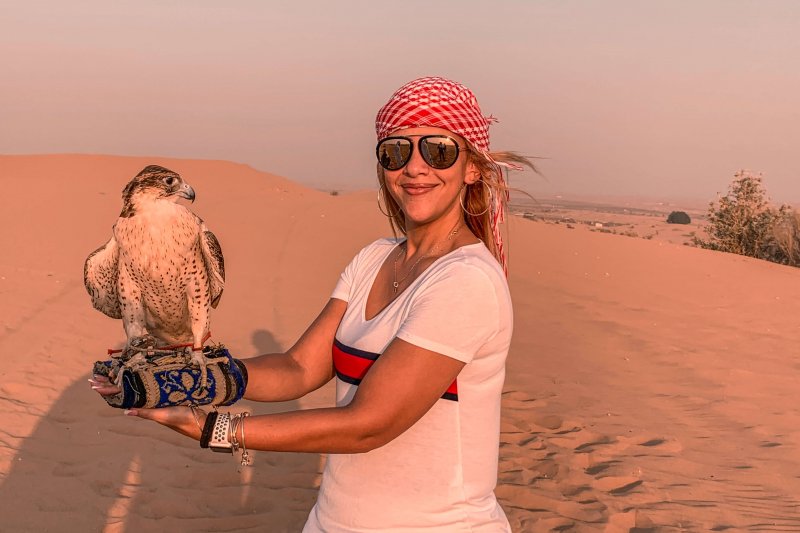 You will spend the day in the desert, meeting new people from all over the world, enjoying many activities like Dune bashing, Camel riding, Henna tattoo, Fire show, and Belly dancing.I booked the tour with Rayna Tours; they offer a fantastic service, pick-up, and drop-off at the hotel, the tour guide was excellent, answering all the questions, and made sure we had an incredible experience along the day.
Please note that this post contains affiliate links, and any sales made through these links will reward me a small commission at no extra cost for you. I only recommend products and services I have tried, and I love.
What to wear
As you know, the desert is sweltering, even though it gets chilly at night (Bring in a light sweater if you are staying overnight). I suggest wearing lightweight fabric and light colors to keep the heat at bay.I wore pants instead of a skirt or shorts because the idea of getting sand all over wasn't so pleasant to me, sandals and flip flops are better than sneakers to avoid getting sand into your shoes.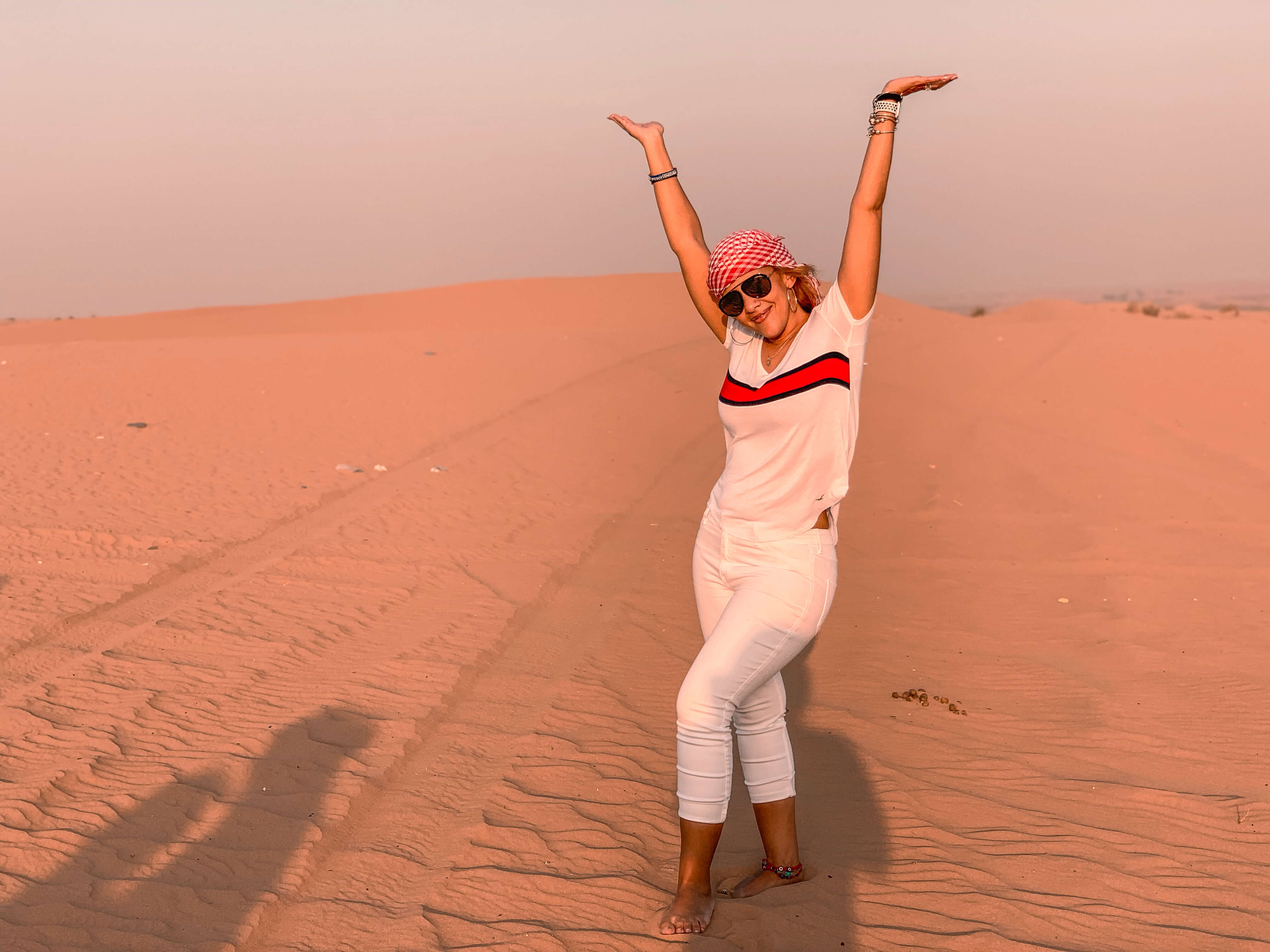 Tip: Wearing light colors clothing will bounce the solar heat right off; on the contrary, dark colors will absorb the heat, causing you to sweat more.
My Favorite Products on Amazon
In Modern Travel Lifestyle Amazon Store, you will find more products that I like and recommend. I will get rewarded with a small fee if you buy any of these products at no extra cost for you.


Related Posts
The Ultimate Dubai Travel GuideWhere to go and What to see in DubaiForbidden Mistakes to avoid while visiting Dubai
What to expect from the Desert Safari Tour
Pick-up at the Hotel
Our tour guide picked us up from our hotel at 11 am on a luxury Land Rover, and there were already two more couples in the car – this tour is for six people – then we headed up the road to the desert. After 30 min driving, we stopped at a convenience store where we could get some souvenirs, snacks, and use the restroom.

Dunes Bashing
Now, let the adventure begin! Onboard of a 4×4 vehicle, we started driving throughout the sandy trail, jumping up and down. It felt like a bumpy roller coaster on the sand. For a minute I thought our car was going to flip out, but these drivers know their business, and besides all the screaming and laughing (I'm not sure if it was a nervous laugh) the ride was really safe, fun, and everything was fantastic.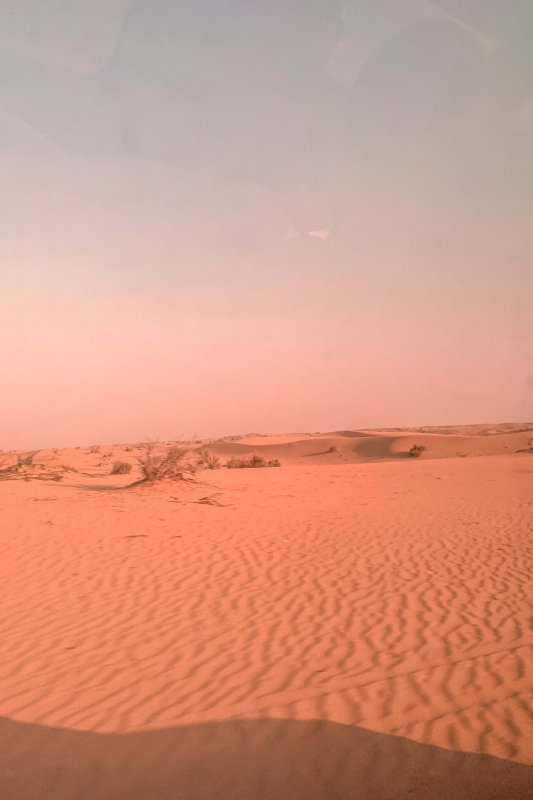 Welcome to the Camp
The tour guide will take you to the camp and let you know where your table is for dinner, fully decorated with colorful Arabian carpets. Arabian coffee, juices, and delicious dates will be your pre-dinner snack to welcome you to the camp.Alcoholic beverages and soft drinks are served on the bar, also Shisha pipe (better known as Hooka) for smoking is available in a designated area.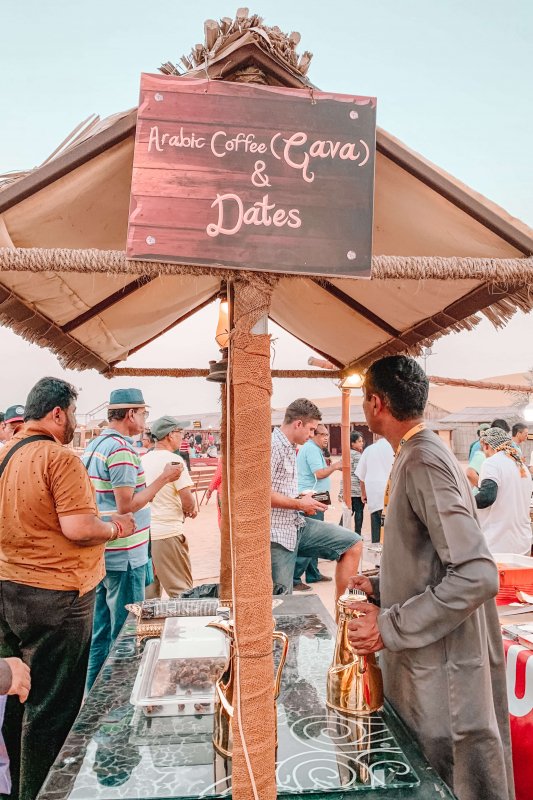 Camel Riding
When you get to the desert, you will get the opportunity to ride one of the camels and of course, take a couple of photos. These beauties are gorgeous and will take you around the safari area.
Tip: Have you ever gone horseback riding? Yes? Great! No? It's ok. Riding a camel has nothing to do with that, lol. You will need some help to jump on and hold yourself tight when the camel is getting up and sitting down because it is kind of abrupt.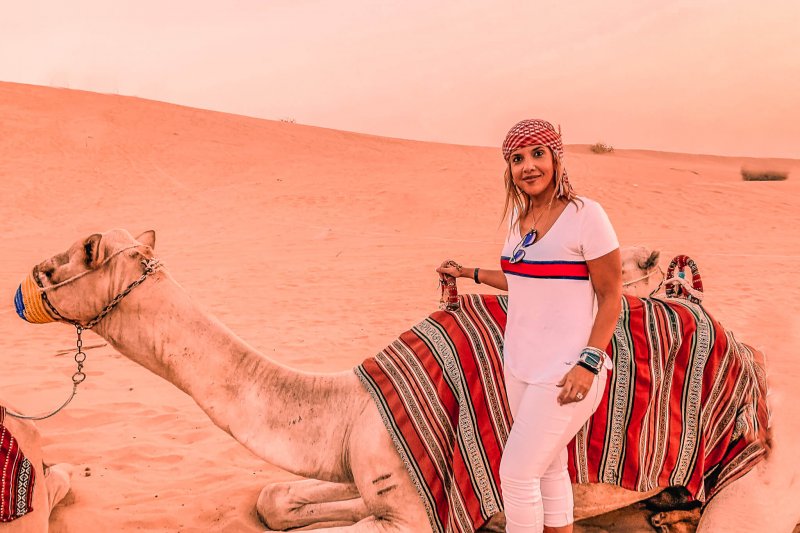 Henna Painting
Henna Painting is part of the Arabic culture. Women decorate their hands, feet, and face with henna. If you want to live the full experience, go for it and get your hand, foot, or arm painted with henna by a professional artist. Aren't you a tattoo lover? or Are you are afraid of having a tattoo forever? No worries! Hena is not permanent; after a couple of days, the tattoo will disappear.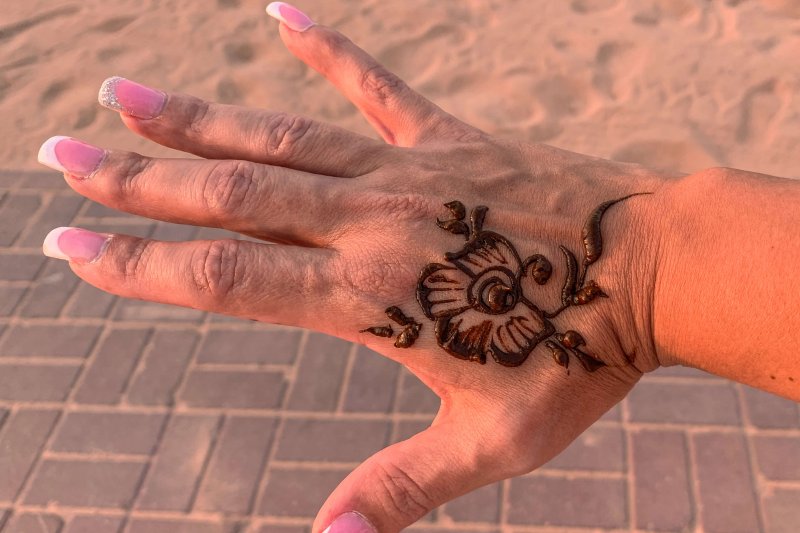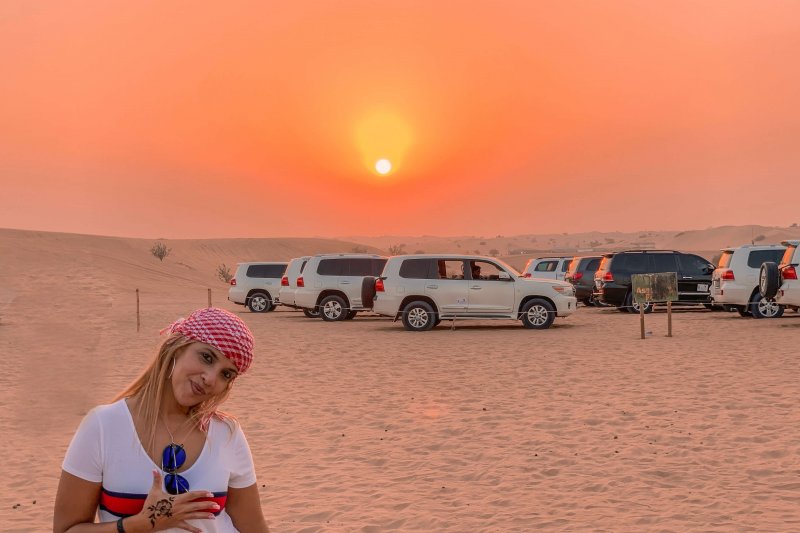 Authentic Arabic Dinner Buffet
Food time! Wide variety of Arabic dishes with a fantastic view, and Middle East music playing? Count me in! This buffet was incredible, Shawarma, Fresh salad, Roasted lamb, Grilled chicken, Prawns, and Couscous were some of the many dishes we could taste that night. Everything was delicious.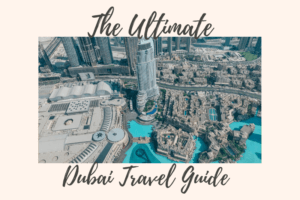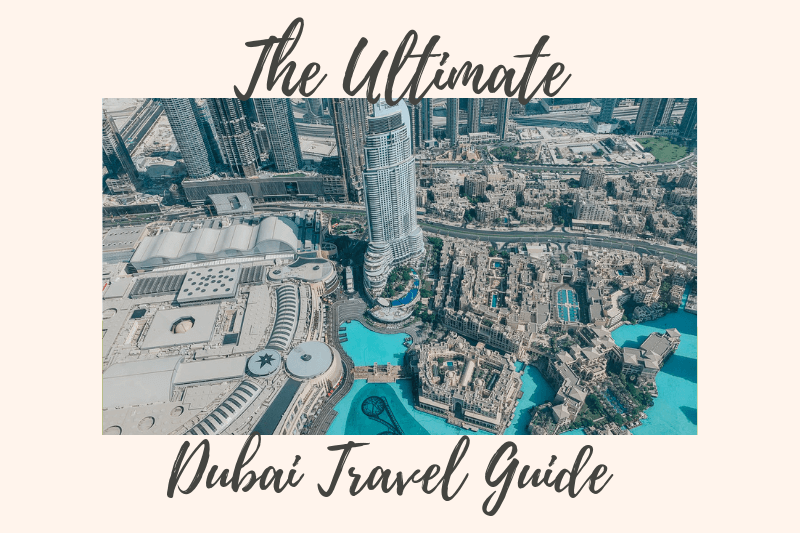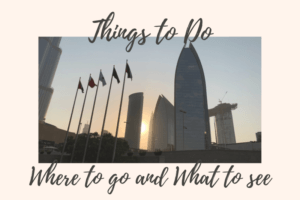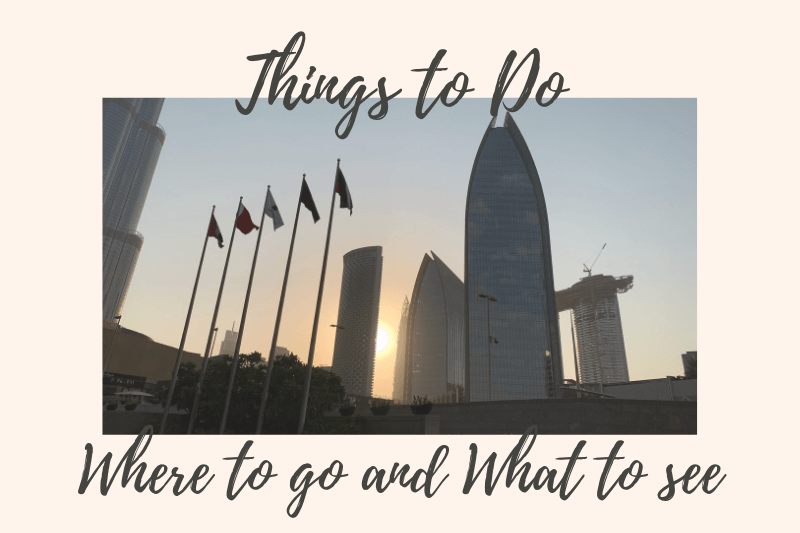 Sunset View
The sunset at the desert is unbeatable in my opinion; it was one of the best sunsets I have ever seen. The sun dipping into the sand, projecting all those oranges, yellows, and reds is a spectacular scene worth to admire once in life.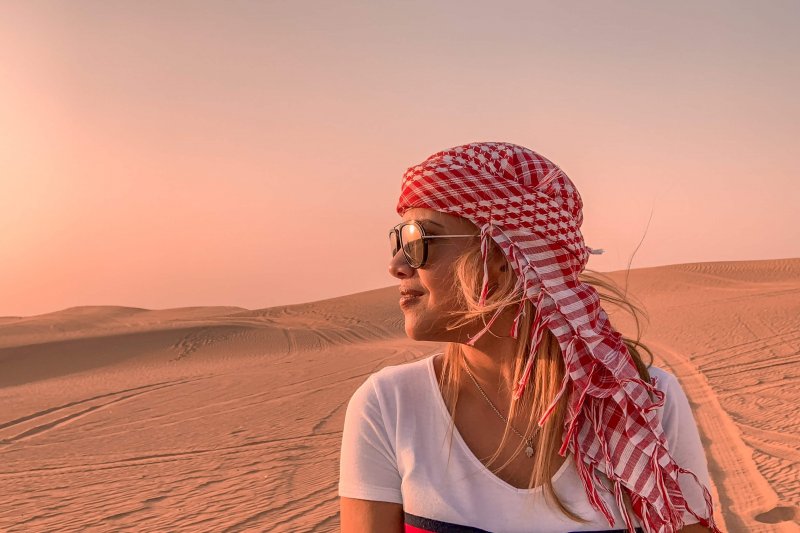 Tanoura Dance Show
Tanoura dance show is one of the favorite attractions of Dubai Desert Safari, known as a traditional folkloric dance in Islamic countries. The tanoura is well known for the use of a colorful skirt. The performer would enter in a trance state trying to reach its inner spiritual purity, spinning for 30 minutes without getting dizzy (cool, right?).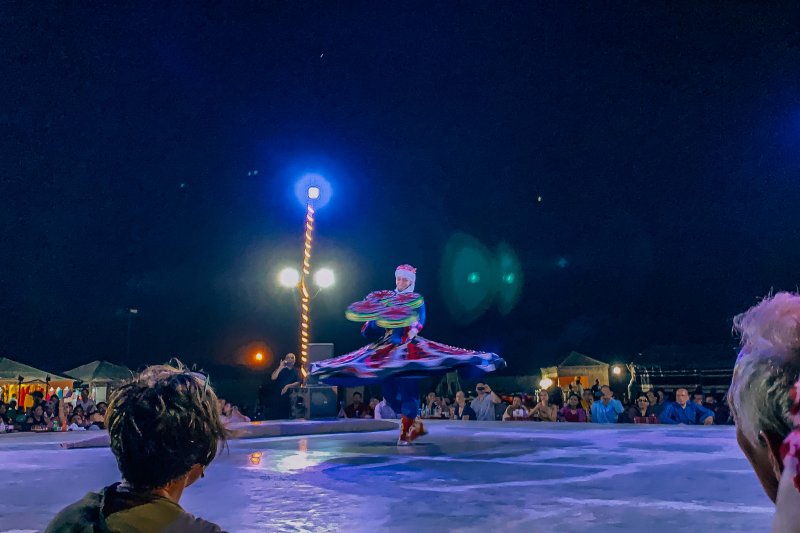 Fire & Belly Dancing Live Show
Fire dancers, and fire breathers on stage will give the perfect touch to your dinner. These artists will take your breath away with their performance.
Originally called Arabic dance or Middle Eastern dance, wearing colorful attire with veils, coins, and tassels, the belly dance is a beautiful form of dance, where the dancer moves the body in a unique way to the beat of the tambourine.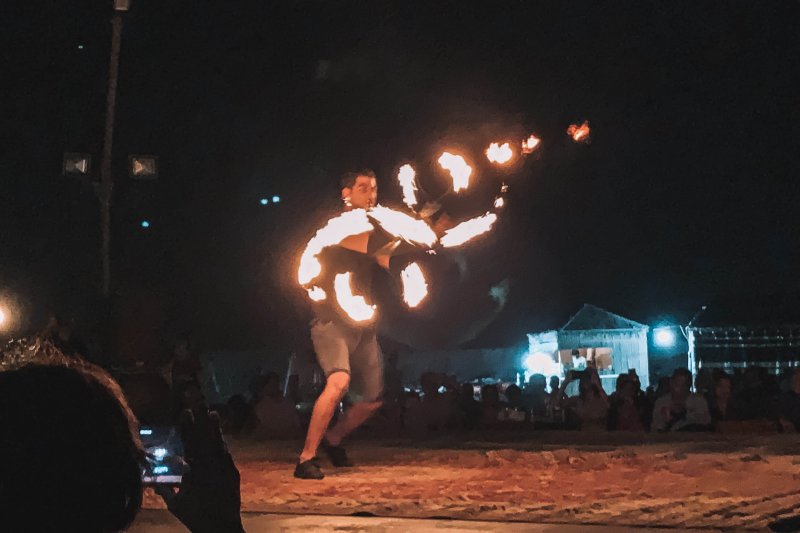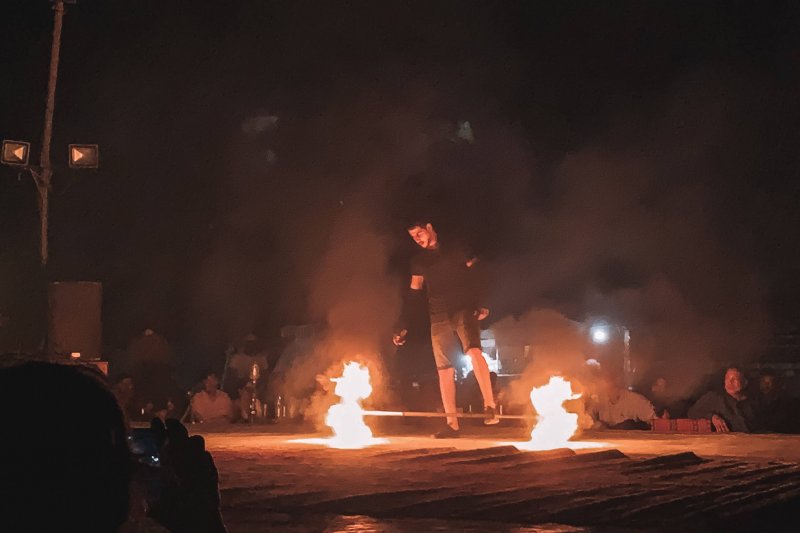 Drop-off at Hotel
After spending a day full of adventure and having an excellent time, you will be taken back to your Hotel, around 9 pm.
[bdotcom_bm bannerid="2273″]
The Desert Safari Tour takes you to a different world full of gorgeous landscapes, stunning views, spectacular shows, and delicious authentic Arabic food, making you feel part of a Middle Eastern movie.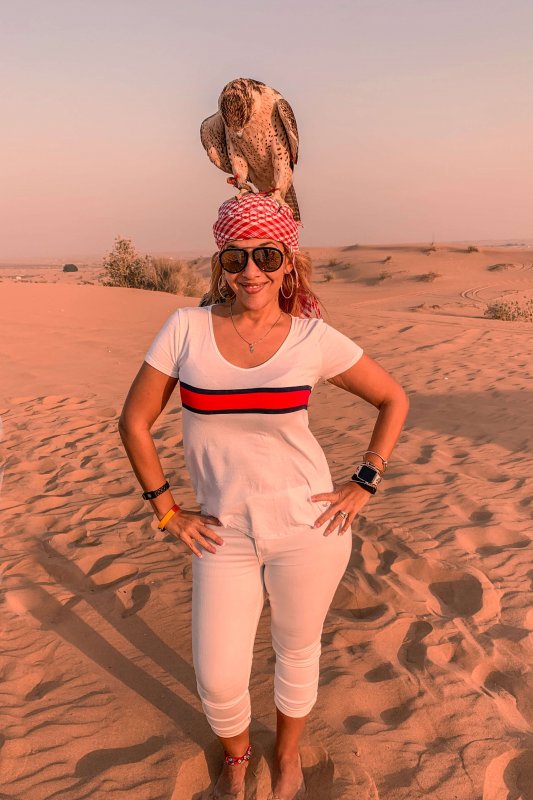 Watch My Desert Safari Tour Video HereIf you are planning on going to Dubai, and want to experience an authentic Arabic adventure, I recommend the Desert Safari tour as one of the highlights of Dubai.I would love your feedback, your ideas and suggestions. Share it with me in the comments section. If you like this post, feel free to Pin it for future reference.