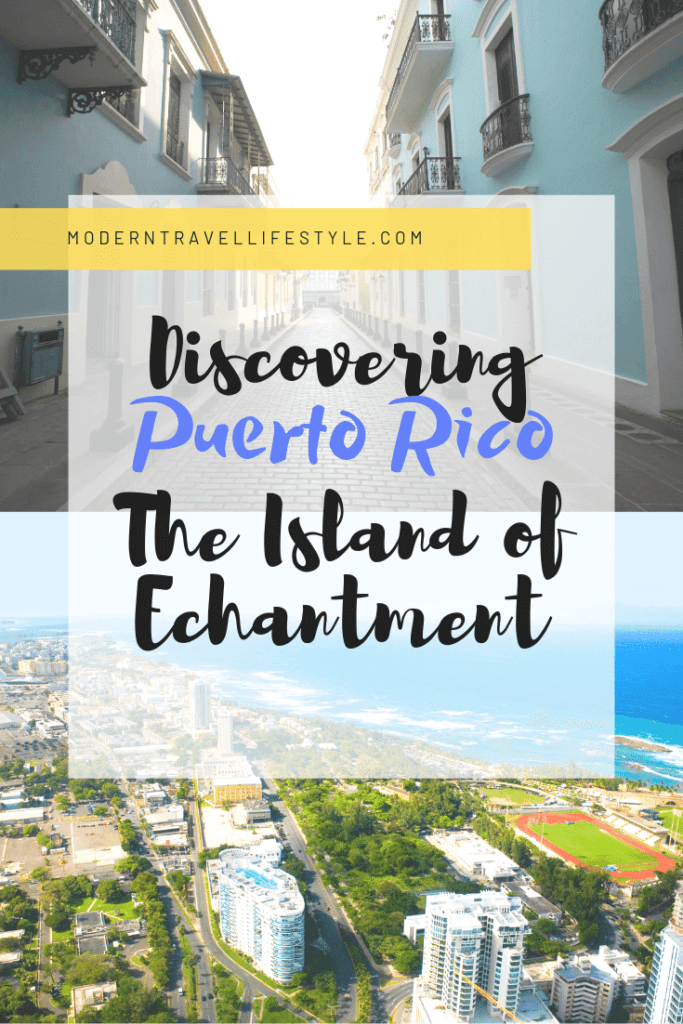 Better known as "La Isla del Encanto" (The Island of Enchantment), Puerto Rico is a Caribbean Island with many beautiful landscapes, beaches, waterfalls, and mountains that will leave you amazed.
I will take you to discover Puerto Rico, and you will definitely fall in love with this colorful and incredible island.
Please note that this post contains affiliate links, and any sales made through these links will reward me a small commission at no extra cost for you. I only recommend products and services I have tried and I love.
Puerto Rico Island is located in North America, between the Caribbean Sea, and the North Atlantic Ocean, at the East of Dominican Republic and West of the Virgin Islands.
To visit Puerto Rico, you have the same passport and visa requirements for entering the United States. American Citizens or Permanent Residents do not need a visa or passport to come to Puerto Rico, but a government issue photo ID is required.
The spoken language in Puerto Rico is mostly Spanish, however in most touristic places people would speak English.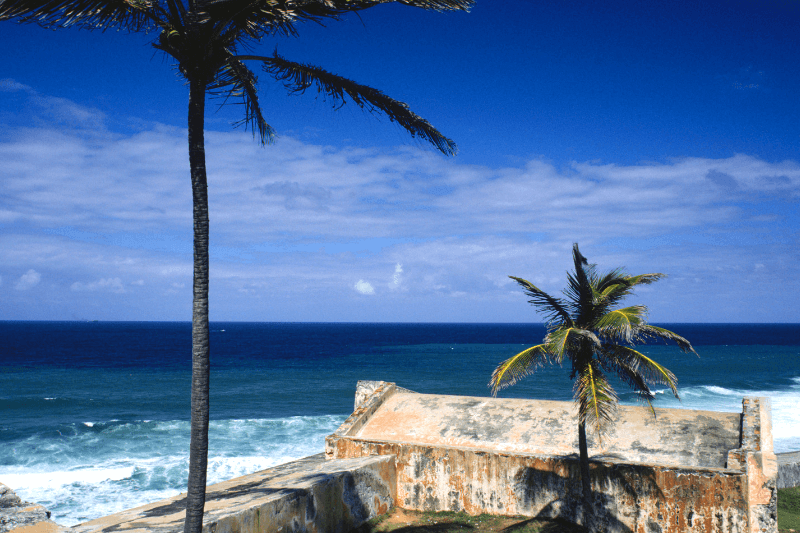 The average temperature is around 80° F, pretty much warm and sunny all year round. January is the coldest month with 70° F. Rainy months from April to October, being August the wettest month of the year.
To go around Puerto Rico, you can take an Uber or Lyft. Also, if you are in San Juan, you can adventure yourself and take the bus. When you go visit "Old San Juan" (I am going to talk about that in a bit), the best way to explore around is by walking.
As I mentioned before, Puerto Rico's weather is warm, so when it is time to pack, you should consider bringing appropriate attire.
T-Shirts, Shorts, Skirts, Beach Dresses, Underwear, Bathing Suits (at least two), Cover-ups, Flats, Sandals, Sneakers, Power Bank, Charger, iPad, Camera, Sunscreen and more, are the essentials to pack for a beach destination
. Here is a more detailed packing list of the must-have on my Beach Vacation Packing List
There are many areas you can stay on the Island. Based on my experience, in this Travel Guide to Puerto Rico, I recommend my top two areas where I really loved to stay.
San Juan
This is one popular destination in Puerto Rico, a great central location, and the best starting point when visiting the island. San Juan is for sure where you can enjoy your vacation, with a little bit of two worlds, modern city and Island vibes.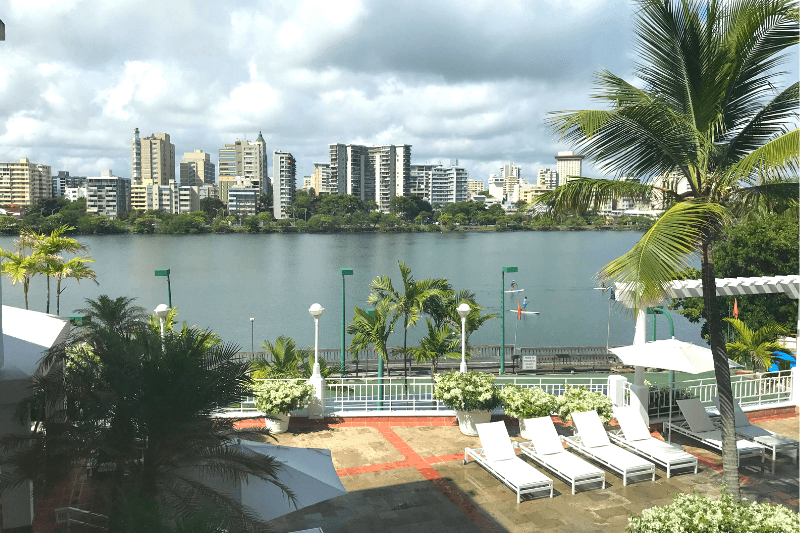 Courtyard by Marriott San Juan Miramar
One of my favorites because it is in a great location in the Juan-Miramar District, across the Condado Lagoon. You can walk a very short distance and find great restaurants and shops.
Courtyard by Marriott has an outdoor pool, and two restaurants with local and international food. Another good thing about this hotel is the spectacular service. The staff is so friendly, and always wants to help you with all you need in the kindest way.
If you are interested in checking prices and more features about this hotel, click here Courtyard by Marriott San Juan Miramar.
Condado Vanderbilt Hotel
This Hotel is located in Condado Vanderbilt and is definitely a spectacular property. The rooms are gorgeous, the cuisine is fantastic, and the service is five stars for sure.
One of my favorite features about the Condado Vanderbilt Hotel is the Spa, Oh my God! It's absolutely amazing. The Spa offers a wide selection of treatments. Face and body detox, Massage for Couples, Indoor and Outdoor therapies, and more. So, If you want to pamper yourself, you should definitely visit the Condado Vanderbilt Hotel Spa.
If you are interested in checking prices and more features about this hotel, check here Condado Vanderbilt Hotel.
Isla Verde
If you are looking for Paradise, you need to go to Isla Verde. Also, All-Inclusive hotels are prevalent there. Some of the most popular Beachfront Resorts, Casinos and Nightclubs are found alongside the area.
The most famous beach is "Alambique," you can do water sports like Surfing, Paddleboarding, Snorkeling and more. When it is time to eat, you can choose from all the restaurants located along the water.
Courtyard by Marriott Isla Verde Beach Resort
Located at just half a mile from the Airport, this beachfront resort is one of the best choices for family vacations, couples getaways, and more. This hotel just renewed the rooms, pool, and bar.
You can visit the casino, have a drink, or enjoy a delicious meal in one of the many restaurants. I would definitely recommend the "Sirena Oceanfront Restaurant" for dinner. You would enjoy a gorgeous view of the sunset on the outdoor oceanfront deck while delighting yourself with a three-course meal of delicious Caribbean cuisine.
If you are interested in checking prices and more features about this hotel, you can click here Courtyard by Marriott Isla Verde Beach Resort.
San Juan Hotel Curio Collection by Hilton
This fantastic Hotel is one of the favorite choices for couples, where you would experience a luxury vacation as celebrities do. This place has one of the top nightclubs of the island, "Brava Nightclub." Featuring four pools, restaurants, and bars,. I really liked the fact that we found many choices for dining. Local Puertorican cuisine, Mexican, Steakhouse, Pizza, Pasta, Sandwiches, Pastries, and many more options you would find in all the restaurants. Also, Cocktails, Mojitos and other Tropical drinks are served by bars and lounges.
If you are interested in checking prices and more features about this hotel, you can click here San Juan Hotel Curio Collection.
When it is time to enjoy your vacation, this Island offers an incredible amount of fantastic activities for you to be amused. In this travel guide to Discover Puerto Rico, I am including a list of my favorite activities.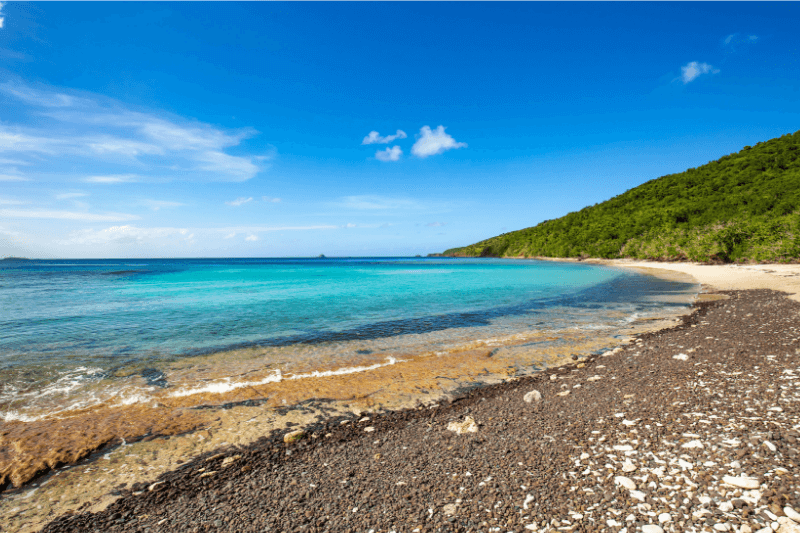 Beaches
Because of the fantastic weather, going to the beach is a must-do when you visit Puerto Rico. Some of the famous beaches are Isla Verde in Carolina, Crash Boat Beach in Aguadilla, and Playuela in Cabo Rojo.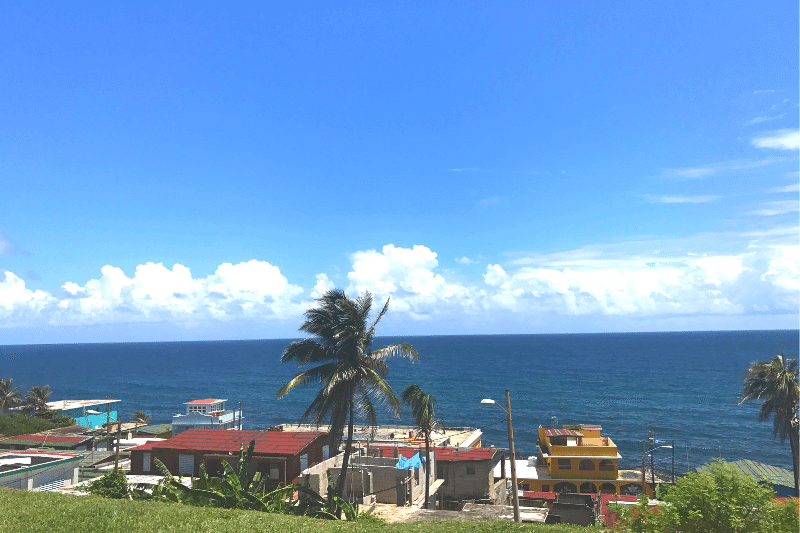 Surfing
If you are into surfing, Puerto Rico has incredible beaches for surf lovers. Domes, Maria's, Tres Palmas, and Sandy Beach are some of the best spots where you can surf. You can find many shops for renting surf gear, and if you want to learn how to surf, you can book surf lessons as well. Middles Beach in Isabella is one of the favorite spots for surfers of different levels.
Snorkeling
Puerto Rico is terrific for snorkeling. You can get a boat tour that will take you to explore gorgeous reefs. Other snorkeling areas you can swim to because they are really close to shore. I always bring my snorkeling gear with me, but if you don't have one or you prefer to rent it, no worries. Many shops in the are have snorkeling/diving gear for rent. My favorite place for snorkeling is "Culebra Island," the coral reefs are home of gorgeous fish, sea turtles, and stingrays.
Boat / Yacht Charter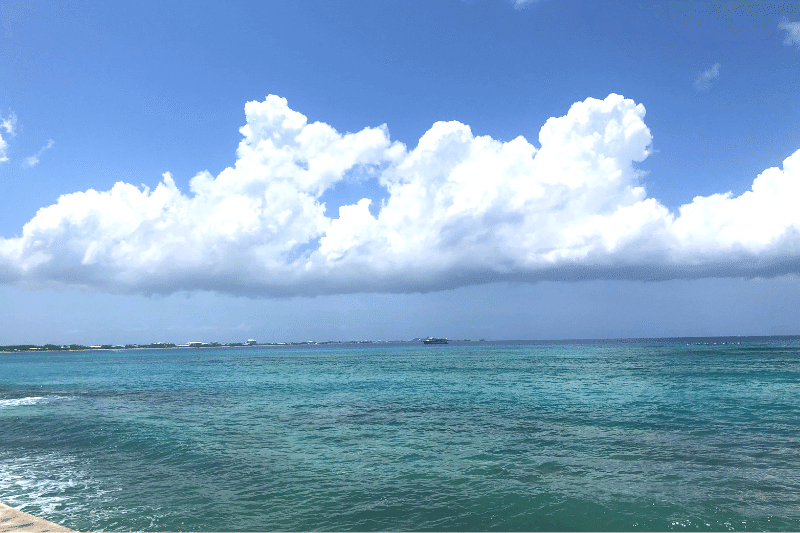 Another fantastic way to explore Puerto Rico's beaches is by a full day boat trip. You can find several places that offer different boat tours along the Island. My favorite boat trip was in "Fajardo." You can spend the whole day enjoying the sun, swimming, snorkeling or just relaxing while having a drink of your choice.
Old San Juan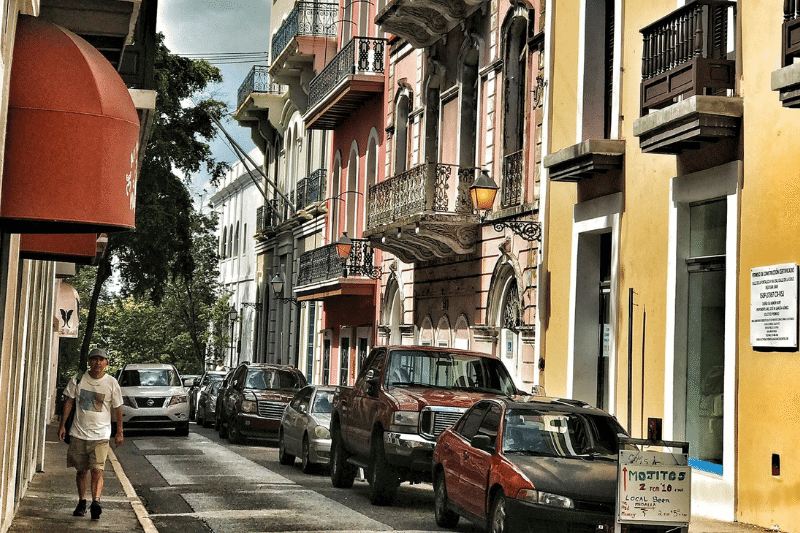 I really enjoyed "Old San Juan." You can walk and explore the whole place without taking a taxi or need for a car. Actually, walking is the best way to see and enjoy the streets of "Old San Juan." Definitely, you need to visit this place if you really want to get a real discovery of Puerto Rico, the Island of Enchantment.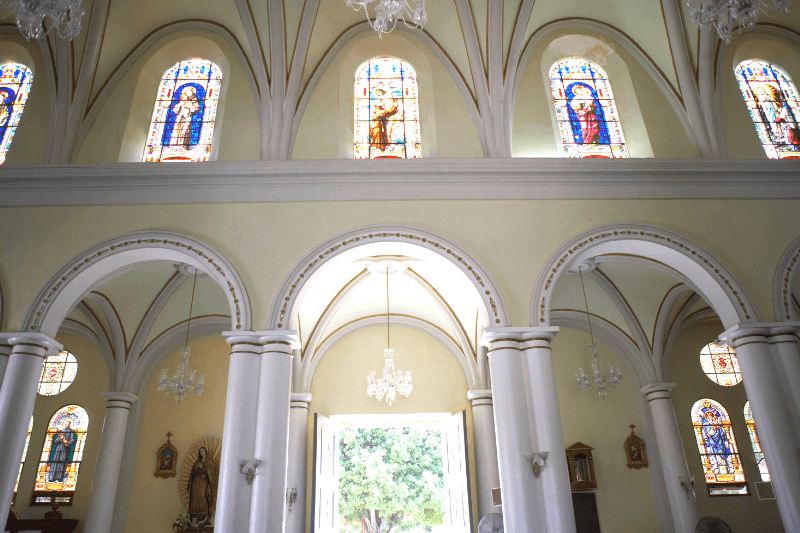 This place is the heart of the City with its gorgeous Spanish colonial style. Beautiful colors are stamped on every single location, filling your soul with happiness and joy. "Old San Juan" is full of history and culture, featuring Art Galleries, Shops, Restaurants, Boutiques, and Museums. I recommend to walk the whole area and see all the fantastic art pieces, souvenir shops, and of course try authentic Puertorican food in one of the restaurants in "Old San Juan".
Castle "San Felipe del Morro"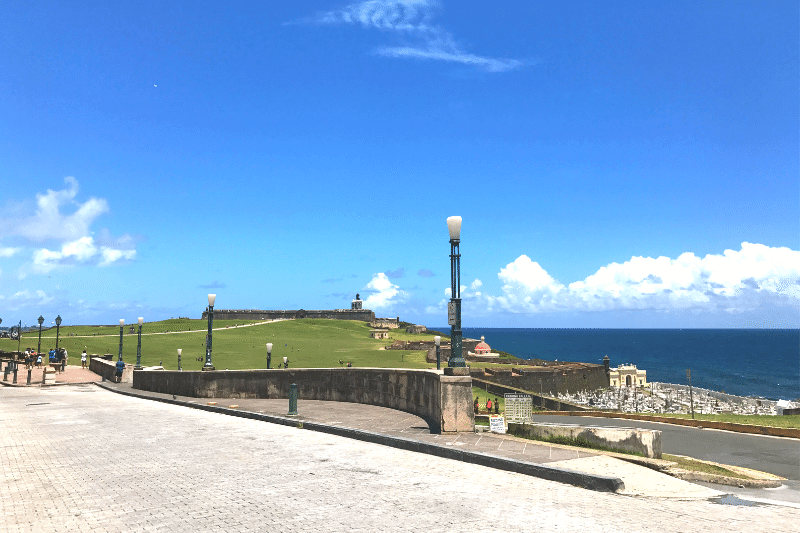 Also known as "Fuerte San Felipe del Morro" or "Castillo del Morro." As a little bit of history, I can tell you that this fortress is a UNESCO world heritage site on the northwestern tip of the islet of San Juan. It kept watch over the Atlantic and protected Old San Juan and the Bay of San Juan from incoming enemies for centuries. This is an excellent place for you to visit, you can't miss it when you visit Puerto Rico.
Toro Verde Nature Adventure Park
Located in the mountain of "Orocovis." This park offers several zip lines to fulfill your adventurous soul. The most famous zip lane is "The Monster," which is the second-longest zip lane in the world. Its name is because of the 1.57 miles cable, equivalent to 28 football fields, and Speeds up to 95 mph. It's 2.5 min of pure adrenaline. The views of the forest are amazing, and you will enjoy every minute of this incredible adventure. You can find more information on Toro Verde Nature Adventure Park Website.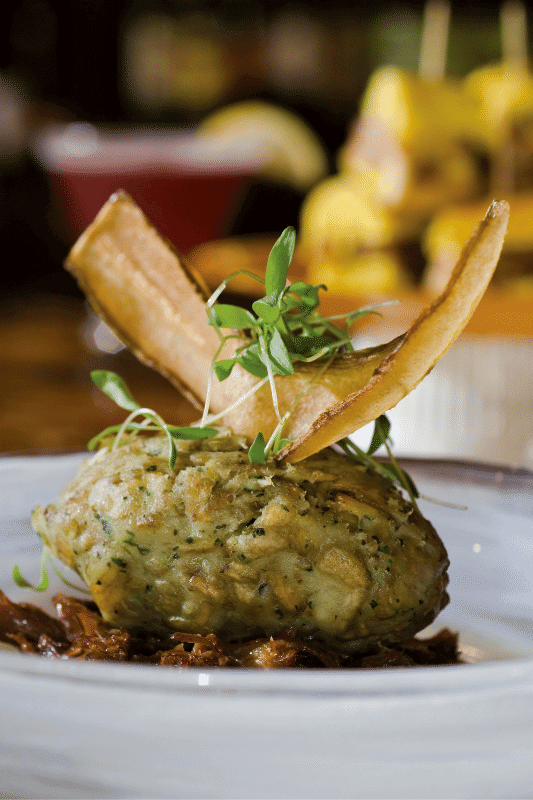 Arroz con Gandules: It's white rice cooked with pigeon peas, olives, capers, tomato sauce, seasoning, and sofrito. Sofrito is a cooking base made from cilantro, onions, peppers, and tomatoes
Mofongo: Fried green plantains that are smashed and mixed with a variety of ingredients such as onions, garlic, and pork.
Alcapurrias: Fritters made with green plantains and taro root, then filled with a variety of fillings like pork and seafood.
Pastelon: Plantains layered with ground beef kind of like a lasagna, but with plantains instead of pasta sheets.
Sancocho: A comforting beef soup made with a variety of veggies usually corn, yuca, and plantains
Coquito: Is a milky coconut drink served during the Christmas season in Puerto Rico. It is similar to eggnog, but the egg is replaced with coconut. Coquito is made from a blend of evaporated milk, cream of coconut, coconut milk, sweetened condensed milk, rum, vanilla, and is often enjoyed with a cinnamon stick.
Arroz con Dulce: This coconut rice pudding is made from cooking rice with coconut milk, sugar, cinnamon, nutmeg, and cloves. "Arroz con Dulce" is often garnished with cinnamon sticks and raisins and enjoyed as a dessert.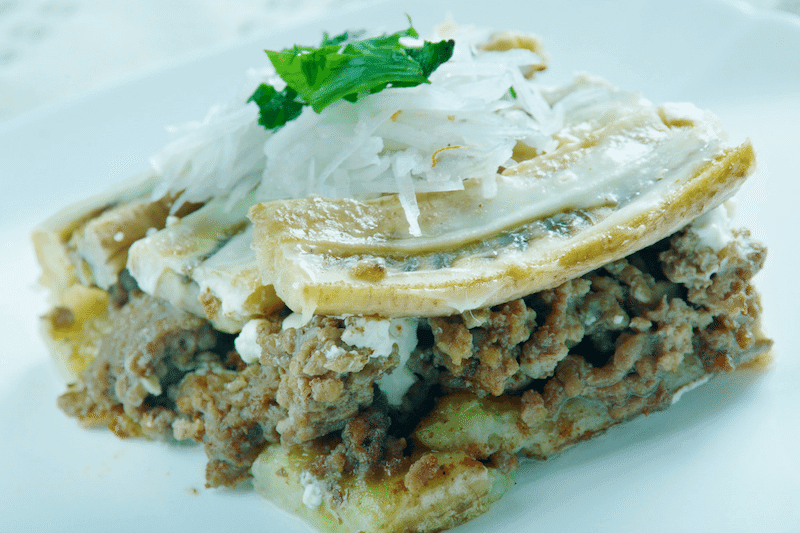 Please note that this post contains some affiliate links, and any sales made through these links will reward me a small commission at no extra cost for you. I only recommend products and services I have tried and I love.
Here are some of my favorite products that I have tried, and I really love. You can check them out on Amazon.com.
If you want to take a look at some other great destinations, you can click this link 7 Beautiful and Exotic Beach Destinations
I hope you enjoyed "Discover Puerto Rico: The Island of Enchantment." I would love your feedback, your ideas, and suggestions. Have you been to Puerto Rico? What did you enjoy the most? Share your experience with me in the comments section.
If you like this post, feel free to share it on social media.
My Favorite Products on Amazon
In Modern Travel Lifestyle Amazon Storefront, you will find the products that I like and recommend. While buying these products won't cost you any extra money, I will get a small fee that will help me keep this site up and running


[bdotcom_bm bannerid="2181″]
Related Posts