TULA is one of my favorites brands when its time to take care of my skin. Their products are 100% free from phathalates, parabens, propylene glycol, petrolatum, gluten, and mineral oil. And also are cruelty free. Including Probiotics which are fantastic for the skin here are some of the benefits you will get when you start including TULA in your daily Skincare Routine.
Probiotics are a 100% natural ingredient which act as a protective layer on the skin, locking in moisture for a more radiant, hydrated and balanced appearance.
Probiotics fight free radical attack and bad bacteria. They also help to reduce the appearance of redness and irritation and can help improve clarity and tone.
Just as probiotics help to calm your stomach, they're also clinically proven to help soothe distressed skin.
Probiotics help defend the skin against age-accelerating environmental stressors and help reduce the appearance of fine lines and wrinkles
Blueberries contain high levels of antioxidants that help protect the skin against free-radicals and also promoting hydration.
Turmeric is a flowering plant which roots contain anti-inflammatory properties, helping to improve the brightness of the skin.
Flaxseed contains high levels of vitamin B, omega 3, omega 6, fatty acids, magnesium, zinc, helping promote skin elasticity and firmness.
White tea is well know for its anti-aging and anti-inflammatory benefits for the skin, helping to prevent wrinkles and sagging skin.
Chicory root is excellent for boosting collagen, preventing the appearance of wrinkles and promoting the elasticity of the skin.
Vitamin A provides anti-aging benefits to the skin. Vitamin C contains antioxidants that helps preventing fine lines and helping to reduce the appearance of dark circles. Vitamin E helps to keep the skin hydrated, creating a barrier that lock the moisture of the skin longer.
TULA Skincare is my opinion is a great option to keep your skin healthy, beautiful, prevent aging and the appearance of wrinkles. These products contain natural ingredients, are safe to use during pregnancy and also 100% cruelty free.
Hope you enjoyed this post about Daily Routine with TULA Skincare, if you like it Pin it to your boards for future reference.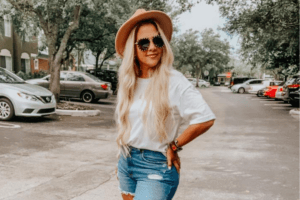 Everybody loves summer when there's finally some warm weather, pool and beach days, outdoor barbecues with family and friends, road trips, weekends at the lake, and many other fun activities that are impossible during the colder season. I live in Florida, which is called "The Sunshine State," so we pretty much enjoy an endless summer
Read More »