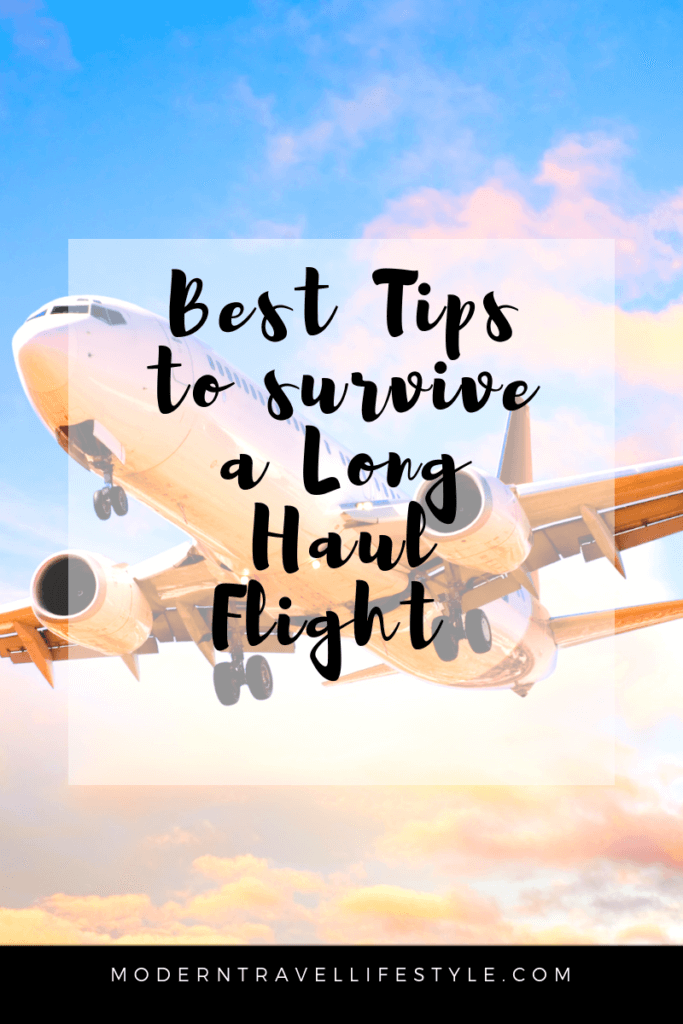 We are so excited about our trip to Hawaii, picturing ourselves at the beach, gorgeous paradise waiting for us. But I have some news for you, nobody thought about spending almost a day on a plane. That happened to my husband and I when we went to Hawaii. Based on my experience, here are my best tips on how to survive a long haul flight.
Please note that this post contains affiliate links, and any sales made through these links will reward me a small commission at not extra cost for you. I only recommend products and services I love.
Also you can go to Modern Travel Lifestyle Amazon Store where you will find more products that I like, and recommend.  While buying these products won't cost you any extra money, I will get a small fee that will help me keep this site up and running. Thanks for the Support. Click here
Select a good seat
If you are going to be on a plane for more than 6 hours you need to get a good seat. I personally like the aisle seat. I can get up to go to the restroom and walk around the cabin to stretch my legs. But at the same time being seated on isle have some cons. I would have to get up as many times as the person sits next to me want to go for a walk or use the restroom. Usually, my husband and I take turns because he likes isle as well. So, we bother each other the whole flight but at the same time enjoy the aisle seat.
iPad, tablet, kindle
Usually, long haul flights offer Movies and TV shows. I mainly prefer to bring my own movies and TV shows previously downloaded. Netflix, Plex, and other apps are useful for bingeing your favorites TV shows or watching movies. You can use a kindle or an iPad to read a book. Also, you can listen to an audiobook if you are not a reading person (my husband is in that group). If you want to know how to pack this items in your carry on here is a link to my post https://fashionablylena.com/what-items-you-should-always-pack-in-your-carry-on/
Items to make your flight more comfortable
If you are on a long haul flight, you want to be the most comfortable you can possibly be. A neck pillow is one of the essentials when you want to sleep. Also, headphones can be handy, so you don't hear much noise around. Last but not least, I can't travel without my eye mask, it's very important to me when its time to sleep. If you want to know how to pack these items in your carry-on, check my post https://fashionablylena.com/what-items-you-should-always-pack-in-your-carry-on/
Toiletries
Cosmetic and beauty products will always be in my list of items to survive a long haul flight. I'm not sure yet, but I ever wondered why my skin gets so dry on the airplane. I always pack my hand and body lotion, so my skin doesn't feel so dry. Lip balm is definitely a must-have because nobody wants to have chapped lips. After 6+ hours on a plane, you would like to refresh yourself a couple times. Wet wipes are a cheap, fast, and excellent solution against sticky skin. One more item that I would recommend is hand sanitizer, you have no idea how many germs are on a plane.
Remember all toiletries must be travel size of 3.4 oz, approved by TSA. You can find more details here https://www.tsa.gov/travel/security-screening/liquids-rule. If you want to know how to pack your basic toiletries and beauty products when you travel, check my post https://fashionablylena.com/what-items-you-should-always-pack-in-your-carry-on/
Snacks and water
I'm definitely a water drinker, so I don't want to be calling the flight attendant every time I get thirsty. I always bring my collapsible bottle, it's really useful when its time to pass through the TSA point check. When I get to the airplane, I fill it up with water and bye-bye to those tiny little cups.
In the snack area, I love to munch something while watching a movie, reading, or writing some notes. My advice is to pack some of your favorite snacks. Chocolates, cookies, protein bars, and gum are always on my list.
Comfy clothes
Wear comfortable clothes is very important and that's why it is one of the best tips on how to survive a long haul flight. Please don't wear that pair of jeans that looks awesome but barely fits you. Tight shoes are not a good idea either. I would recommend wearing comfy pants (yoga pants or leggings are a great choice). A t-shirt, lightweight sweater, socks, and sneakers. I always take off my shoes and stay without them the whole flight.
In conclusion, travel comfy would make your long haul flight a much better experience. If you have any other items that consider essential, share it with me in the comments section. If you like this post, feel free to share it on social media.
My Favorite Products on Amazon
In Modern Travel Lifestyle Amazon Storefront, you will find products that I like and recommend. While buying these products won't cost you any extra money, I will get a small fee that will help me to keep this site up and running


More Posts to read