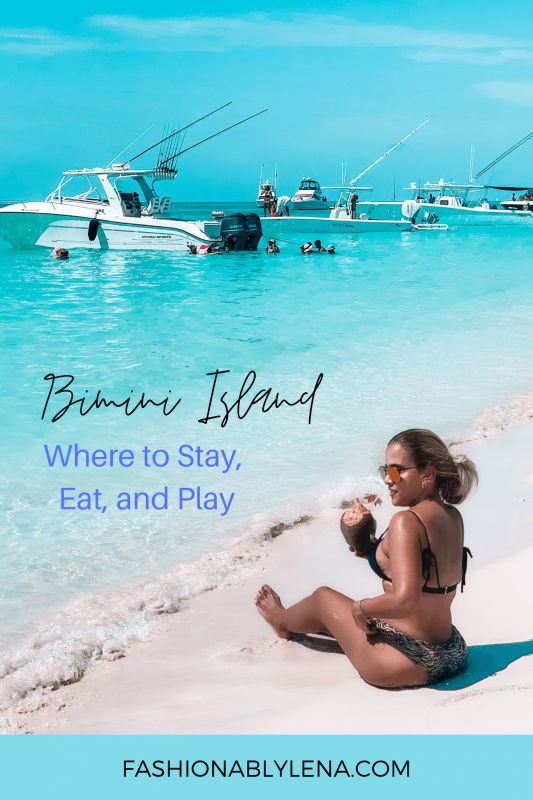 Bimini is a chain of little islands in the Bahamas. You can have a wonderful vacation in this fantastic place surrounded by turquoise Cristal clear water and get in contact with nature while swimming, snorkeling, diving, and more. When you arrived by plane or boat, you would need to clear customs. I honestly recommend being extremely patient during peak seasons (like summer) because there are not many officers. The custom process can take some time, but look at the bright side, you are about to start a great adventure in this fantastic Island. Here is a list of the Best things to do in Bimini Island Bahamas.
Bimini is located very close to the United States, just 50 miles away from Fort Lauderdale. You can get there by plane, seaplane or charter boat. The weather is like most of the islands, between 68 and 88 degrees. Bimini has two sides, North Bimini and South Bimini, and also many cays. As I mentioned before, this Island is small so that no many cars can be seeing here. If you want to go around and explore craft markets or local restaurants, you can call a taxi. Other transportation choices are bicycle and golf cart. You can rent this type of vehicle in some places along the Island.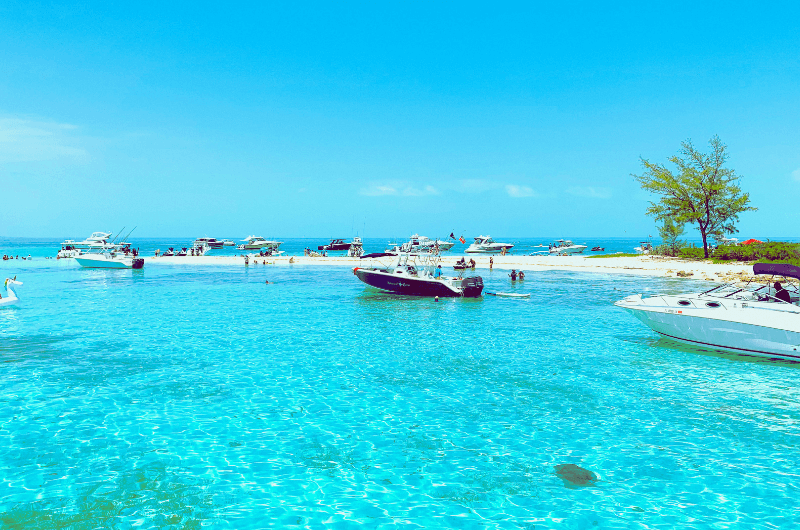 What you should pack
As I said before, Bimini has tropical weather, so your outfits should be more Island oriented. The amount of days you are going on vacation is related of course, to the number of outfits, underwear, and other things you should pack. I would suggest what I called "essentials," and you figure out how to apply the list to the number of days. Here are some of my favorites must-have. I only recommend products that I have tried and really love.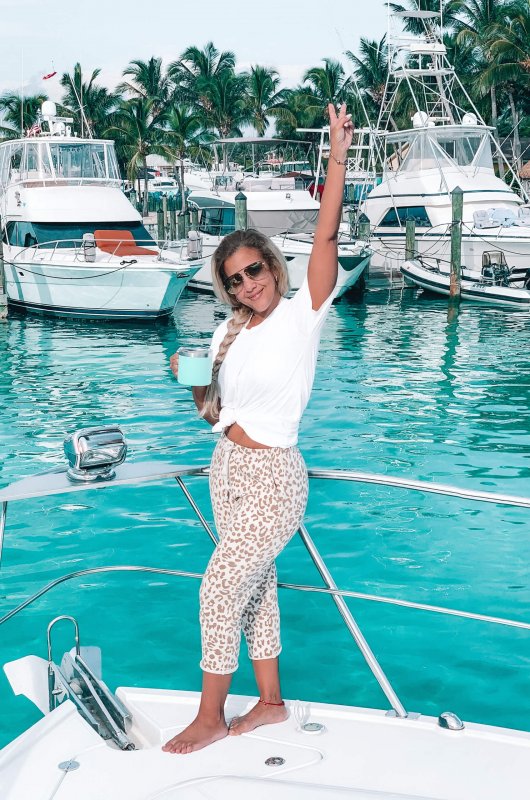 SHOP MY LOOK

Clothing and Shoes
T-shirts
Shorts
Underwear
Bathing Suits & Cover-ups
Beach dresses
Sleepwear
Flats, Sandals, Flip Flops






Toiletries
Toothpaste
Deodorant
Shampoo and Conditioner
Wet wipes
Makeup remover
Facial Moisturizer
Lip Balm

Cosmetics
Body Lotion, one of my favorite brands, is the Brazilian Bum Bum from Sol de Janeiro; the ingredients include guarana and coconut oil. It absorbs really fast and leaves the skin so smooth; also, the smell is delicious.
Leave-in hair cream, I recommend using this, especially for those beach days. Your hair gets dry with too much Sun and salty water, so keep it hydrate it is something you should consider. 
After-sun lotion, when you spend many hours exposed to the Sun, your skin needs to get some moisture back. Sun Bum Cool Down Hydrating After Sun Lotion is excellent for revitalizing your skin. It's lightweight, non-greasy and leaves your skin smooth and soft.

Accessories to Protect you from the Sun
Hat, I'm a hat lover, so I always pack at least 2 when I travel. Hats are still a great choice to protect yourself from the Sun.
Sunglasses, I really love sunglasses, and if you read some of my previous posts, you know that I need them because I can't stand sunlight really well. One of my favorite brands is Quay Australia; you can check the gorgeous models on their website.
Sunscreen 35+, remember to check the SPF protection. It has to be UVA and UVB, so your skin gets protected from the sun damage. 



Electronics
Your cellphone (of course you would never forget this)
Cellphone pouch waterproof, this is an excellent choice if you want to take some underwater photos with your phone.
Power banks and chargers, always good to have a backup source of charge for your electronics.
Camera, nowadays everybody takes photos with the phone. Some people travel with many photography devices, SD cards, tripods, lenses, and more. 

Medicines
Motion Sickness pills
Pain Killer
Sunburn lotion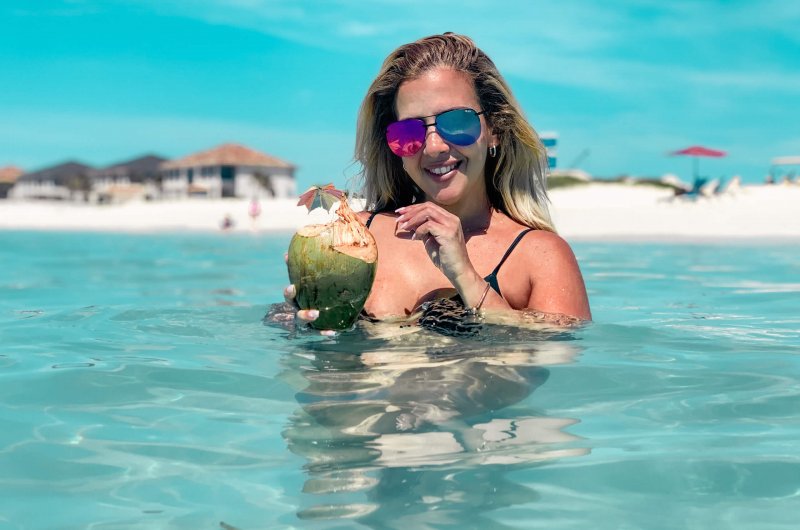 Where to stay
Bimini Big Game Club Resort & Marina
This is one of my favorites places to stay in Bimini, located in North Bimini. It offers gorgeous rooms, cottages, and suites with a laid back sea-inspired decor. You can do kayaking, paddle boarding, and also bicycles are complimentary. Bimini Big Game Club has two restaurants, bars, an outdoor pool, BBQ grills, and a dive center. One of the most popular fishing marinas in Bimini is here, the port of call for hundreds of fishers and majestic yachts. If you are interested in more info about this fantastic place, go to Bimini Big Game Club Resort & Marina website.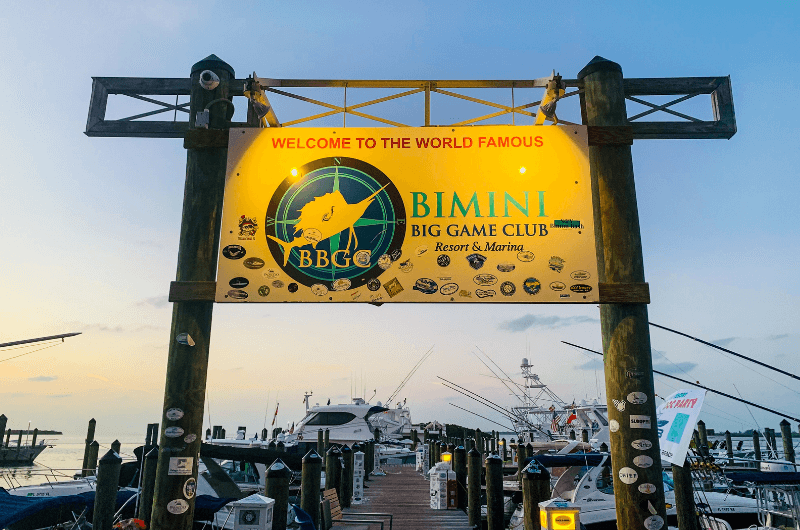 Hilton at Resorts World Bimini
This hotel, located in North Bimini, offers a luxury experience where you can relax on sandy white beaches and turquoise waters. Hilton at Resorts World Bimini has very chic-modern style rooms, suites, and villas. One of the largest Bimini's Marina is here too, along with nine restaurants offering pizza, sushi, seafood, Italian food, and more. You can book some tours from here to visit the land or to have fun at the sea. If you want to get more information or make a booking, you can go to Hilton at Resorts World Bimini website.
Bimini Sands Resort & Marina
Located in South Bimini, this place is a more family-oriented type, which is an excellent location for prominent families, especially if you are traveling with small kids. Including 200 units that are mostly privately owned, this place is more of a condominium community place to stay. You can book some fishing charters which kids will love, and do some snorkeling or diving as well. You can find more info here in Bimini Sands Resort & Marina website.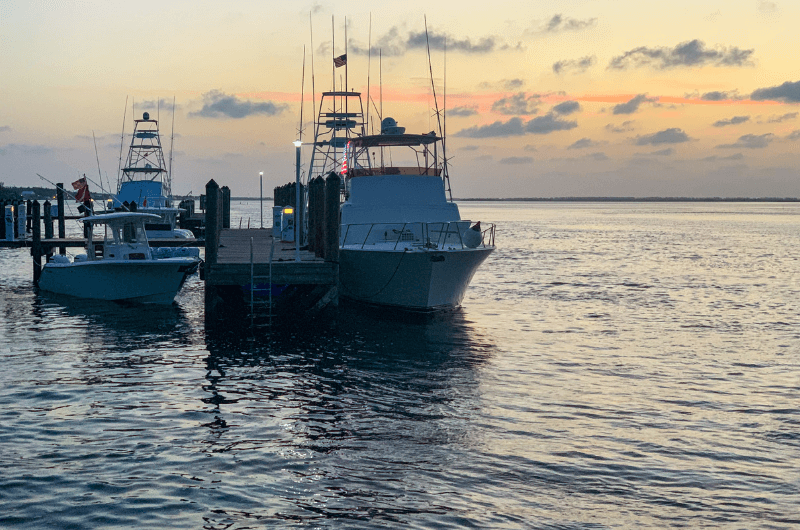 Where to eat
I definitely love Bahamian food, and Bimini offers the best dining experience you can imagine. Fry-fish, Conch salad, conch fritters, and more can be found in Bimini's local restaurants. Also, if you are not into local food, you can find international dishes too, from sushi, pizza, pasta, and steak.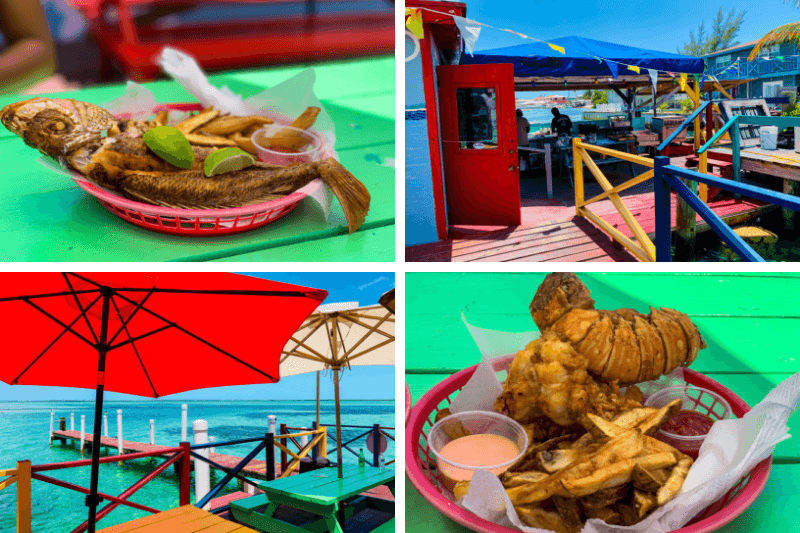 Stuart Conch Stand
Located in North Bimini, this place is famous for the "Conch Salad," a mixture of tomatoes, peppers, onions, oranges, lemons, and conch. The menu includes lobster salad, shrimps, and many other dishes.
Ebbie & Pat's Bonefish
This tiny restaurant is very unique. Dinner is served at 7 p.m., including fresh fish, lobster, and more. The bar offers some delicious cocktails and the local beer "Kalik" as well. As a fun fact, the brewery who makes this beer is the same that produces Heineken and Guinness. In conclusion, Ebbie & Pat's is the perfect spot where you can relax and have a drink while enjoying the sunset.
Big John's Bar & Grill
Located in North Bimini, this restaurant's menu includes seafood, ribs, pizza, and more. The bar serves excellent cocktails, tasty mojitos, and the local beer. Big John's Bar & Grill is an excellent choice to have a pleasant outdoor dining experience or go and hang out, drink some cocktails, and dance.
Big Game Club Bar & Grill
Located at the Big Game Club Marina, this place offers a fantastic waterfront dining experience. The menu includes Fresh fish, Conch, Cheese Burger, Steak, Pasta, and more. You can indulge yourself with any of the delicious dishes or enjoy live music spending a good time with friends.
Things to do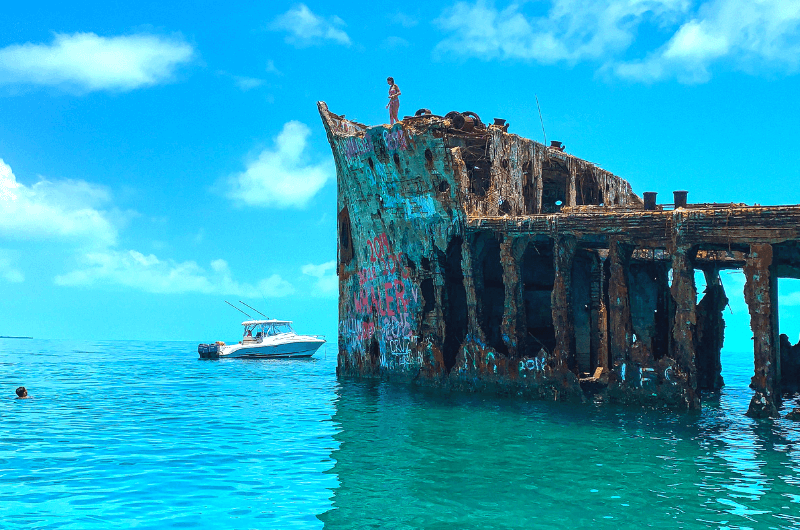 S.S. Sapona Shipwreck
I definitely have to include the Sapona Shipwreck in the Best things to do in Bimini. The SS Sapona was one of the fleets of concrete ships which serves as a troop transport during WWI because steel was in short supply. After a couple of years, this ship was sold to Carl Fisher, who used it as a casino and later on for oil storage. In 1924 a British war captain and liquor merchant used the Sapona as a floating warehouse to store his liquor during the prohibition era.
If you are a snorkeling/diving lover, this place is for you. You can explore this underwater museum, swimming surrounded by tropical fish and beautiful corals. Definitely, SS Sapona Shipwreck is one of the top best things to do in Bimini Island.
I felt kind of brave and jumped from the top of the ship what is 40 feet height more or less. (that is my whole quote of bravery for this 2019).
Honeymoon Harbor
This gorgeous cay can be accessed just by boat or jet ski, so if you want to visit it, you might have to get one of many tours offered on the Island. This shallow sand bar hosts many stingrays and colorful fish. Don't be afraid of stingrays, they are very friendly and used to all the attention tourists give them every day. After the first couple of minutes, you will overcome your fear and start getting comfortable with the idea of seeing these beautiful creatures swimming around you. I suggest don't touch them on the back (where the sting is) just the front and the wings, also you can feed them, they will come to you and grab the food out of your hand. I really enjoyed Honeymoon Harbor, it was an enjoyable experience, and that's why it is on the list of Best things to do in Bimini Island.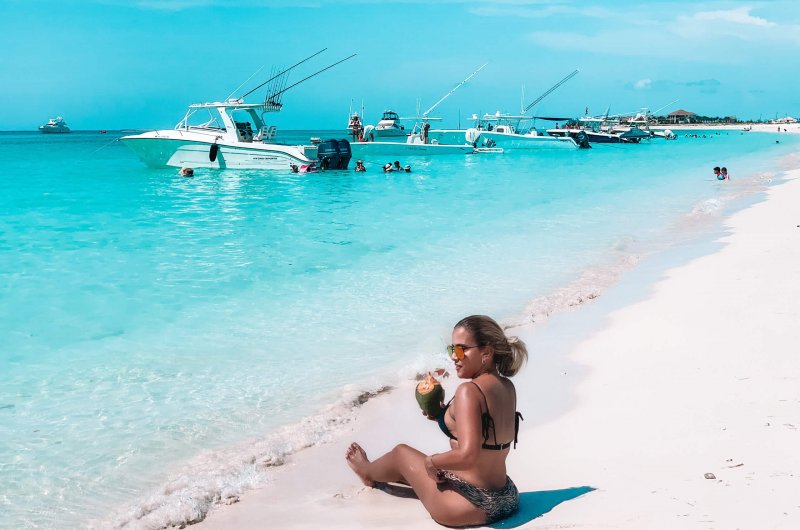 In conclusion, Bimini is an overlooked Bahamian Island. This is the place to spend some days enjoying paradise surrounded by crystal clear waters, white sands, and delicious food. I definitely recommend to come and visit Bimini Island. You will find everything you need to have fun, also relaxing is always a good choice in this fantastic place. In conclusion, Bimini Island is one worth visit destinations, and you should include it in your bucket list.
I would love your feedback, your ideas, and suggestions. Have you been to Bimini? What other places you can recommend for eating and staying? Share your experience with me in the comments section. If you like this post, feel free to share it on social media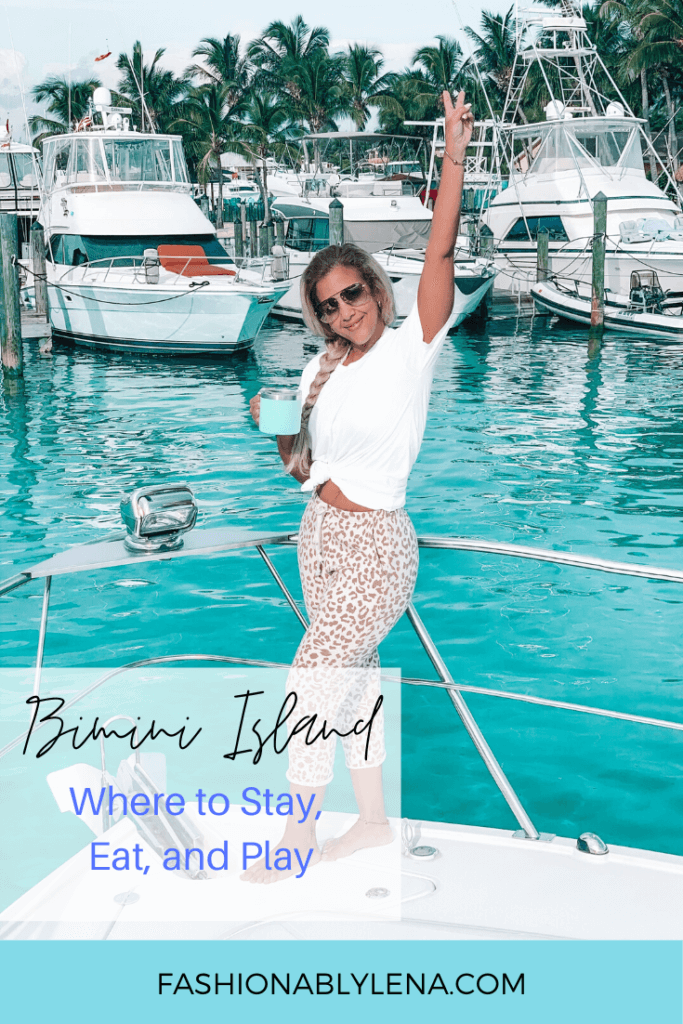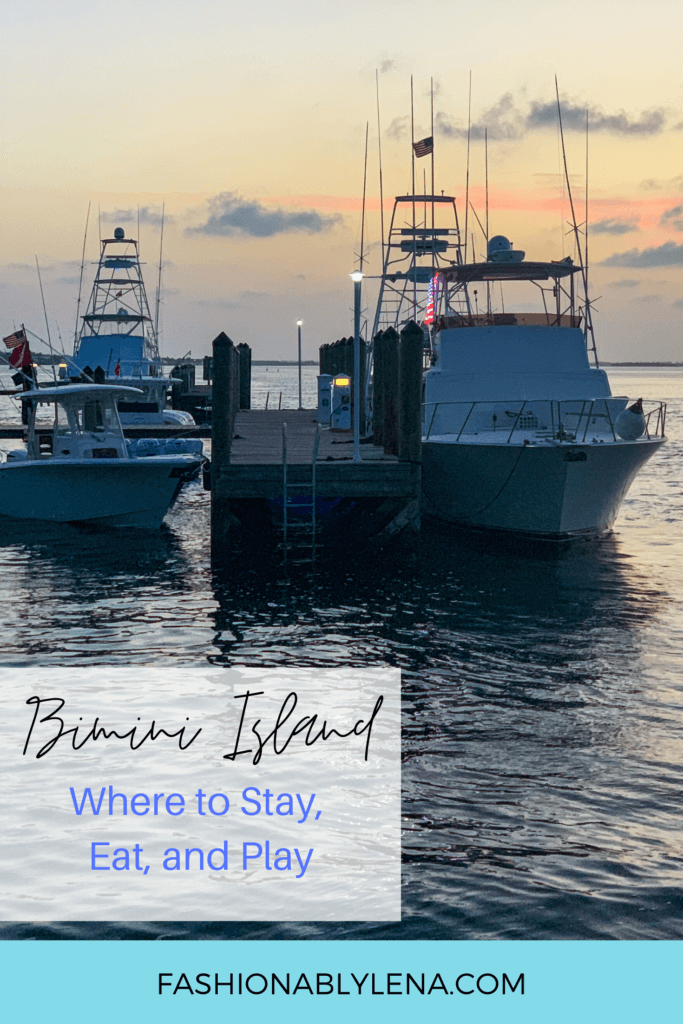 Shop My Instagram Looks
More Posts for you