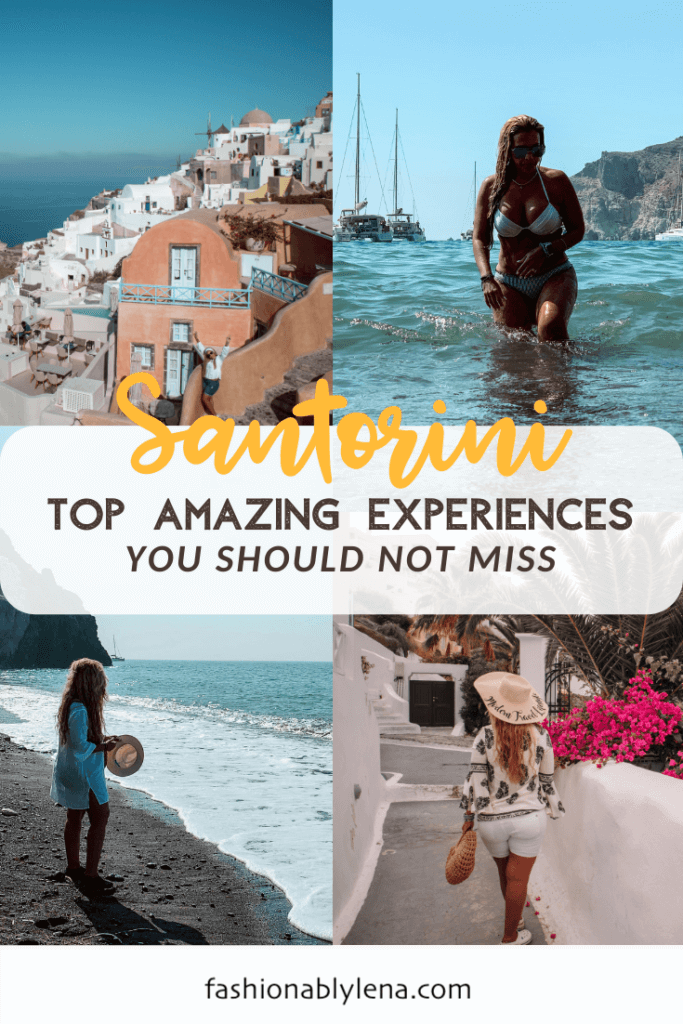 Santorini is a one-of-a-kind place that will make you fall in love with its romantic pathways and breathtaking views. Santorini has many places to visit, activities to do, and flavors to try, and in my opinion, you will never get tired or bored in this fabulous town.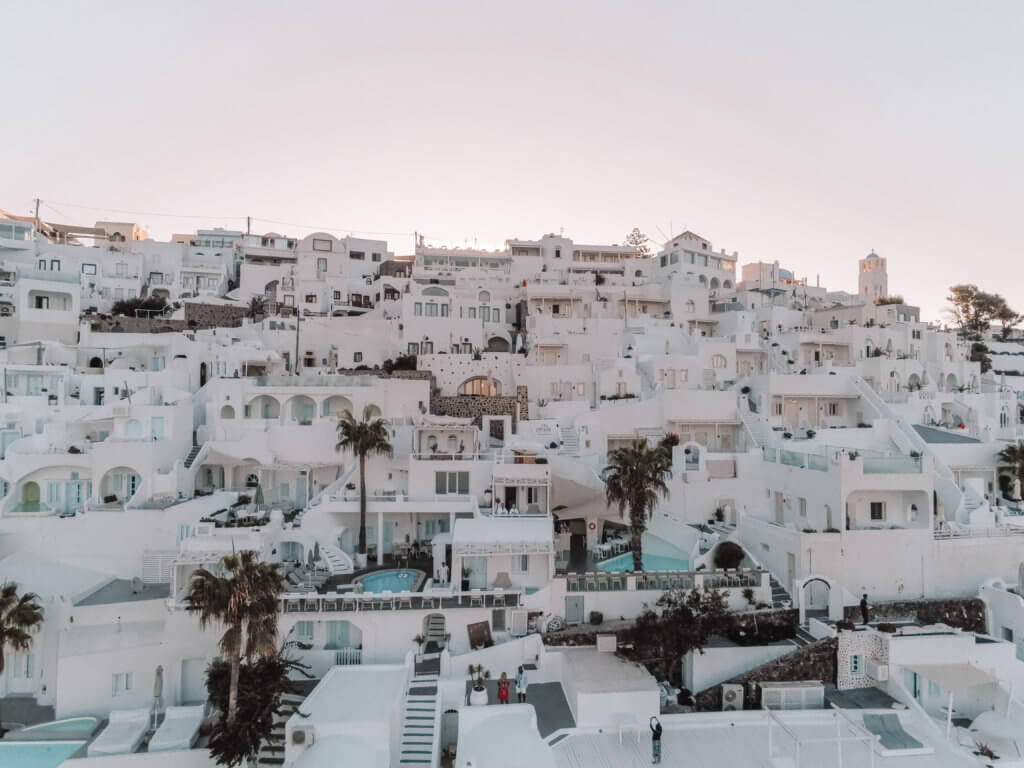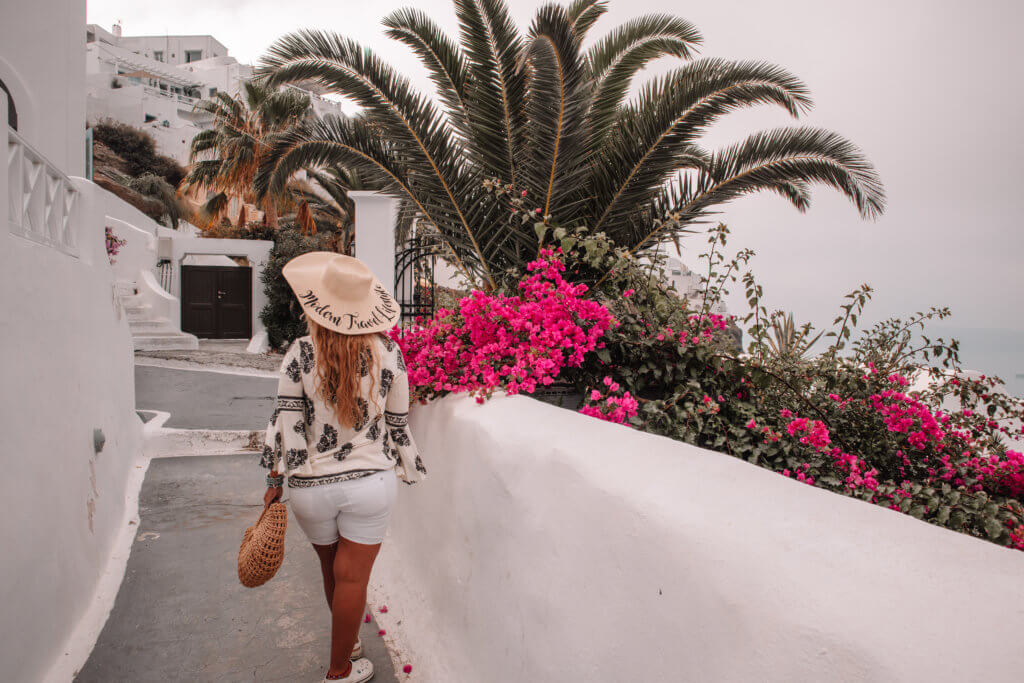 Tip: The best time of the year to visit Santorini is from late March to late October. After November, most of the places are closed because of the winter, so you won't find as many options as during the other months of the year.
In my experience, here is a list of the most amazing experiences you shouldn't miss in Santorini.
Please note that this post contains affiliate links, and any sales made through these links will reward me a small commission at no extra cost for you. I only recommend products and services I have tried, and I love.
Stunning View of the Caldera
If you are visiting Santorini, I would totally recommend staying in a hotel with a Caldera view. The best towns are Fira, Imerovigli, Firostefani, and Oia; here, you will be stunned by the beauty of this fantastic view that looks right out of a painting. There's nothing better than waking up and taking your cup of coffee while admiring such a gorgeous landscape.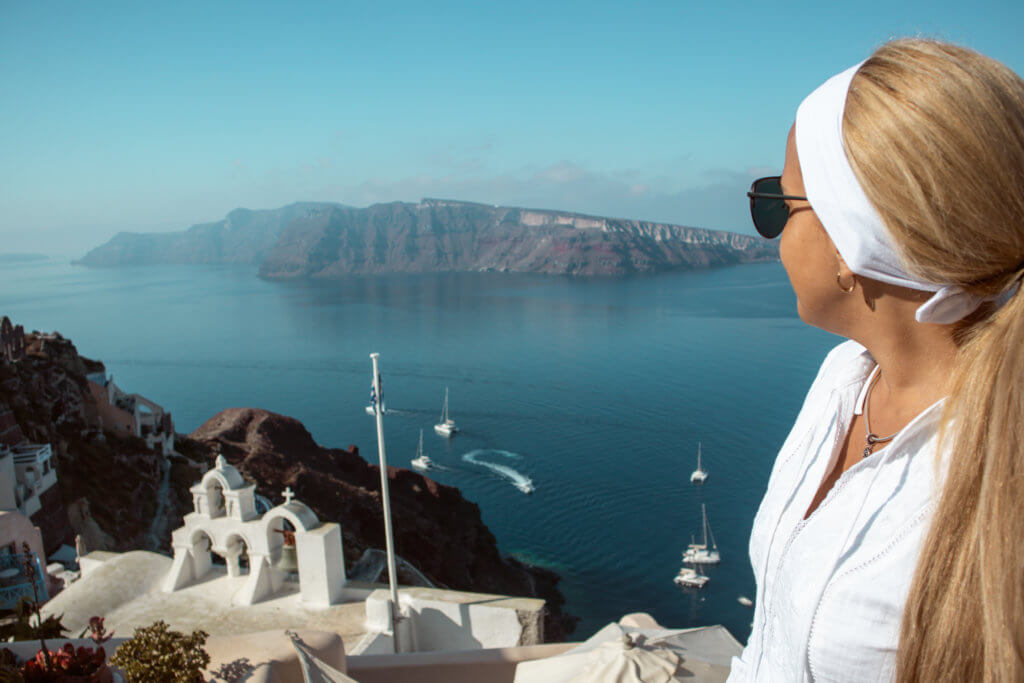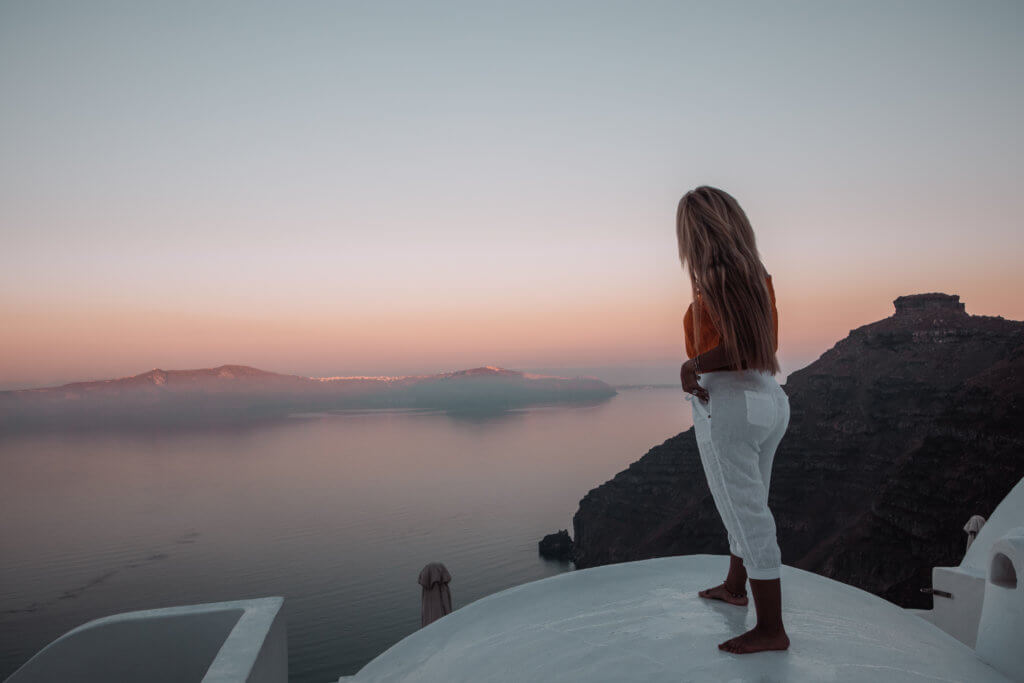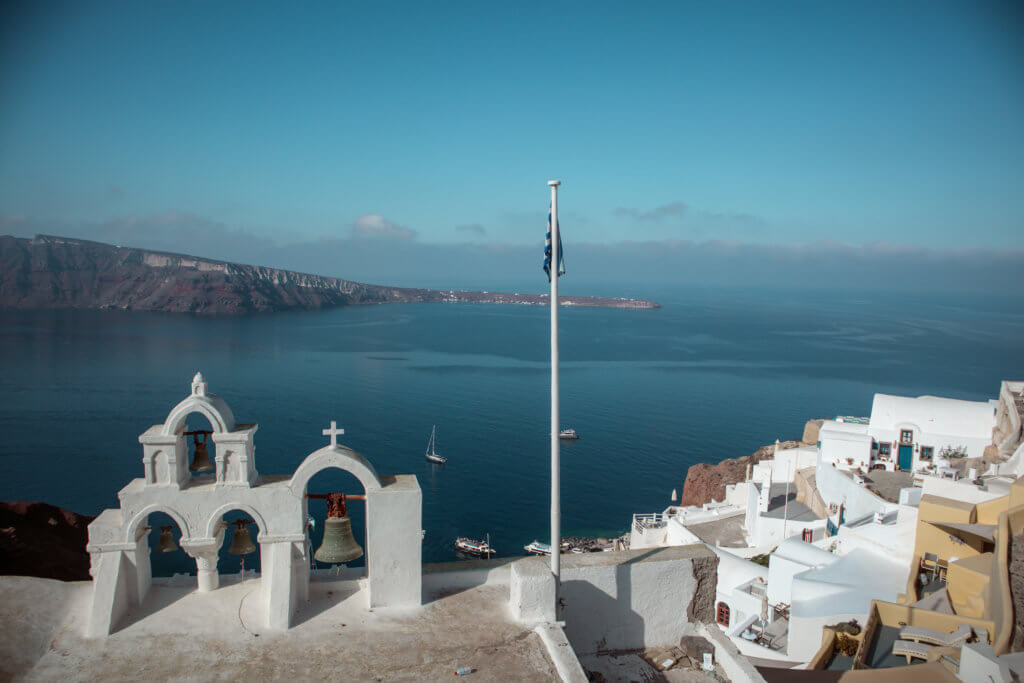 Be Charmed by the Blue Churches
Here's a quick, funny story: I asked a local, "Where is the blue church?" He replied, "Oh, dear! All churches are blue." Indeed, all churches are blue, and guess what? One is more beautiful than the other. This is a typical Santorini photo, where you can see the blue domes that are so unique and particular to this charming town.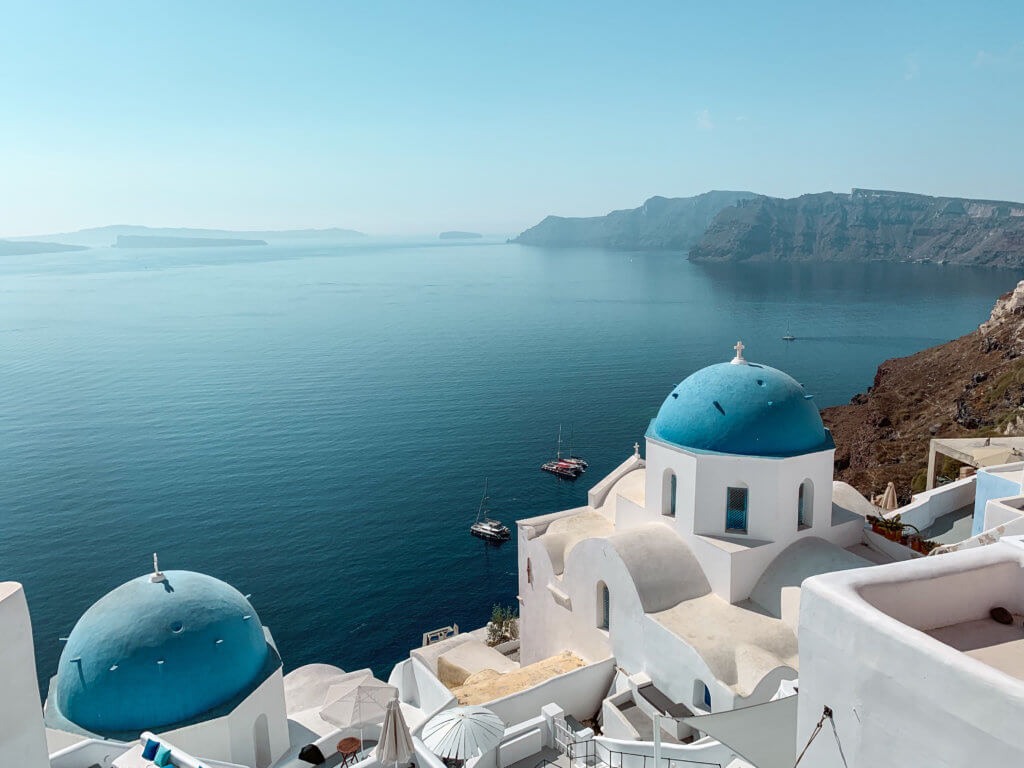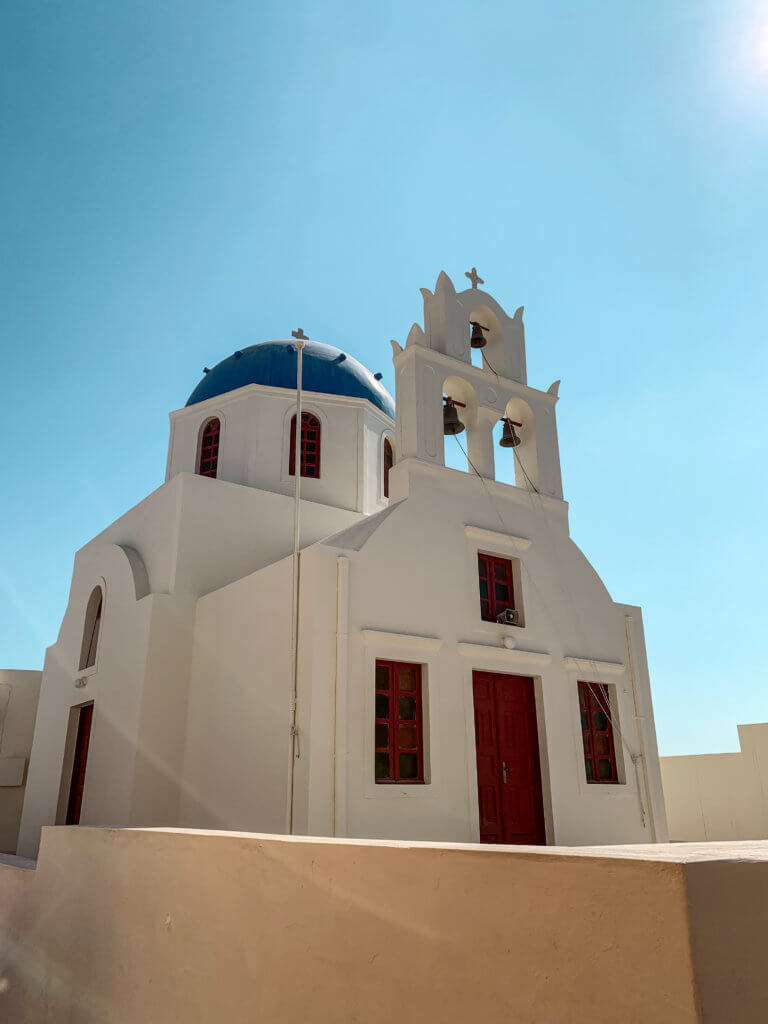 Visit Amoudi Bay
The Bay is well-known as one of the best locations for viewing the sunset. Amoudi Bay is also known for the 200 steps (too many, in my opinion) leading from the Bay to the town of Oia. You will find restaurants where you can enjoy lunch or dinner, along with some drinks. Amoudi Bay is an excellent spot to watch the sunset as well.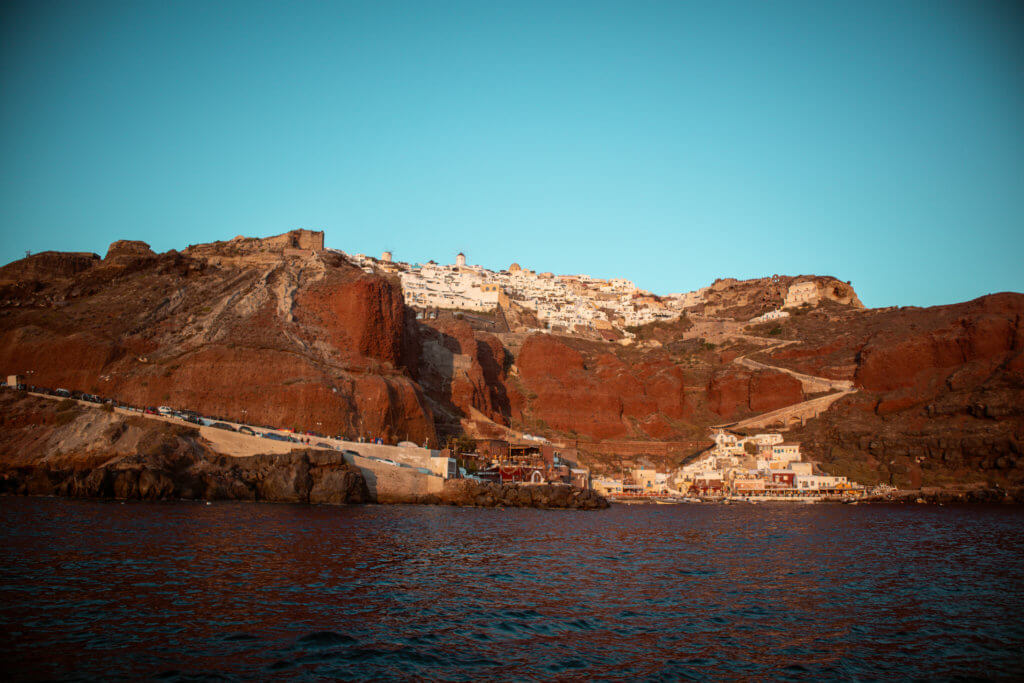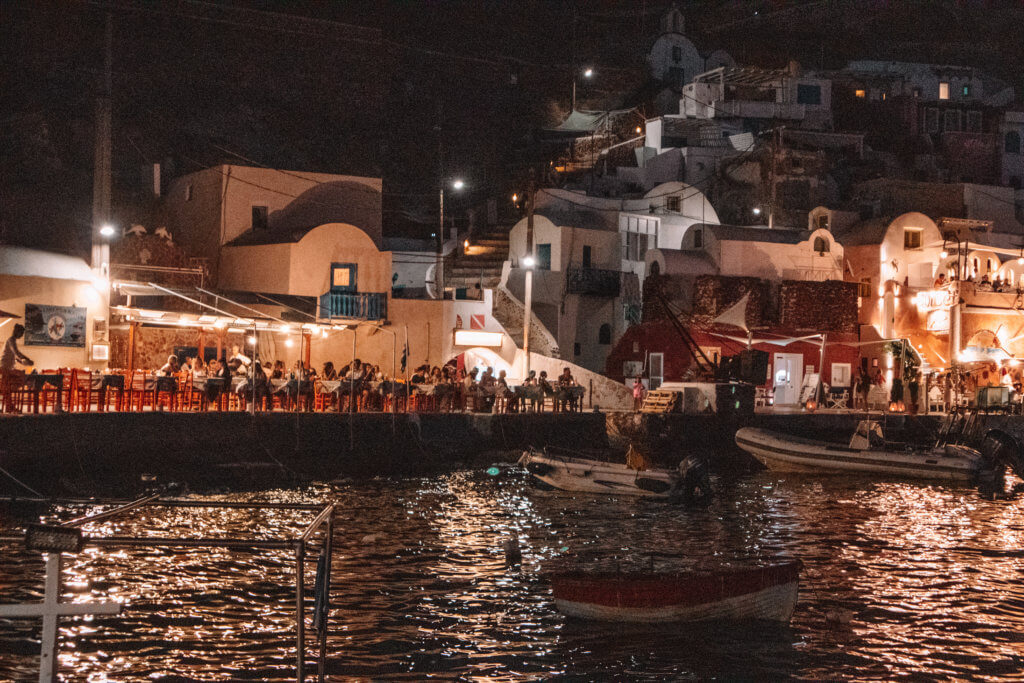 Experience the Therapeutic Power of the Hot Springs
Nea Kameni is surrounded by warm, dark waters that are known for their therapeutic benefits. Visitors can reach it via a boat that departs from the old port of Fira. They can then enjoy a bath in the hot springs. The healing waters of Nea Kameni consist of iron and manganese, which act against many diseases. In my experience, I didn't feel the water to be actually hot, but just warm with suddenly colder currents. Still, I think it was a pleasant experience overall.
Tip: Do not wear white swimsuit to get into the hot springs, sulfur stains stay forever. Also, silver jewelry is not recommended to wear because it will get damaged.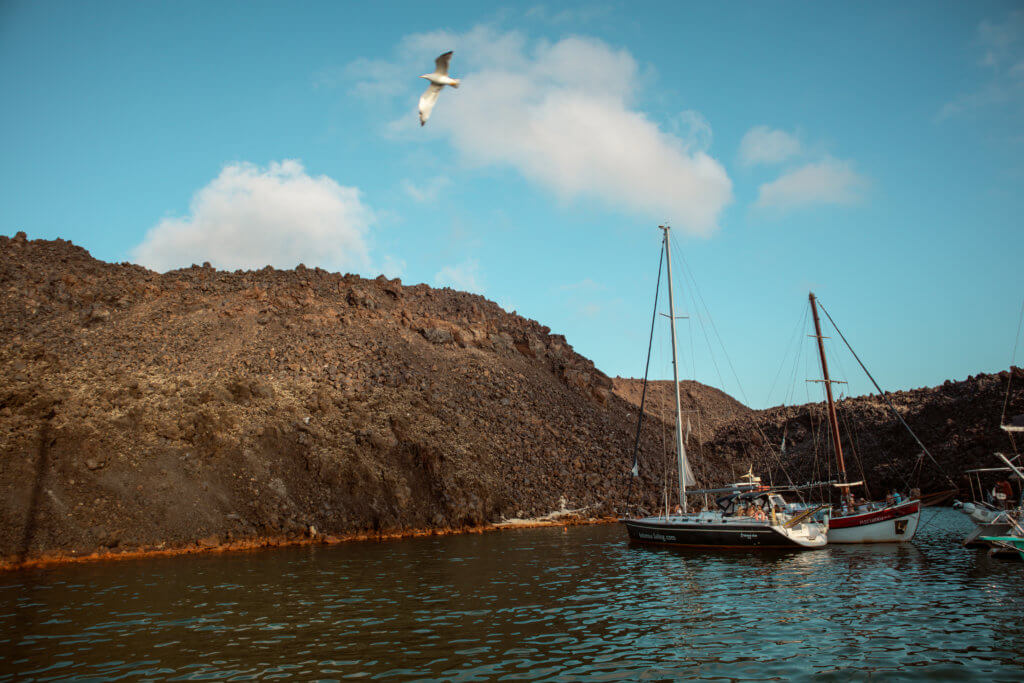 Walk Along Oia's Streets
Oia is one of the most famous towns in Santorini. Gorgeous stone pathways, blue churches, incredible views, many restaurants, and numerous shops make Oia a paradise in the complete sense of the word. You and I are not the only ones interested in visiting Oia, so I would suggest going really early in the morning to explore around, enjoy the views, and snap some photos before everybody gets there.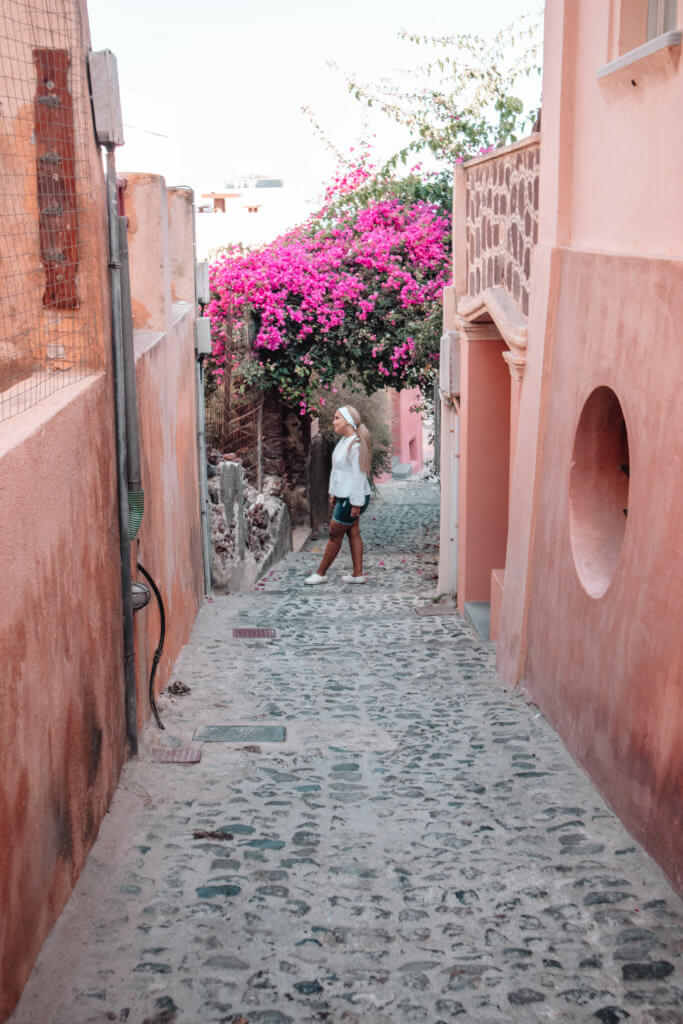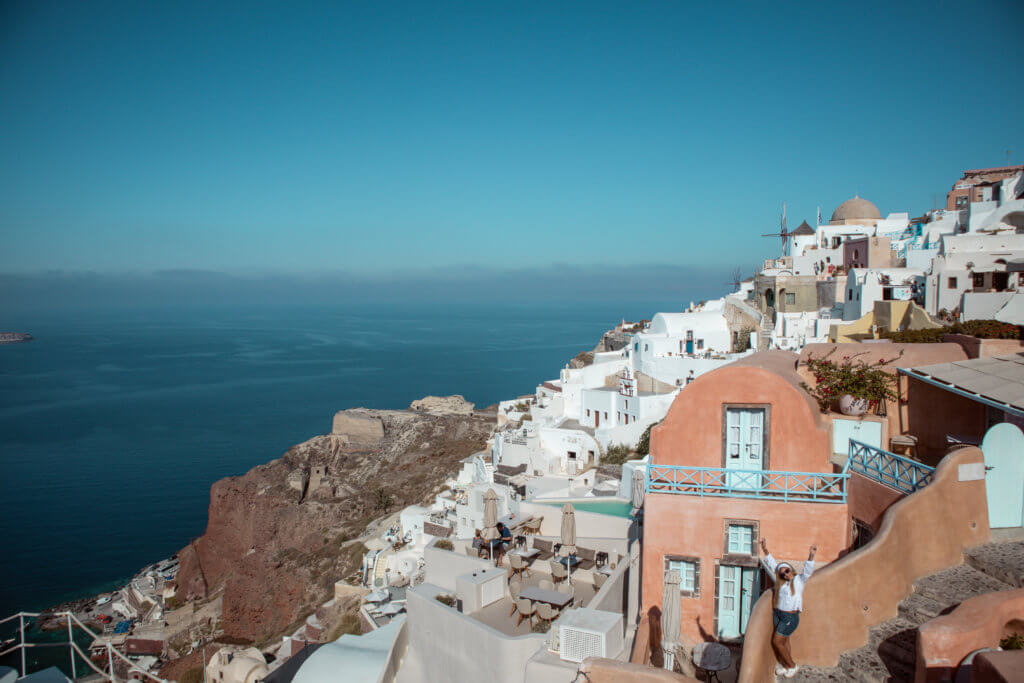 Go Shopping
White dresses, cover-ups, sandals, purses, paintings, sculptures, olive oil soap, evil eye charms, donkey milk beauty products and more, are just a few of the many things you will find in Santorini's shops. Just don't jump and buy in the first place you get in as prices are quite high. Maybe you can find a better rate just a couple of shops down the road.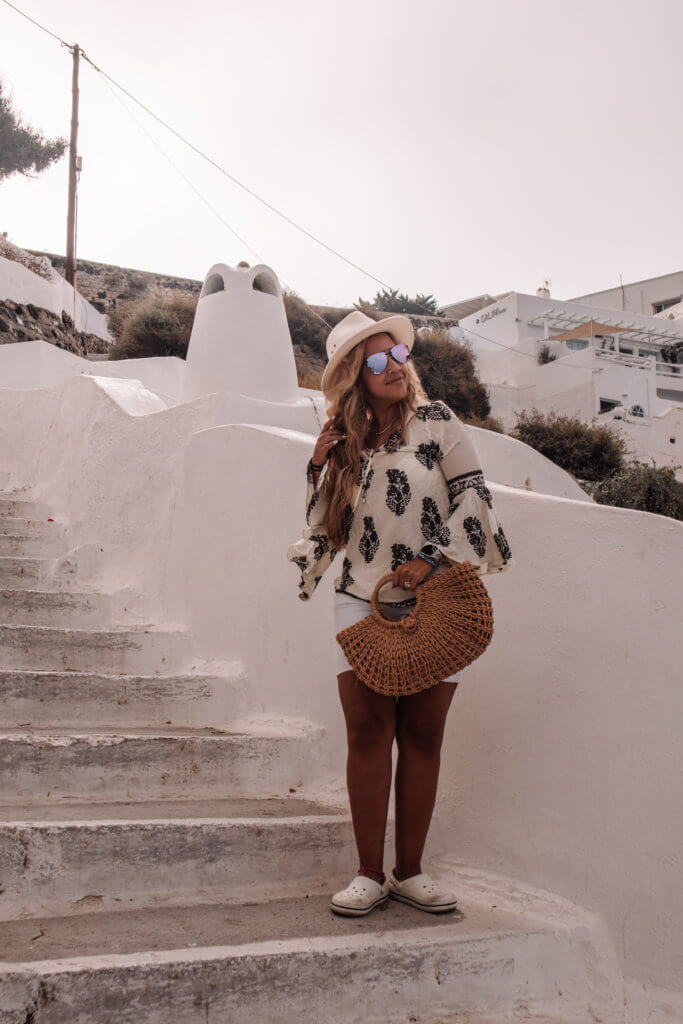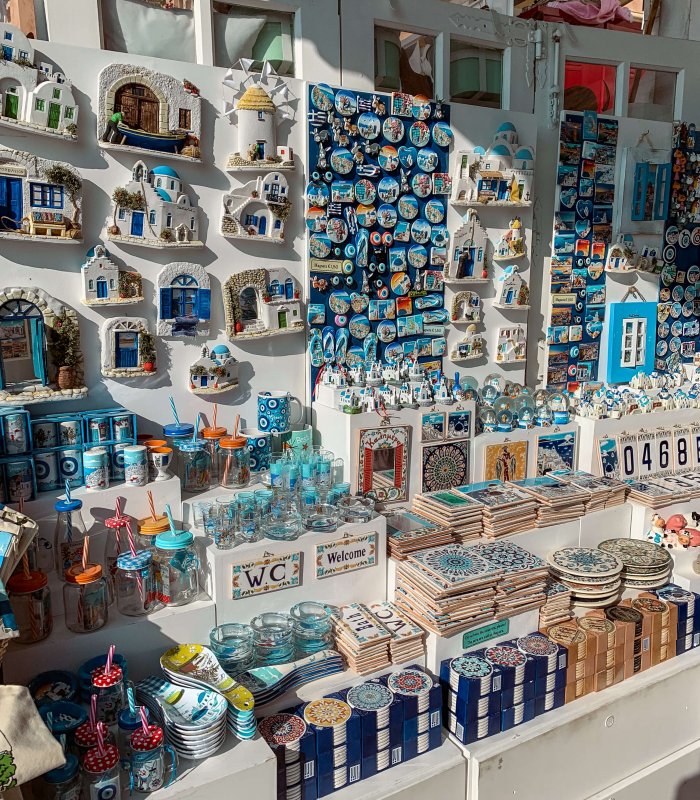 Related Posts
20 Photos to Inspire you to include Santorini in your Bucket ListThe Ultimate Dubai Travel GuideThe Ultimate Turks & Caicos Islands GuideUltimate Guide of Best places to go in Maui Island Hawaii
Try Street Food in Fira
Fira is one of the main towns in Santorini, popular and full of colorful shops and restaurants. Breakfast, lunch, and dinner are a great opportunity to try Fira's cuisine. Gelatos, pizza, crepes, and of course, the famous and well-known Gyro are fantastic choices to delight your palate.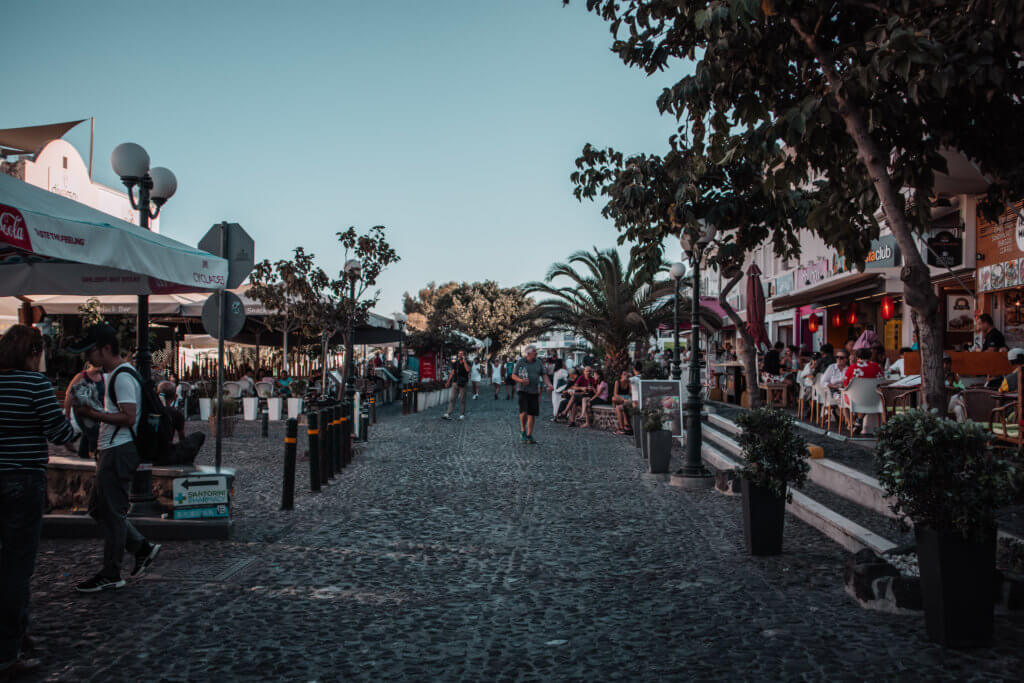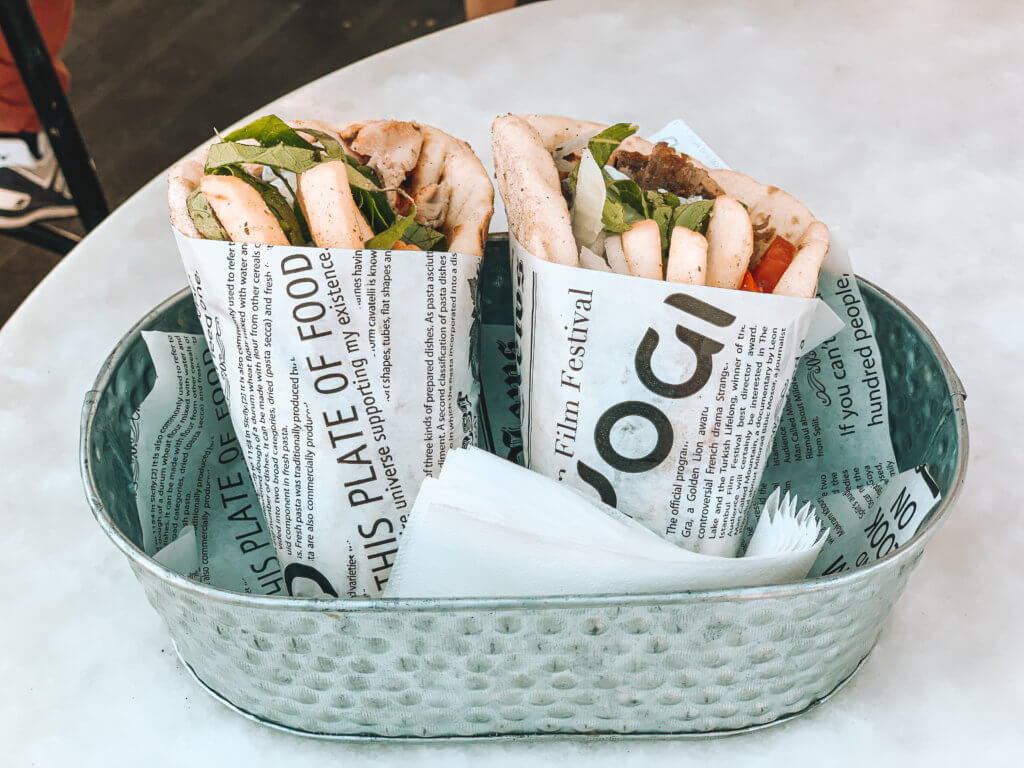 Lunch / Dinner With a View in Firostefani
Firostefani is located to the north of Fira, and the views from this part of Santorini are definitely spectacular, offering a different perspective of the volcano.You can enjoy the breathtaking views of Fira, with the sunset as the main attraction, while you enjoy a glass of wine alongside traditional Greek or Mediterranean meals in one of the many restaurants and cafés along Firostefani.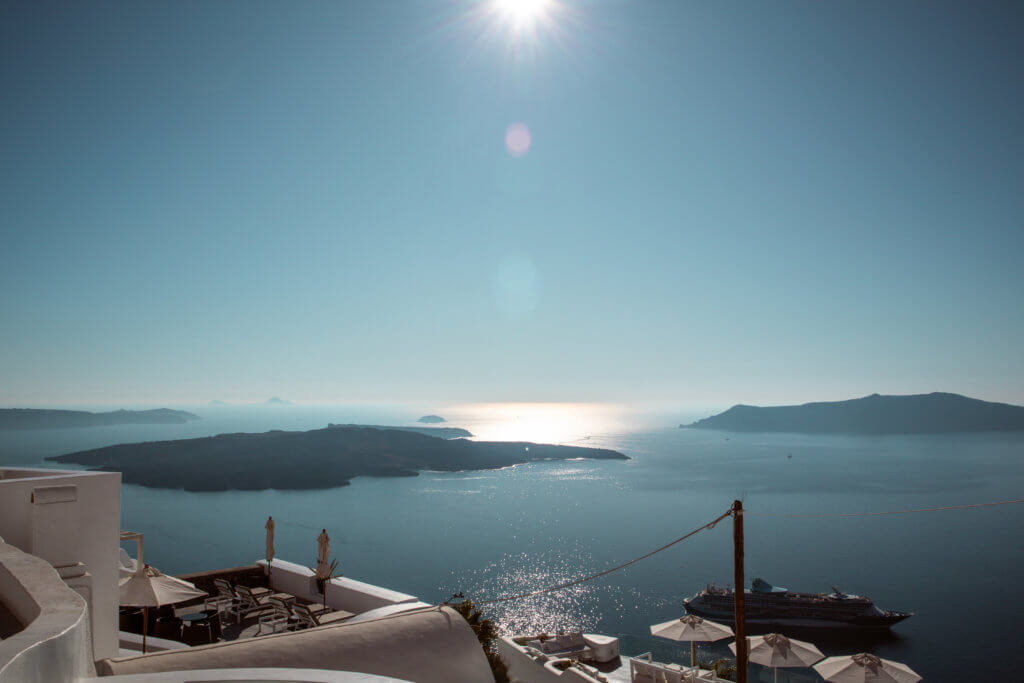 Dinner and Sunset Experience at Lauda Restaurant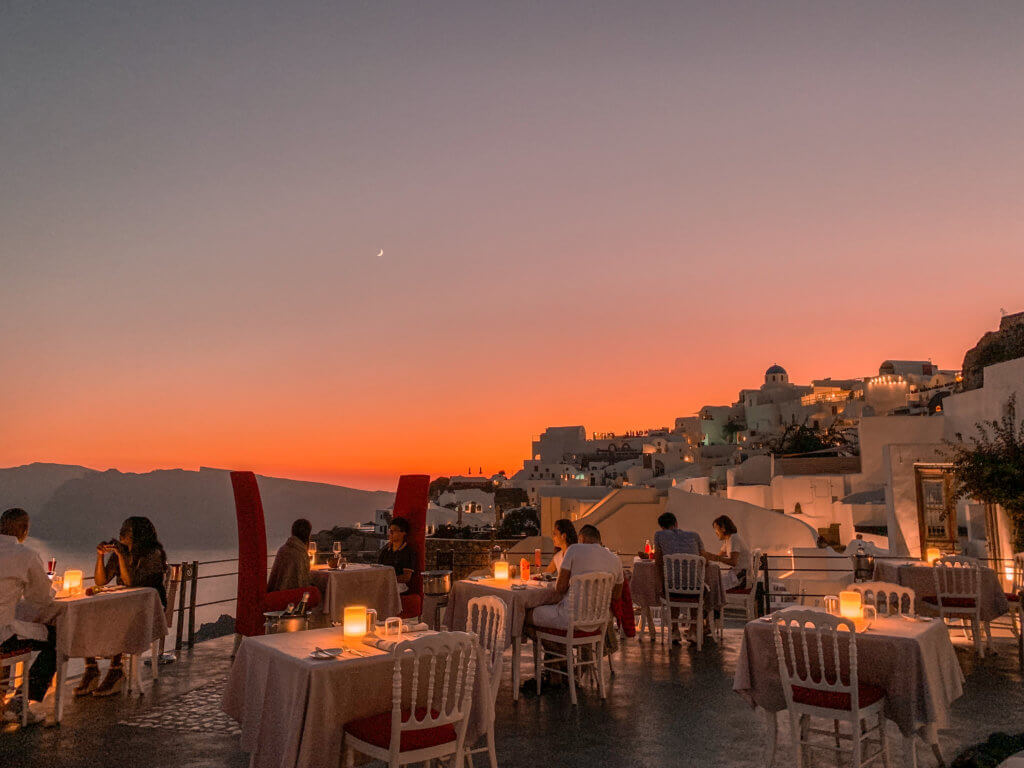 Located at the Andronis Boutique Hotel in Oia, this has been one of the most enjoyable experiences I've had while visiting Santorini. Lauda Restaurant offers you outstanding service, the menu is totally out of this world, and the sunset view is just heavenly. From the moment you arrive, you are treated like royalty. You will be delighted with this beautiful dining experience.Related Post: Best Restaurant in Oia Santorini | Amazing Experience in Lauda



I recommend making reservations at least one month in advance at http://www.laudarestaurant.com
Relax and Sip a Cocktail at Black Beach
Just a 30-minute drive from Thira, Perissa Black Sandy Beach is one of the particularly unique beaches in Santorini. Its exotic, black sand is a consequence of the volcanic activity on the island.I recommend Akros Beach Bar Restaurant is a great place to rent sunbeds and umbrellas. The service is incredible—you just need to buzz, and they will get you what you want while you just relax and enjoy your day at the beach. The food is incredible, and their margaritas are out of this world.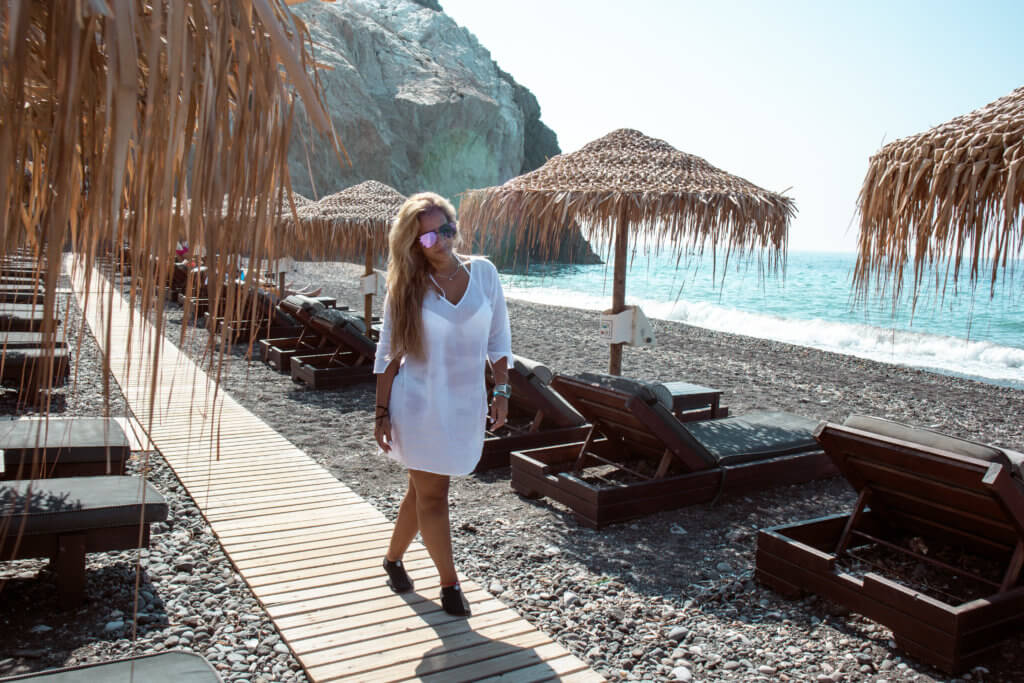 Tip: Water shoes are, in my opinion, the best choice for walking around Black Beach. The sand is really rocky and hot.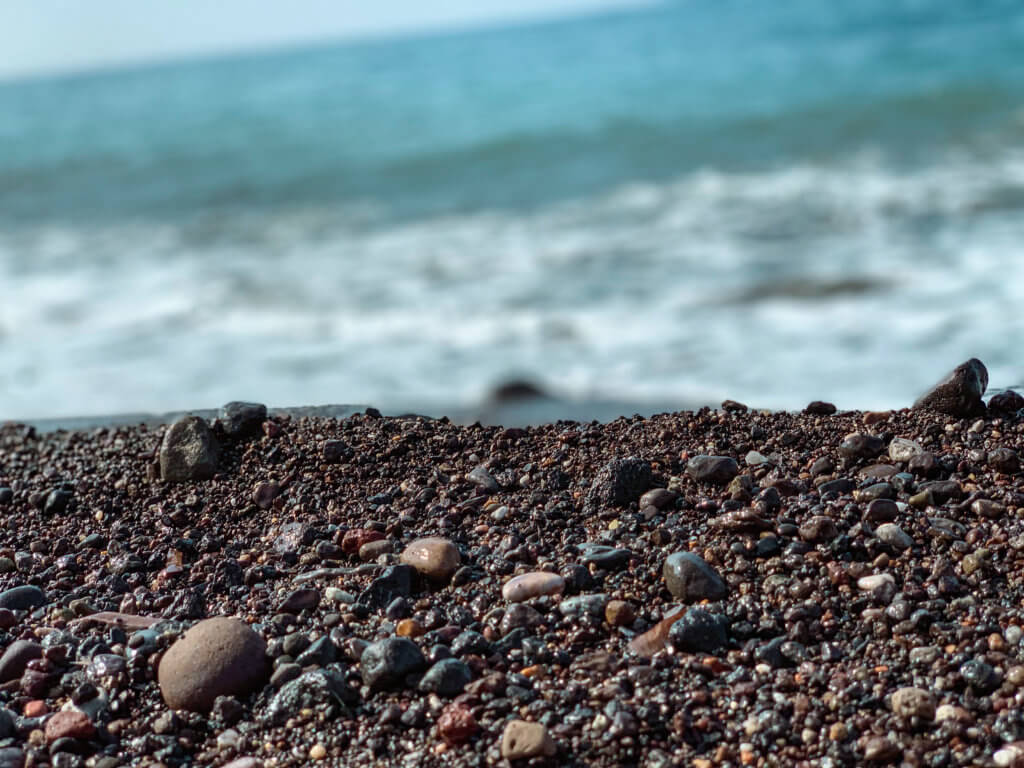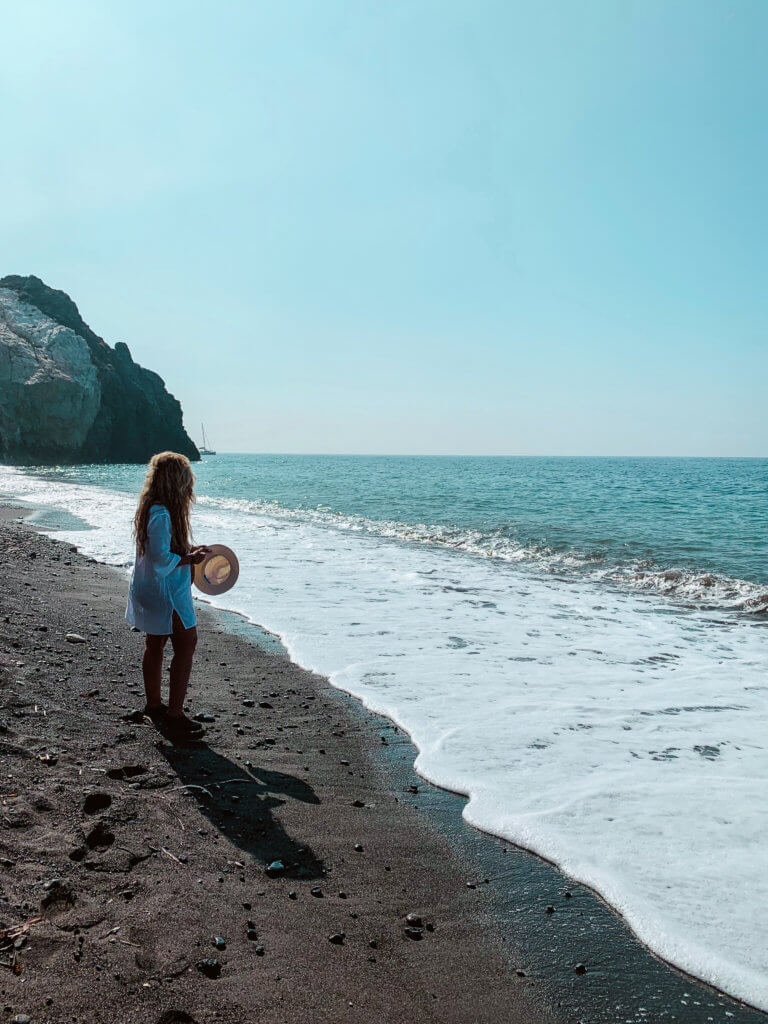 Enjoy the Dramatic Landscape at Red Beach
Red Beach is one of Santorini's highlights. Its incredible red cliffs, in contrast with blue waters, make this landscape a unique place that will take your breath away.It is enclosed by steep red hills that create a captivating, wild scenery. If you stand on the top, you will set eyes on enormous volcanic rocks situated in the sea. You will also see small pebbles and sand of various colors—mainly red—all along the beach, as well as appealing dark blue waters. Red Beach has been classified as unsafe. The reason for this is that it is prone to landslides. This being said, lots of people still go to visit Red Beach just to admire its beauty and take some photos. It's up to you to decide if it's worth the visit.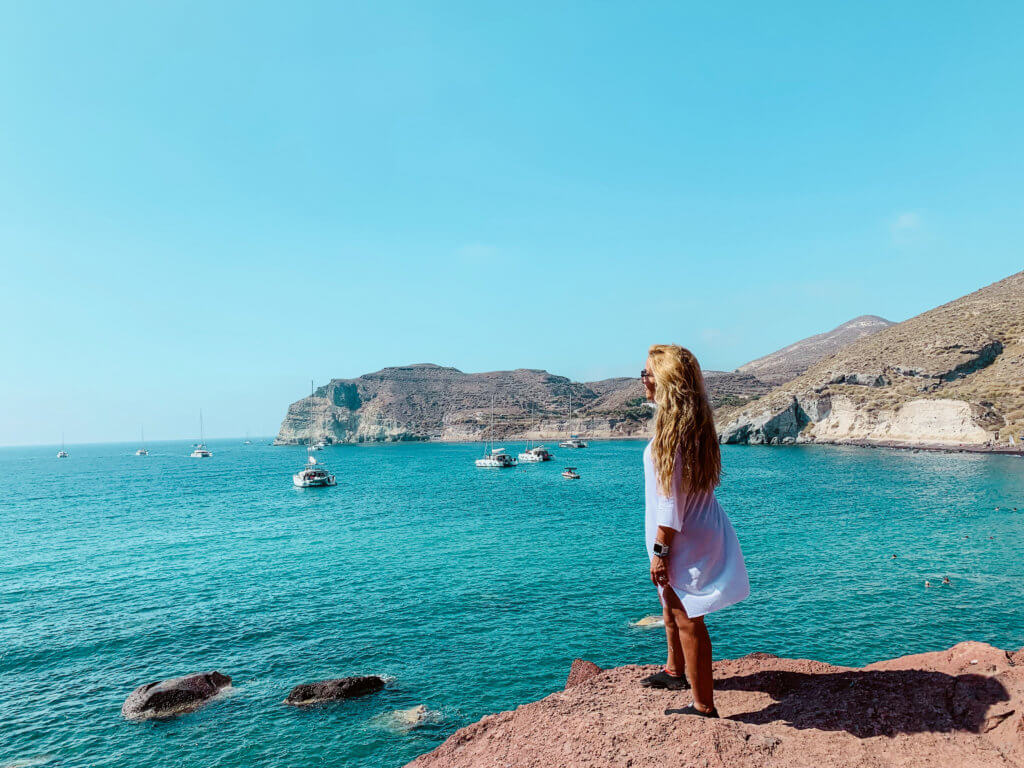 [bdotcom_bm bannerid="2273″]

Catamaran Tour with Highlights of Santorini
Catamaran Private Tour is a fantastic experience where you can enjoy the day visiting Santorini's highlights. Black Beach, Red Beach, Hot Springs, snorkeling, and swimming, ending your day with a magnificent sunset at Oia the likes of which you haven't seen before. We sailed with Sunset Oia Sailing Cruises Santorini, and it was fantastic. The food was outstanding, the staff was incredible, and I would recommend it as a must-do when you visit the island.I recommend booking your tour in advance at http://www.sunset-oia.comIf you want to know more details about my day on the cruise in Santorini and my experience with Sunset Oia, check out my post here.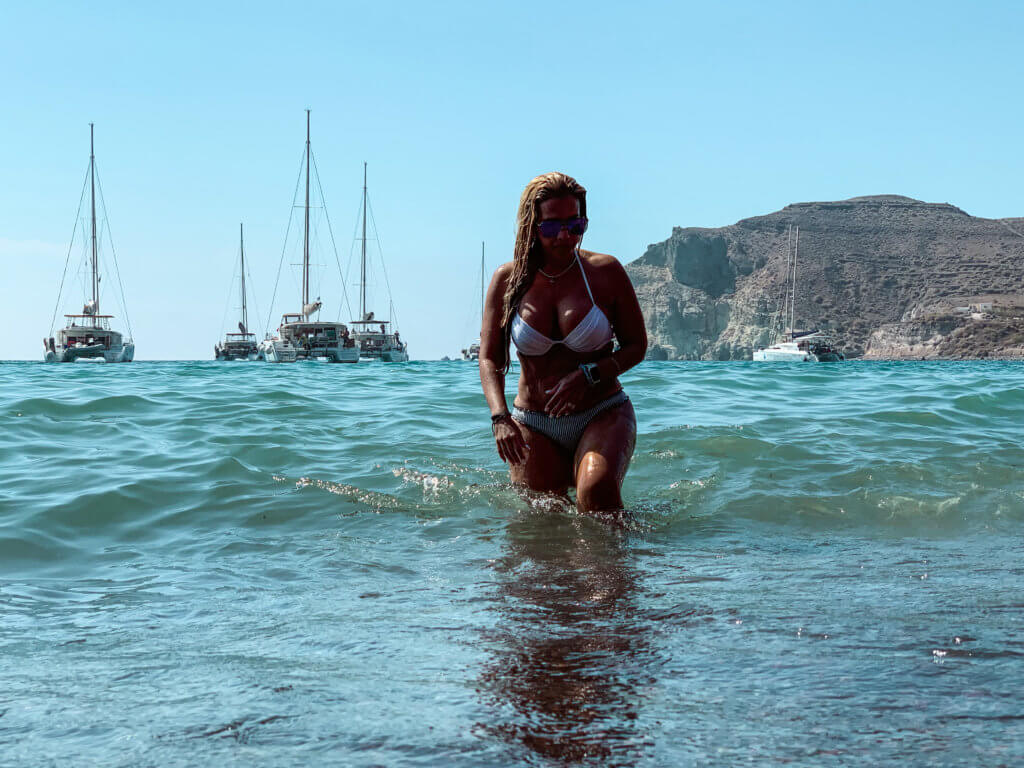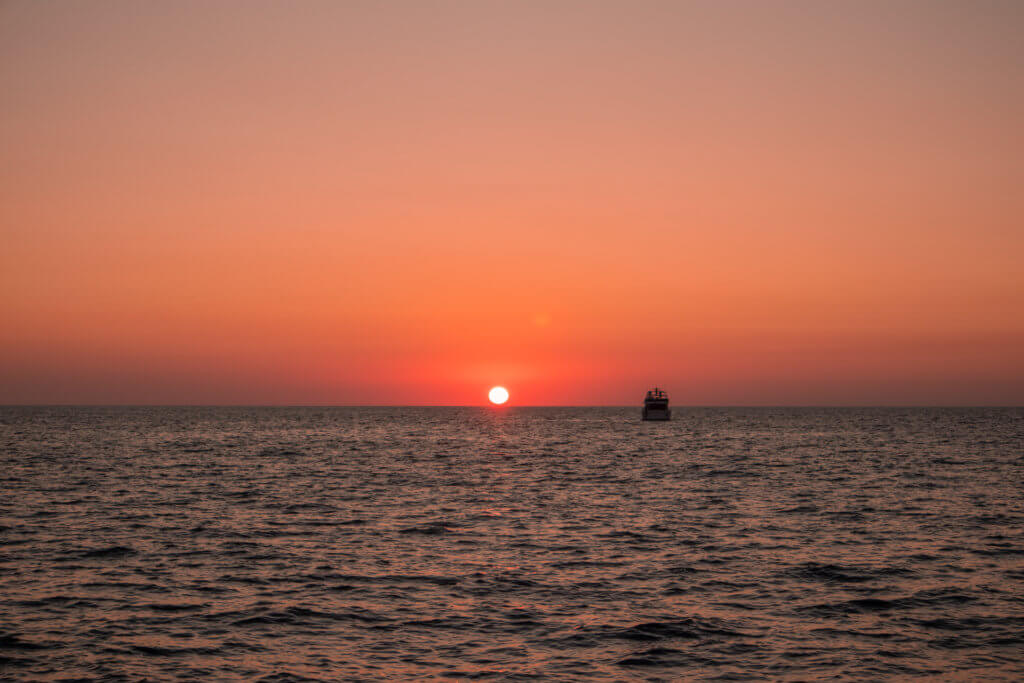 Santorini has a special place in my heart, and it was more beautiful and charming that I was expecting. My experience in this Greek island made my time in there memorable, and I would love to come back and explore more of its magical places.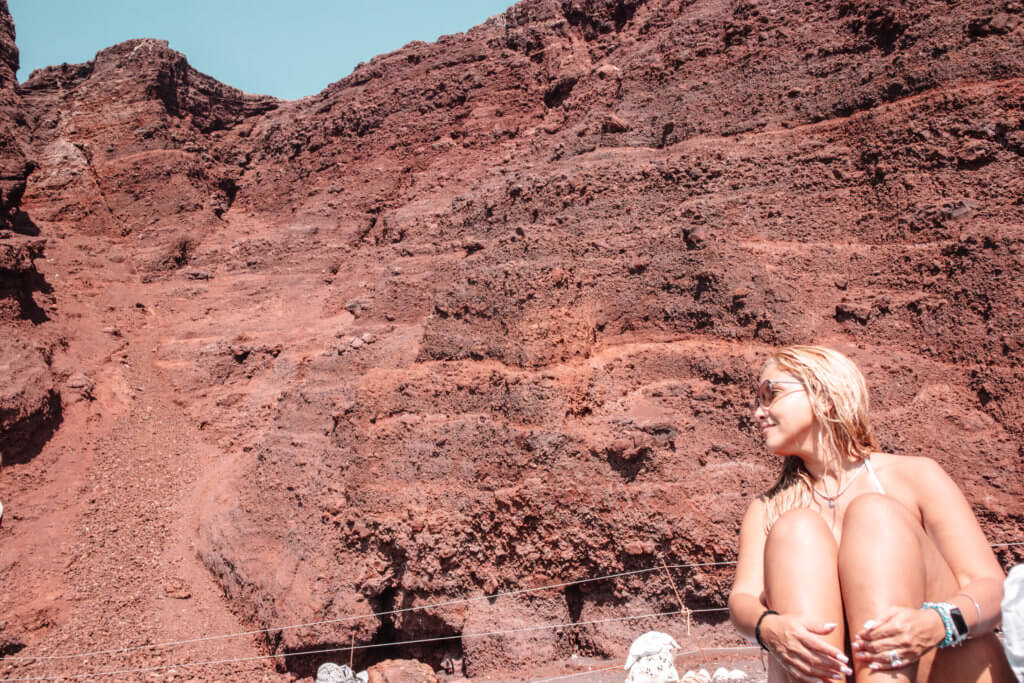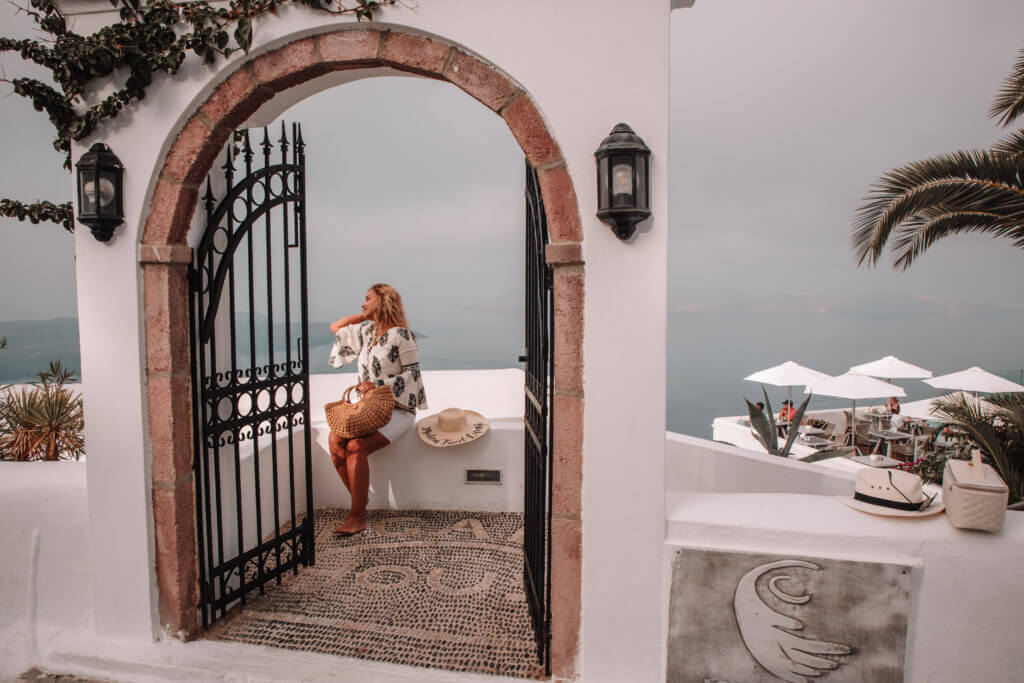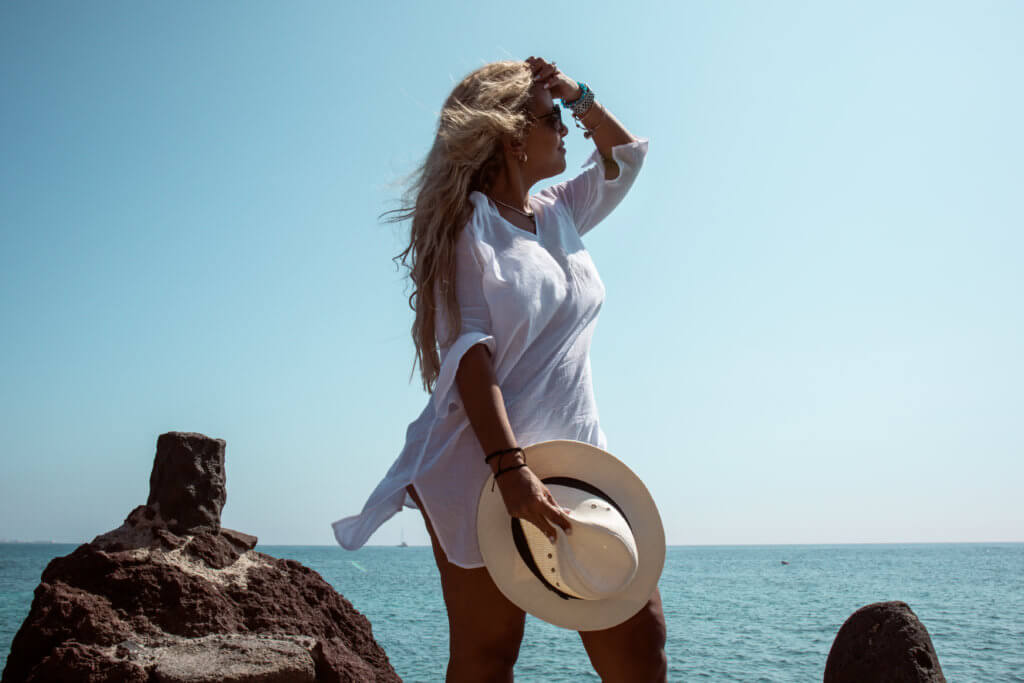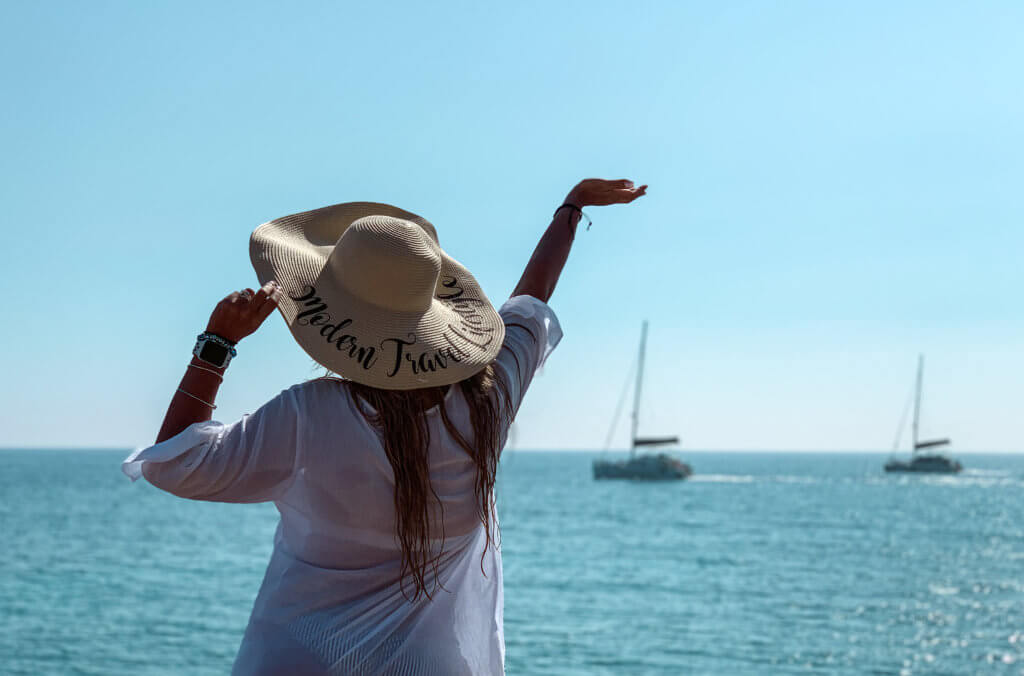 If you haven't been to Santorini, you should include it in your bucket list and start planning your trip to this gorgeous island.I hope you enjoyed this post. Save it to your Pin Boards for future reference!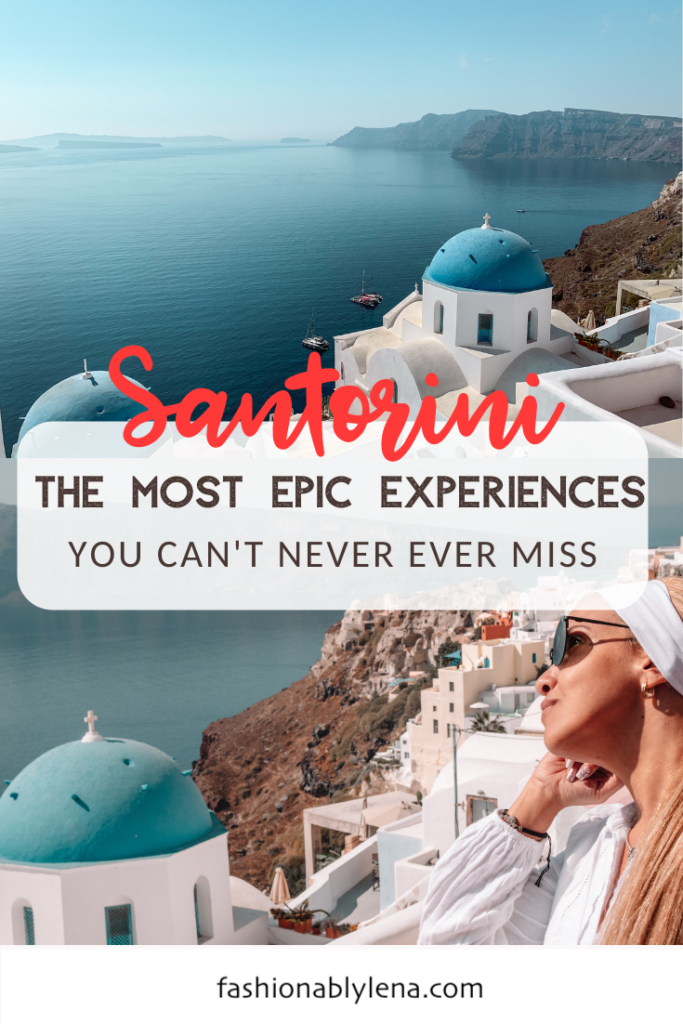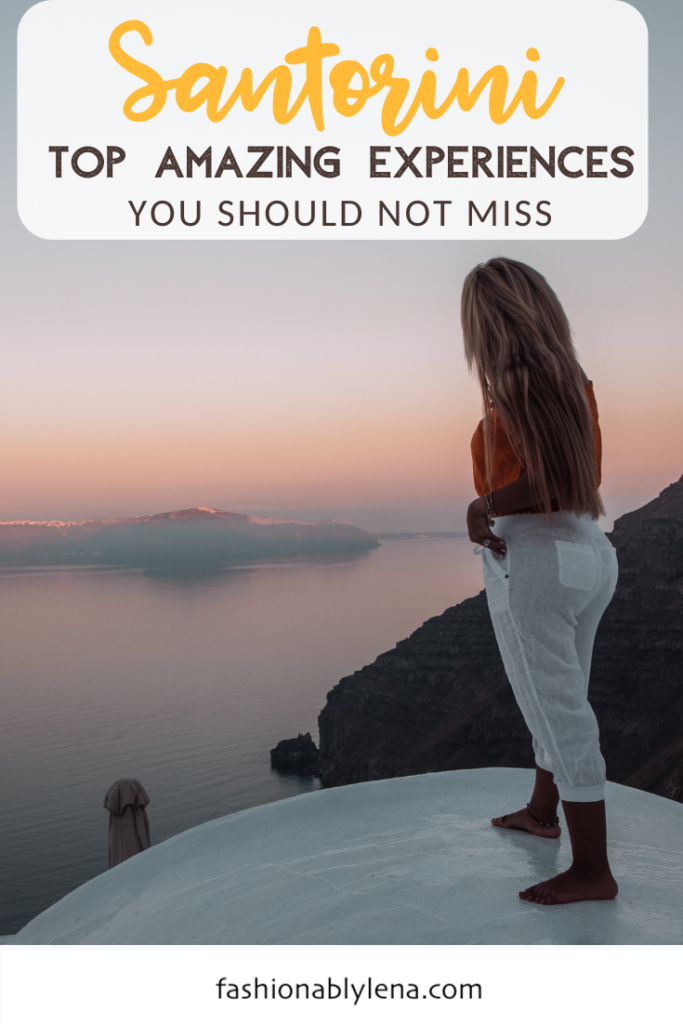 My Greek Islands Essentials
My Favorite Products on Amazon
In Modern Travel Lifestyle Amazon Store, you will find more products that I like and recommend. I will get rewarded with a small fee if you buy any of these products at no extra cost for you.
Explore my favorite products

Shop My Instagram Looks
Latest Posts